New York Times Best Selling Author
By Danielle Walker
New York Times Best Selling Author
Danielle Walker is a two-time New York Times Best Selling author and photographer of cookbooks "Against all Grain" and "Meals Made Simple."
Slow-cooker meals are, despite the name, great for those short on time. With a little prep, you can let this dish cook while you're out for the day and come home to a perfectly cooked, flavor-packed meal.
This Thai Beef Stew is a hearty and warming dish that's great for serving a group or making a stash of leftovers. Serve over cauliflower rice for a great grain-free and Paleo-friendly meal.
Slow-Cooker Thai Beef Stew
Advertisement
This ad is displayed using third party content and we do not control its accessibility features.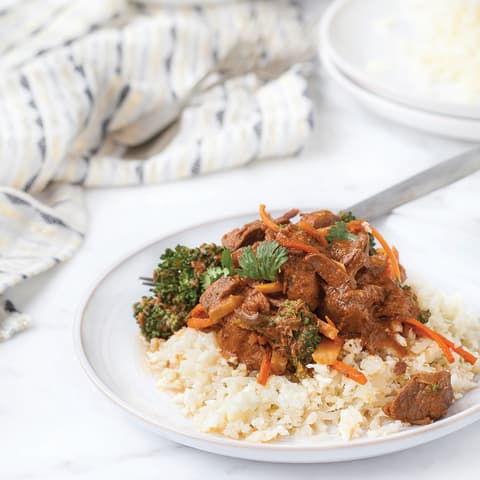 Serves 6 to 8
Ingredients
2 tablespoons coconut oil, divided 3 pounds beef stew meat, trimmed of fat 1 medium yellow onion, thinly sliced 2 cloves garlic, minced 2 teaspoons peeled and minced fresh ginger 1 (13.5-ounce) can full-fat coconut milk ⅓ cup tomato paste ½ cup red curry paste 2 tablespoons fish sauce 2 teaspoons fresh lime juice 2 teaspoons sea salt 2 cups broccoli florets 2 cups julienned carrots 1 cup peeled and julienned jicama Fresh cilantro
Preparation
1. Heat 1 tablespoon of the oil in a large skillet over medium-high heat, and, working in batches, brown the meat on all sides.
2. Use a slotted spoon to transfer each batch of browned meat directly to the slow cooker, then continue browning. Wipe out the pot between batches if a lot of liquid has accumulated at the bottom, to ensure even browning.
3. Wipe out the pot and add the remaining 1 tablespoon of oil. Sauté the onion, garlic, and ginger over medium-high heat for 5 minutes.
4. Pour in the coconut milk and stir continuously to release the browned bits on the bottom of the pan.
5. Add the tomato paste, curry paste, fish sauce, lime juice, and salt, then pour the mixture over the beef.
6. Cook on high for 5 hours or low for 8 hours. Add the broccoli, carrots, and jicama during the last 30 minutes of cooking on high or the last hour on low. Serve garnished with the cilantro.
This recipe is excerpted from Meals Made Simple. Danielle Walker is the founder of AgainstAllGrain.com and bestselling cookbook author of Against All Grain and Meals Made Simple. Find more recipes at www.againstallgrain.com.
Advertisement
This ad is displayed using third party content and we do not control its accessibility features.