Why Is Packing A Healthy Lunch For Work So Hard? We Asked The Pros To Solve All Your Problems

Contributing Food Editor
By Liz Moody
Contributing Food Editor
Liz Moody is a food editor, recipe developer and green smoothie enthusiast. She received her creative writing and psychology degree from The University of California, Berkeley. Moody is the author of two cookbooks: Healthier Together and Glow Pops and the host of the Healthier Together podcast.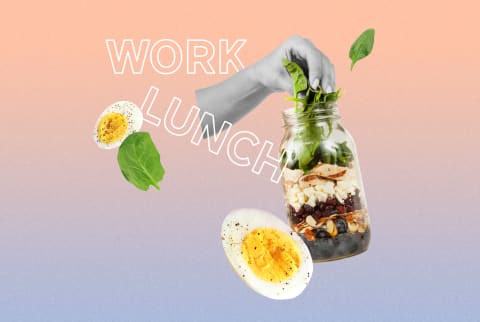 Image by Megan Doty / mbg Creative
January 6, 2019
This January, we at mbg are all about cleaning up your diet, just a little bit. Instead of restricting your food to a narrow window, we're encouraging you to eat more—more plants, more fiber, more protein. We're encouraging you to sharpen your knives and dust off your pots and cook at home. We want you to reconnect with just how good healthy food makes you feel—and how fun it can be to eat. Join us for the next few weeks as we solve every problem that's getting in the way of you cooking and eating in a way that's truly nourishing for your body and your soul. You'll find recipes, tips, and tricks; advice from the world's best doctors; and more (
check out the easy-to-follow rules of the plan here
). So, what are you waiting for? Pull up a chair—we're so happy to have you at the table.
We all have the best intentions when it comes to work lunches, yet somehow, we find ourselves waiting in line for an expensive salad or ordering less-than-healthy takeout straight to our desks. What is it about packing a work lunch that's so damn hard? To get to the bottom of things, we reached out to some of the country's top doctors and registered dietitians. Here are their tips for making prepacked lunches easy, helping you feel better and save tons of money.
Simplify your thinking.
When it comes to making healthy work lunches, I'm all about cutting corners to make the process as seamless as possible. This means I use versatile ingredients that, once prepared, won't go bad for a few days in my fridge. I'm the first to use (BPA-free and organic!) canned beans or lentils, and I'm all about the pre-chopped veggies. These small conveniences make a big difference when it comes to the homemade work lunch. Rather than making one lunch at a time, I try to make a big batch to ultimately save time. Quinoa bowls are one of my go-to's. I make enough quinoa to last a few lunches and add ingredients thereafter. Beans and/or lentils are an easy and tasty way to up the fiber and protein content, and I always throw in a sautéed vegetable (or two), as once cooked it has a longer fridge life. Lastly, hard-boiled eggs are my work-lunch savior. I make a half dozen or so at a time and add them to the quinoa bowl. All of these tricks make the process as convenient and healthy as possible, without sacrificing taste!
Assemble on the go.
I think bringing things you I assemble at work/on the fly so I don't have to assemble it in the morning are key. So I'll grab a whole avocado, gluten-free wraps, and my package and container of hummus and a bunch of greens. I'll literally make a wrap wherever I am on (on a set or whatever) and just pack up the hummus and wraps to bring back and forth. It's so much easier than having to make it before I go!
Make leftovers.
I love using dinner leftovers for lunch the next day. Since dinner is typically my smallest meal (since you need less "fuel" before going to bed), I normally have extra roasted vegetables and protein that I have prepared, or I will make sure to cook extra. I will throw a bed of greens into a to-go container, or use a grain-free wrap as a base, and top with whatever is left over with sliced avocado and maybe a handful of nuts.
Pair fats and vegetables properly.
I have very busy days consulting patients, so clean, quick, and practical lunches are my jam. I always follow this rule: When you have a vegetable, add a healthy fat, and conversely if you have a healthy fat add some vegetables. So what does this look like? Pick some vegetables like mixed salad greens, fajita stir-fry, cauliflower rice, all super simple to prepare the night before or the morning of. Next pair it with easy healthy fat sources like extra-virgin olive oil, olives, avocado, avocado oil, nuts, seeds, hard-boiled eggs, wild-caught fish like well-sourced albacore tuna or Alaskan salmon.
Use the ayurvedic six-taste rule.
Make a six-taste bowl! This is an ayurveda-inspired bowl that balances the six tastes you need every day: sweet, sour, salty, bitter, pungent, and astringent. For example you can make a bowl with quinoa, avocado or sweet potato (sweet), lemon (sour), sea salt (salty), spinach, steamed broccoli and Brussels sprouts (bitter), cooked with turmeric and ginger (pungent), and some lentils (astringent) for protein! It makes eating healthy so much more intuitive to focus on tastes rather than counting calories or macros.
Embrace the microwave.
A lot of folks in the wellness world are apprehensive about using the microwave. I acknowledge that it's probably doing funky stuff to our food. But in general, I've found I have to embrace the microwave in order to make eating home-cooked food convenient. I've decided that no matter how funky the microwave is, microwaved home-cooked food is still healthier than the Thai food I would otherwise order on Seamless.
My system for packing a lunch is the following: On Sundays, we cook in bulk. Then I distribute a combination of potatoes or plantains, some kind of meat like ground beef, and some kind of sautéed greens into five glass Pyrex containers. Then in the morning, I grab a container and put it in my bag. Batch cooking and pre-making the container is clutch for making this process efficient and realistic.
Prioritize yourself.
Realize that it's not that hard. It just requires you to prioritize yourself, which includes what you eat. An easy option is vegetable crudités like radish, carrots, zucchini, broccoli, and cucumber with half an avocado and organic turkey slices (I like Applegate Farms) or heating up leftovers from the previous night's dinner in a rice cooker the next day.
Do double duty at dinnertime.
A game-changer for my clients has been to pack their lunch for the next day while they make dinner. It doesn't have to be exactly the same meal either. For example, cooked veggies and a protein can be used in a stir-fry at dinner and then over a salad for lunch the next day.
Keep these two ingredients on hand.
We cook a batch of quinoa and hard-boil a dozen eggs once a week and use it as a base for a week's worth of lunches. Having these sources of fiber and protein make it so much easier to get through the week. If you have a freezer and microwave at work, stock tons of frozen vegetables and you can add them to your quinoa and egg base for a complete meal.
Pick a healthy tortilla and make a wrap.
While most wraps are full of undesirable ingredients and nutritionals, La Tortilla Factory's Low-Carb tortillas have healthy fiber and excellent ingredients. Fill your tortilla with some turkey slices for protein; nonstarchy vegetables like cauliflower rice and lettuce for fiber; a few slices of avocado for healthy fat; and some mustard or hot sauce for flavor—and you have yourself a delicious, healthy, and easy lunch to get you through the workday.
Make some soup.
I'm a huge fan of bone broth vegetable soup, stew, or chili. You can easily make a whole batch on the weekend and divide it into Mason jars that can easily be reheated at the office. You fill up on protein, fat, and fiber-rich vegetables, and you don't need to worry about produce going bad.
Do a wide-array of bite-size goodies.
I'm lucky enough to work from home, but as a mama, I pack lunches for my kiddos and put the same attention, love, and care that I put into my own lunch. I love packing my little ones' lunches—it gives me a chance to create a colorful palette of foods bursting with vitamins and minerals and build a great relationship for the foods they eat. To make sure my kids stay nourished and satisfied throughout the entire school day, I'll include bite-size veggies like carrots and edamame beans; fruits like blueberries, blackberries, and dried dragon fruit; a protein source such as turkey roll-ups with hummus, a hard-boiled egg, or falafel with tahini; and then a healthy, energizing treat like a cacao and maca bar. Make sure to toss in yummy snacks too (superfood berry trail mix, green pea puffs, slivered almonds, or a green protein bar are great options) to last them until the final bell rings!
Meal prep is your friend.
Making a quick breakfast, lunch, and even dinner can be so simple if you just do a little meal prep and planning ahead! I've used this tool for years, all my clients do, and we've taught thousands in our community to make meal planning work for unique lifestyles. That might look like making lunch for the week on Sunday, or it could look like a couple of mini-meal prep sessions—whatever works for you!
Go for room temperature foods.
I am constantly running around and sometimes have limited time to eat, so I make sure to pack up what I call "happy-to-eat room-temperature" foods. I often make different versions of chicken and turkey salads that I can grab out of the fridge and eat on the go. They are always protein packed to keep my blood sugar balanced throughout the day. My favorite is my balsamic Dijon chicken salad that has celery, fennel, and apple in it.