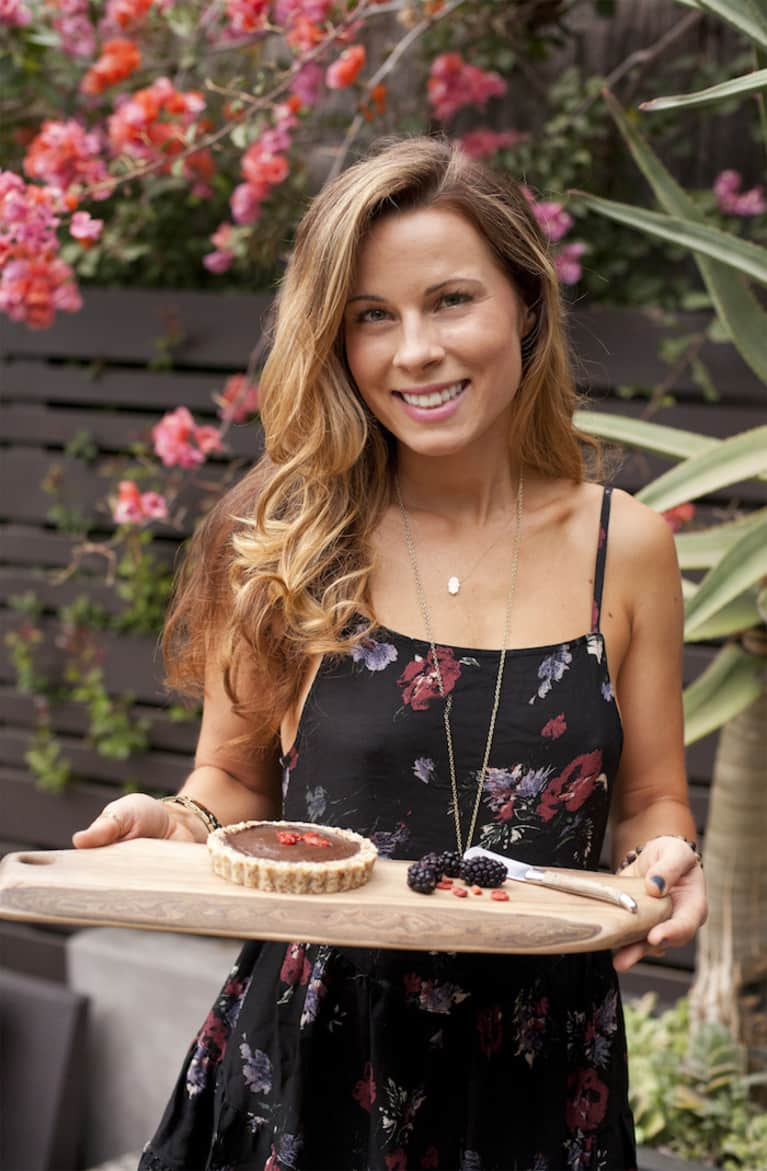 Sophie Jaffe
Founder of Philosophie Superfoods
Sophie Jaffe is a certified raw-food nutritionist and raw-food chef. She's a member of the Yoga Alliance as an advanced teacher and is certified by the National Academy of Sports Medicine as a personal trainer.
After managing a raw foods store in Hollywood that specialized in creating group cleanses, she became dissatisfied with the "one-size-fits-all" model of detox regimens and branched off to create her own company, Philosophie.
Since then, she has found great success and gotten amazing results in providing personalized detox cleanses to a wide variety of clients, including George Clooney, Stacy Keibler, Gerard Butler, and Billy Corgan.
She has created several Superfood Products for use in super-charging every meal and two convenient, effective Quick Cleanses that can be delivered anywhere and utilized easily.
Articles
Connect with Sophie Jaffe
Q&A
What is your wellness philosophy?
Early on in my wellness journey and starting Philosophie, I used to feel so stressed about making sure that everything was moving forward while also trying to be the best mother and wife. One day, it hit me though—as long as my kids are safe, happy, and healthy, that's all that matters. Everything else is just gravy. Once we overcome the fear of being incredibly vulnerable and uncomfortable, we have the capacity to truly grow. By stripping down to our truest selves, we allow others to see us for who we really are, and they, in turn, are so much more likely to share with us their true selves, ultimately allowing for greater trust and compassion. I make it a point to allow self love and care into my daily life. I also meditate and set intentions for my day, returning to those when I need a positivity boost. Working out and eating healthy also play an integral part in helping me feel my best and be able to power through everything that I need to get done.
What brought you into wellness?
I started Philosophie and ultimately my wellness journey by simply wishing that I could have an amazing blend of superfoods and proteins together in one, convenient place. I started creating my own blends and giving them to friends and family and making everyone workout and nutrition guides. One day, I was in the sea in Israel with my husband, Adi, and he turned to me and said, "You should really grow what you're doing and share it with more people, make it a company." And that's when it really took off. From there, social media really escalated my career in wellness. I was introduced into a wellness community and network in LA where I decided to not only share my superfood products but my story on living a healthy and BALANCED life.
What does You. We. All. mean to you?
I live my life by love and compassion. Rumi's quote, "Let the beauty of what you love be what you do," resonates with every part of me. Everything I do is rooted in wanting to make the world a brighter, more healthy place for my kids, my husband, my family, my friends, and even people whose paths may never cross with my own! I want to put as much love as I can into the world, and for me, this means sharing nourishment and wellness. Generating this love has to start with you. I fully believe in no other stronger love than the love you have for yourself. From there you can create powerful and magical relationships that can reach people in a special way.
What inspires you?

The moon and her cycles inspire me. My husband. My girlfriends who are like sisters. My beautiful boys inspire me daily with their innocence, purity, and deep, deep love. I also receive inspiration from my environment, which I view as being the people in my life and the moments and experiences I encounter, from the positive to the negative.