paid content
 for

The Starter Essentials You Need To Create A Conscious Nursery
Founder of Philosophie Superfoods
By Sophie Jaffe
Founder of Philosophie Superfoods
Sophie Jaffe is a certified raw-food nutritionist and raw-food chef. She's a member of the Yoga Alliance as an advanced teacher and is certified by the National Academy of Sports Medicine as a personal trainer.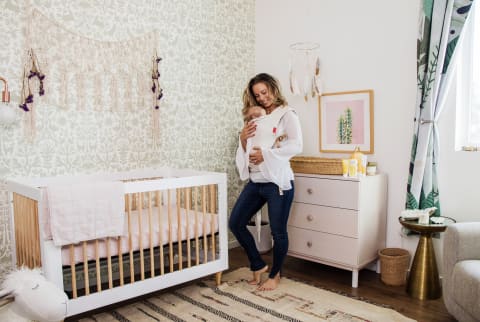 Image by Tamara Muth-King
October 4, 2018
I'm still taken aback every morning that I wake up to our three-month-old daughter. I've dreamed of baby Noa for so long and now that she's here, I want to show her all the beauty this Earth has to offer and give her the best for her growing body, soul, and mind.
This means filling her home environment with furniture, toys, clothing, and baby care products that I support 100 percent and fully believe in: safe and sustainable pieces that help her grow up healthy, balanced, and well-nurtured.
Her nursery is where she'll sleep, play, and absorb the world around her for the first years of her life. I've made it my mission to not only create a space that nurtures her spirit and body but outfit it with natural-based products. Here are some of my favorite essentials for creating a natural and healing nursery for your little one.
Furniture
Image by Tamara Muth-King
My entire aesthetic is a clean, minimal look. It encourages creativity and positive energy. I applied the same sense of decor and belonging to Noa's nursery with pieces like the Micuna Harmony Crib, which is made with solid beechwood from sustainable forests. I'm a big supporter of companies that are committed to using fully-recycled and eco-friendly materials for changing tables and rocking chairs; for crib mattresses and blankets, non-toxic materials are key.
I also love filling the nursery with pieces that serve multiple purposes and easily flow with my way of life. Plum + Sparrow makes changing baskets that can go from dresser to floor safely with baby in it! I'm in love with their adorable Moses Baskets, which are entirely hand woven and made with a hypoallergenic mattress.
Baby Care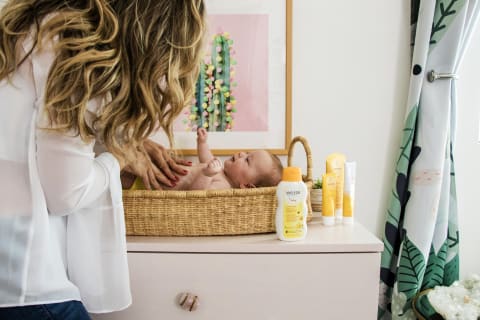 Image by Tamara Muth-King
Your baby's skin is delicate, so I look for products that are certified natural. The Weleda skincare line for babies—formulated from the brand's extensive plant knowledge—is an absolute dream. They use only the purest ingredients for a baby's sensitive skin.
Some of my favorites include the 2-in-1 Gentle Shampoo + Body Wash, which uses calendula to gently cleanse skin and hair; the Calendula Diaper Rash Cream, made with chamomile extracts to nourish sensitive skin; and the Comforting Baby Oil for yummy massages with a soft touch. Take the time to really massage in these products into your baby's skin. I love giving Noa belly massages to soothe her.
Toys & Slings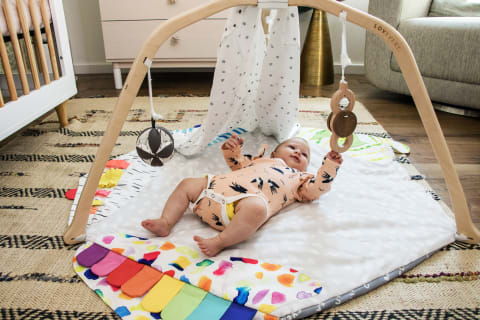 Image by Tamara Muth-King
As a mom, I try my best to fuel my little babes with creative energy and challenge their thinking constantly. Food-wise, we're constantly paying attention to what we're feeding our kids to give them the nutrients their bodies need, so to me it makes sense to also give them toys that will fuel them intelligently.
Right now, I'm currently obsessed with Lovevery's play kits. The brand makes it their mission to help moms bring an end to "empty calorie" choices when it comes to toys for your kid. Currently Noa is obsessed with the play gym: She'll stay under it entranced for hours.
When it comes to slings and carriers for your little angel, you want to make sure to pick products made from material that works with your baby's delicate skin. Noa loves to be in our Sakura Bloom carrier because it's light and made with natural fibers locally in California; this way she can really feel close to mama.
Clothing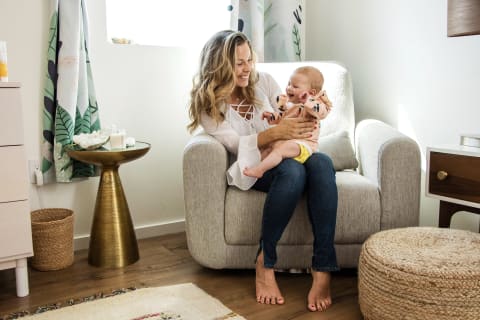 Image by Tamara Muth-King
The easiest thing we can do as moms with a newborn is to go sustainable with our diaper choices. There are a ton of options for reusable cloth diapers and reusable wipes. Yes, it can be tough at first, but it feels so good to do our part to help Mother Earth. Luludew makes the process super simple, and their diapers are freaking adorable. I get so many compliments!
When it comes to clothing, find brands that use high-quality fabrics designed with a newborn's delicate skin in mind. Keeping your baby's head protected is also very important. I discovered the infant hat by Blu Taylor, and I'm obsessed. Each piece is handmade, and they work to provide free hats to moms of NICU babies, so they've got my support. With some discerning thought when it comes to our nursery purchases, we can all make the world the better place for our babies.

Sophie Jaffe
Founder of Philosophie Superfoods
Sophie Jaffe is a certified raw-food nutritionist and raw-food chef. She's a member of the Yoga Alliance as an advanced teacher and is certified by the National Academy of Sports Medicine as a personal trainer.
After managing a raw foods store in Hollywood that specialized in creating group cleanses, she became dissatisfied with the "one-size-fits-all" model of detox regimens and branched off to create her own company, Philosophie.
Since then, she has found great success and gotten amazing results in providing personalized detox cleanses to a wide variety of clients, including George Clooney, Stacy Keibler, Gerard Butler, and Billy Corgan.
She has created several Superfood Products for use in super-charging every meal and two convenient, effective Quick Cleanses that can be delivered anywhere and utilized easily.