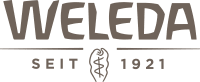 Weleda
Since our founding in Switzerland nearly a century ago, we have believed in nature's ability to help you feel healthy, balanced, and beautiful.
Our products are thoughtfully crafted to harness the vitality of nature and work in harmony with your body's own restorative abilities. But it's about more than just looking and feeling good – it's about doing good. We are committed to building fair-trade partnerships that honor the human spirit and respect the natural world.
Our products are always free from parabens, phthalates, synthetic preservatives, and synthetic fragrances. We never test on animals.
Connect With Weleda
Connect