Close Banner
Advertisement
This ad is displayed using third party content and we do not control its accessibility features.
paid content
 for

The Important Ritual That New Parents Never Think Of—Until They Bring Baby Home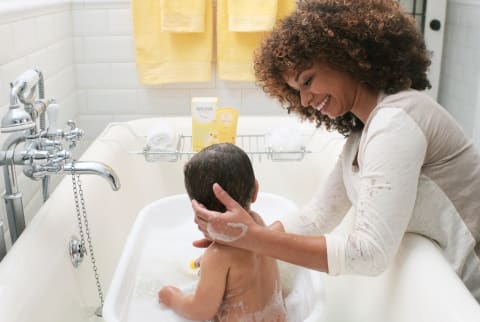 Even before your little one arrived, you probably imagined all the things you would teach your baby: how to walk, hold a spoon, say "mama" and "dada," and so much more. But of everything you imagined, teaching your baby how to be a good sleeper most likely never crossed your mind. That is, until a month or two of sleepless nights went by.
While a few lucky babies sleep easily, many need parental guidance to learn sleeping and waking patterns—some even need help learning how to fall sleep. Because of this, the American Academy of Pediatrics advises that parents establish a relaxing nighttime routine for infants and children to signal bedtime and relax your little one, making it easier for them to fall and stay asleep. Read on below for a simple three-step bedtime bonding routine to end your day with calm.
Picking a bedtime
Before implementing a bedtime routine, be sure to pick a bedtime that works for you and your partner's schedule. Babies thrive on consistency and being able to know what's coming next. By beginning the routine every night at roughly the same time, you'll help establish the ritual as habit and help signal the start of bedtime.
Step 1. Transition activity
Begin your bedtime routine with a transition activity that lets your little one know playtime is over and it's time to wind down. This could be reading a book, singing songs, or any other relaxing activity, though most new parents find a warm bath to be one of the best ways to segue into bedtime.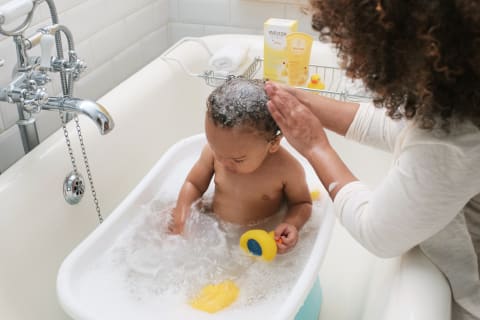 The goal of the daily bath is to establish a calming routine. Fill the bathtub most days with warm water adding a few drops of gentle, synthetic fragrance- and preservative-free baby care product, like Weleda's 2-in-1 Gentle Shampoo & Body Wash. Weleda's gentle formulation contains hydrating sweet almond oil and calming calendula to gently lift dirt, leaving baby's skin feeling soft (and their own scent intact) without stinging baby's eyes.
Step 2. Calming massage
Once your baby is relaxed and dry post-bath, calm them further with a gentle bonding massage. How to do it? Start with their feet and slowly work your way up, using soft strokes. Increase the duration of the massage each night until you reach 5-10 minutes, or however long your baby can handle.
Enhance the calming effects of this massage by pairing it with Weleda's Comforting Baby Oil. The gentle blend of sweet almond and sesame oil will nourish and hydrate, while chamomile adds a delicate, soothing scent. A few minutes of massaging with Weleda's Baby Oil and your baby will barely be able to keep their eyes open as you put on their pajamas and move into the last phase of this bedtime routine.
Step 3. Time for sleep
Finally, in the last step, it's time to put your baby to bed. Warm, relaxed, and feeling loved, she'll drift off to sleep to goodnight cuddles before laying them down in their crib for the night. Turn on the white noise machine, draw the curtains, and watch on the baby monitor as your little one easily finds sound sleep.
More On This Topic
more Relationships
Advertisement
This ad is displayed using third party content and we do not control its accessibility features.
Advertisement
This ad is displayed using third party content and we do not control its accessibility features.