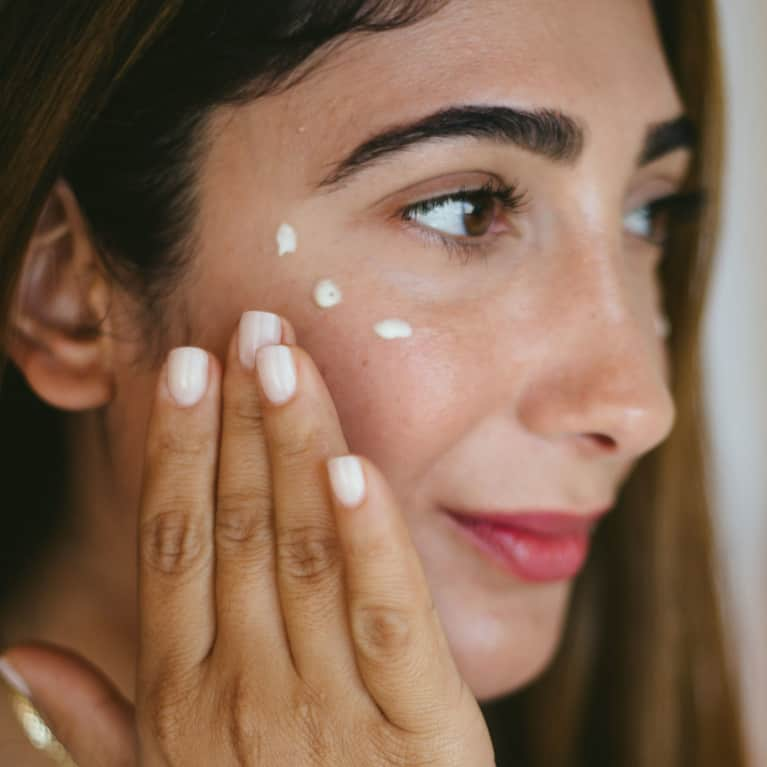 During the cold winter months, dry skin can feel like a constant, eternal battle. Falling temperatures and humidity levels, not to mention all that indoor heat, can cause skin to dry out, crack, and flake. Just as we put away our warm weather clothes and pull out our heavier layers, adjusting our skincare routine is another important ritual that helps us transition into the new season.
Here is a grounding three-step ritual designed to boost and maintain hydration for soft, nourished skin all season.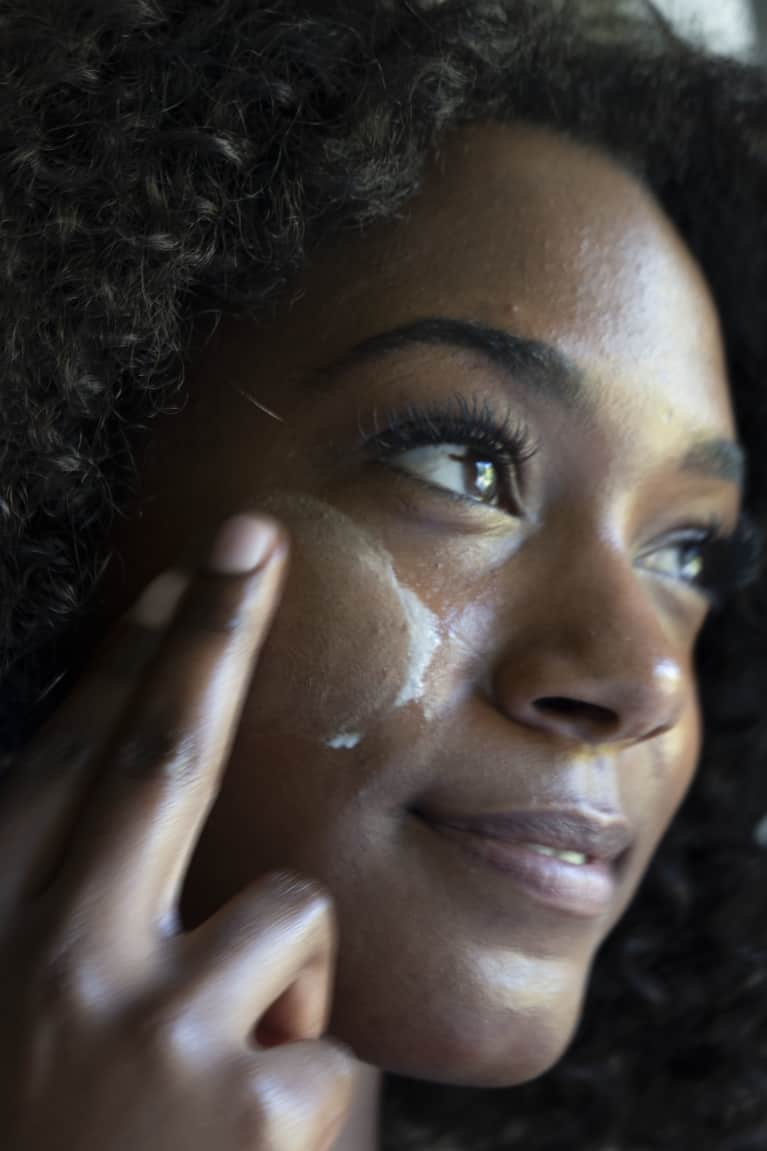 For a calming, relaxing vibe to start your wind-down ritual, start diffusing your favorite essential oil. Washing your face is an essential skincare step, and at night, it's all about removing dirt, environmental pollutants, and makeup from the day and prepping the skin to receive any overnight treatments.
In the winter months, it's important not to strip your skin of its oils during this step, so look for creamy or oil-based cleansers (instead of gels) that won't compromise your skin's protective barrier. You can even try a double cleansing technique—using an oil cleanser, followed by a water-based one—which combines the softening and hydrating properties of an oil with the purifying power of a water cleanser, like micellar water, without causing dryness.
Exfoliation combats dullness by removing dead skin cells and helps your serums and moisturizers absorb better, and though this is an important step—you'll want to exfoliate up to twice a week to keep skin radiant—take it easy with the scrub you choose and avoid any abrasive ingredients.
If you take a shower or bath at night, in the winter you'll want to avoid taking long and hot showers. It sounds tempting, but consistently taking a hot shower in the colder months can significantly dry out the skin. Opt for a warm shower instead, and try keeping shower time to 10 minutes.
Post shower or bath, you'll want to seal in moisture by quenching your skin with an ultra-rich cream, like Weleda's Skin Food Body Butter, a decadent body butter designed for all-over hydration. It's made with nourishing, plant-rich ingredients like shea and cocoa seed butter to lock in moisture and leave skin feeling velvety soft, never greasy. Even though it has a whipped texture, it's so indulgent you'll want to use it everywhere—from elbows to heels.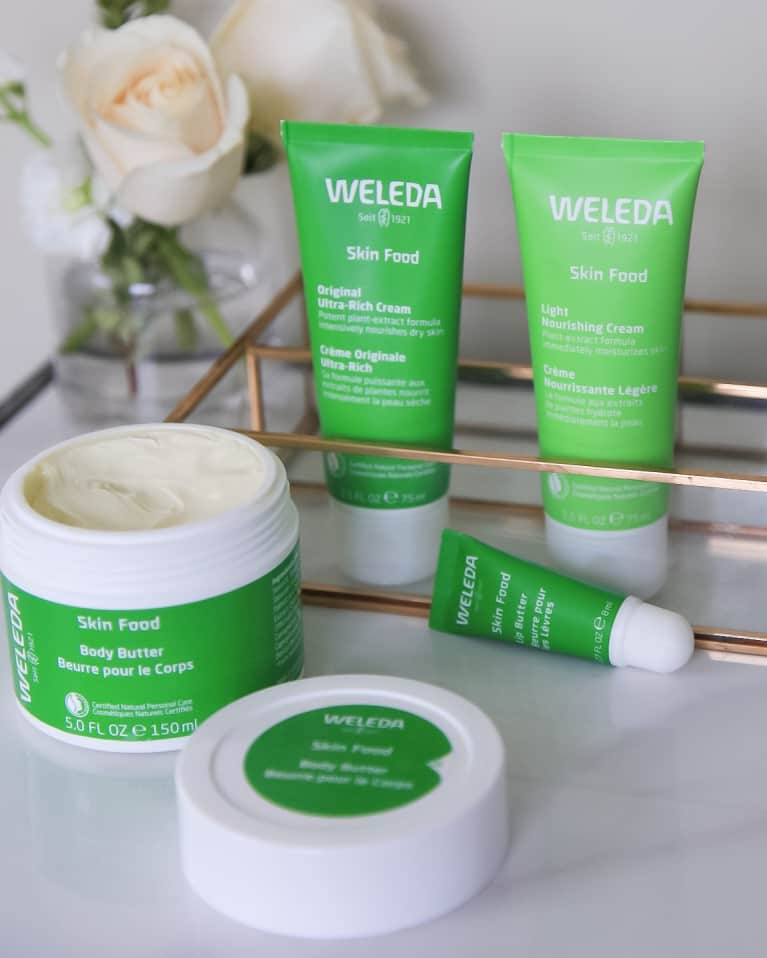 Take time to apply the body butter all over in circular motions, like a self-massage, and using long, gentle strokes on your arms and legs. Breathing in the body butter's essential oils as you do so helps you let go of a busy day and clear your mind.
And don't forget: Your lips need hydration, too. Weleda's new Skin Food Lip Butter is made with a plant-oil blend of ingredients like calendula and lanolin that trap in moisture, keeping dry lips hydrated and supple. (Bonus: It glides on with a subtly glossy sheen so you can wear it alone or underneath your favorite lip color during the day.)
Instill a sense of peace as you continue winding down. Put on layers that feel comforting against your skin, and wear cozy socks to seal in the hydration until morning. Use this time to reflect on the day, reconnect with yourself, and set any intentions for the coming one.
A humidifier in the bedroom is a simple way to help further protect the skin from getting dry while you sleep, especially if the heat is on throughout the night. Try shutting off technology and unplugging at this point to help you fall asleep easily. With a ritual that nourishes your skin and mind, bedtime's never felt so good.