5 Winter Skin Savers That'll Boost Your Mood, Too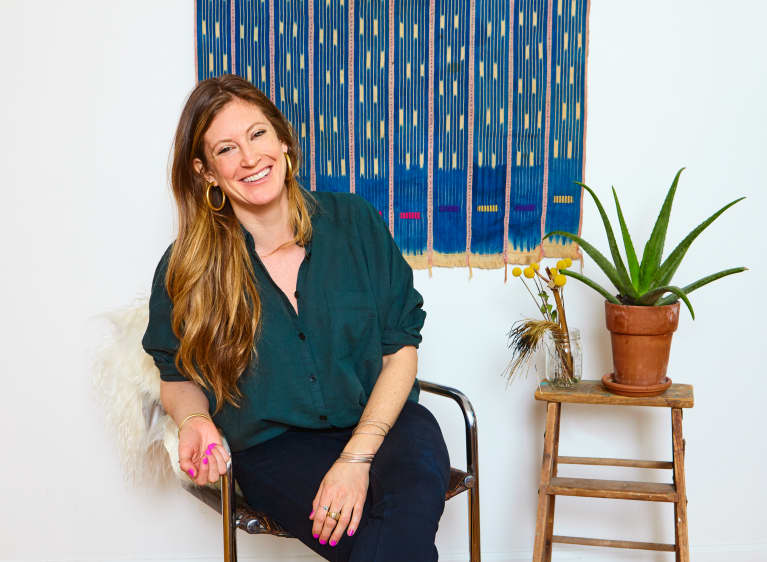 Oh winter—so many people love this time of year, and I want to, I really do, but when I'm on the East Coast, the winter season really is an "all hands on deck" project to keep my mental and physical health in check.
Winter is tricky for a few reasons: Lack of lush nature, freezing temps, drying indoor heat, early evening darkness, and the perpetual gray outside are just a few. Still, as I get older I'm learning to appreciate all the seasons and relish in the quiet of winter. It's a time for introspection and inviting our energy and attention inward. As a natural beauty expert, herbalist, and someone who's learning to love winter, I'm excited to share my tips and tricks to help make the season a more delicious and pleasurable one for all.
Here are my best self-care tips to help boost your mood, save your skin, and bring the best of nature into your routine to inspire a connection to yourself and to the earth:
1. Make the bathroom a sanctuary.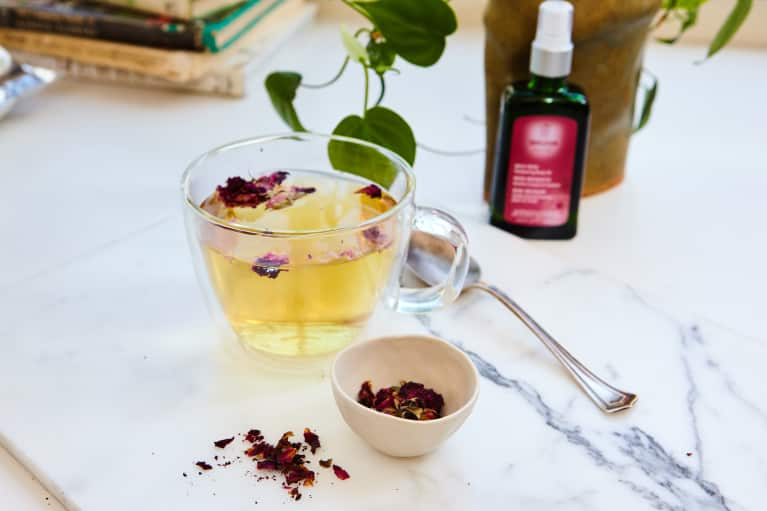 Making my bathroom a botanical sanctuary is my No. 1 goal. There's eucalyptus hanging from my shower head, bundled mugwort burning, and baths with rose petals from a local farm. I recommend beginning or ending with Abhyanga body massage with Pampering Body & Beauty Oil.
2. Prioritize your hands.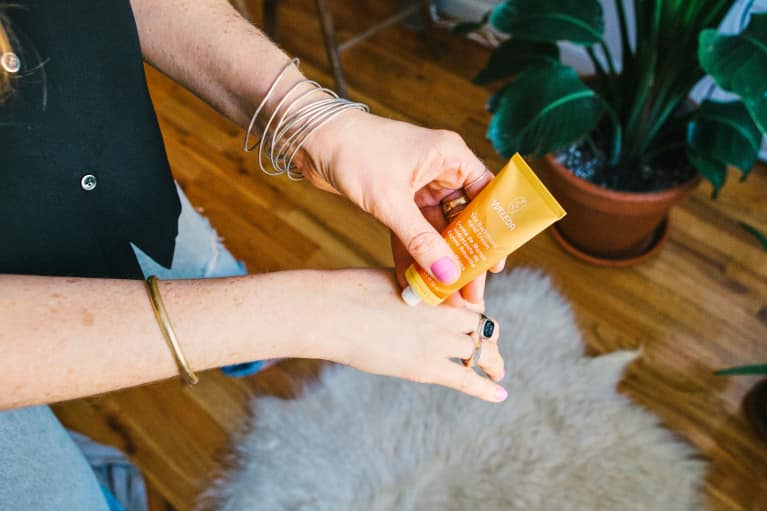 I carry Hydrating Hand Cream in my purse for my hands—as a makeup artist I'm constantly washing my hands on set. Being sure to paint my nails the brightest color I can find helps too—I've been loving the tropical vibe of Delancey by tenoverten.
3. Find an excellent face cream.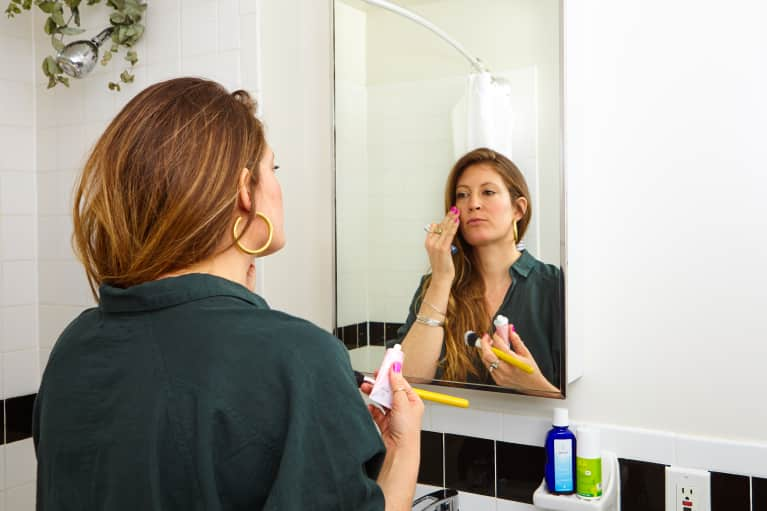 Sensitive Care Facial Cream is great on set. I use it on my clients as a base for makeup because this product agrees with most everyone's skin, is super hydrating, and also acts as a great blender or eraser if I ever use too much blush and need to soften it.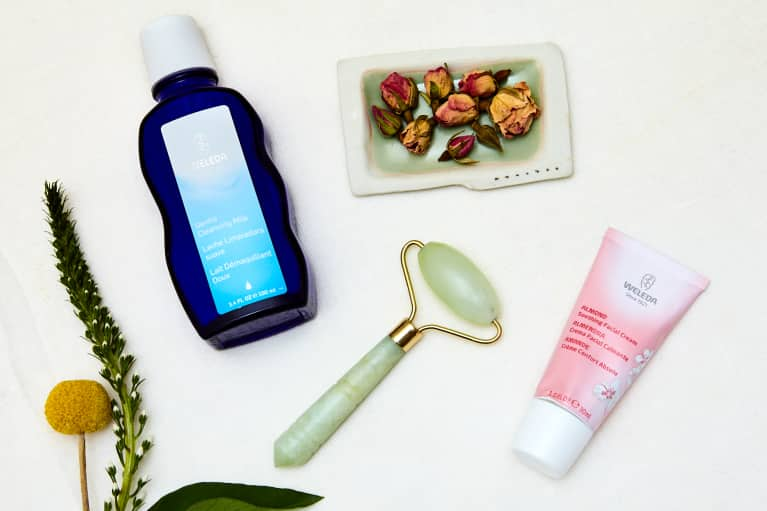 My skin is so reactive in the winter: The cold triggers all sorts of reactions that are less than ideal. One way I like to combat this is with avoiding harsh cleansers and overperfumed products. I like to wash my skin with the most gentle cleanser I can find, which is why I love this nourishing Gentle Cleansing Milk. The fragrance-free Sensitive Care Facial Cream is perfect, too, and I like to apply it with my jade roller.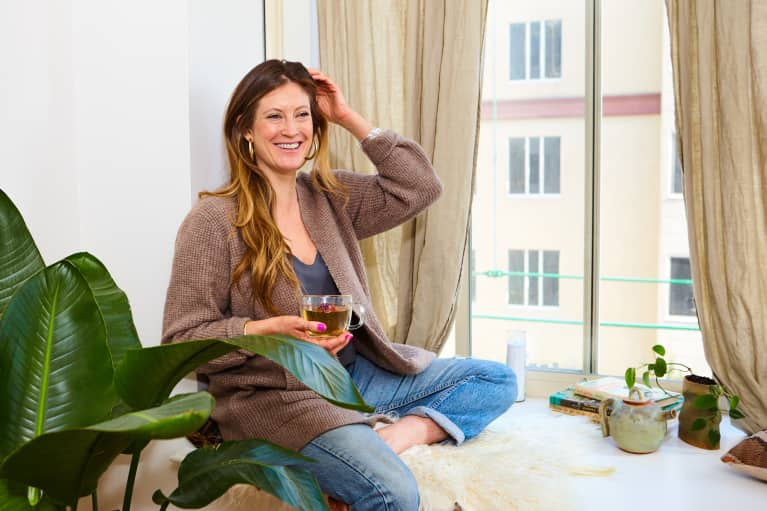 I love starting my day with citrus—it's bright and energizing, and counters the effects of feeling cold, dark, and gray. Citrus season is one silver lining of winter! I'll pour myself a glass of earl grey tea—the bergamot in it is an easeful, gentle way to set an upbeat tone for the day. For a more direct whiff, I reach for Citrus 24H Roll-On Deodorant. I love how it makes me smell great without blocking the natural detox pathways of the underarms.
In addition to the Hydrating Hand Cream, I always have a mandarin or a satsuma in my purse. It's the best snack, and there is nothing like opening up a tiny fruit with citrus magic on the subway in the middle of a morning commute—the scent is enough to perk everyone up.
And when it comes to relaxing, my favorite plant lately is rose. I can't get enough of it—I soak in it to relax at the end of the day in a bath with Wild Rose Creamy Body Wash and Pampering Body & Beauty Oil, drink rose tea whenever I have a down moment, carry rose flower essences with me during the day for my water, and truly delight in any time I can find a product that utilizes this magical plant.