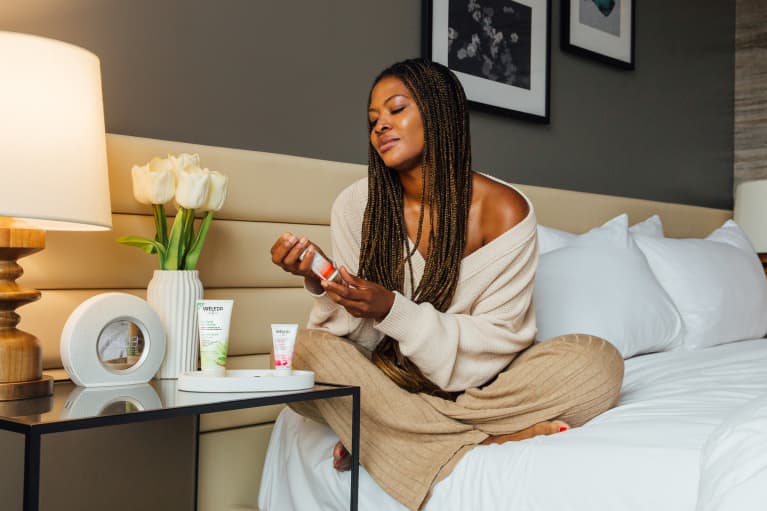 When I started my skin care journey in my early 20s my primary concern was breakouts. Well, breakouts and the unflattering trail of dark marks they almost always left behind. At that time, my skin care philosophy pretty much mirrored the mantra of a junior varsity football team: Go Hard or Go Home! And, yes, it was indeed as harsh as it sounds. My skin care arsenal was heavy on the "go hard," which meant I was successful in blasting the acne, but my overall skin health took a real beating.
This cycle of aggressive treatment was only minimally effective, as my skin would be acne-free for a couple of weeks and then, boom—the flaky, dry, dehydrated state somehow triggered more breakouts. It was an exhausting hamster wheel that I had to get off, and I had to learn not only what triggered more breakouts but also about how to care for my skin and nurture it with creams and specialty products.
Finally, I had an epiphany—I needed to shift my skin care triage tactics, embrace a holistic skin care lifestyle, and find ways to infuse more calm into my daily routine. I was depriving my skin of the TLC it desperately craved. The relentless breakout cycle was essentially a call for help.
After I switched from hyperactive to calming, my skin started to heal and improve. Weleda's plant-rich, nurturing skin care products are simple, calming, and have helped me find my happy. Here's how it looks.
In understanding that skin-soothing ingredients are just as important as active ingredients, I've learned to adopt skin care protocols that soothe the surface and minimize flare-ups. As the first step in a proper skin care routine, cleanser is a make-it-or-break-it product. If a face wash is too harsh, your face will absolutely freak out. If your face wash lacks efficacy, it will leave lots of excess oil, sebum, debris, and leftover makeup unchecked. Be sure to choose wisely to set your face up for glowy success.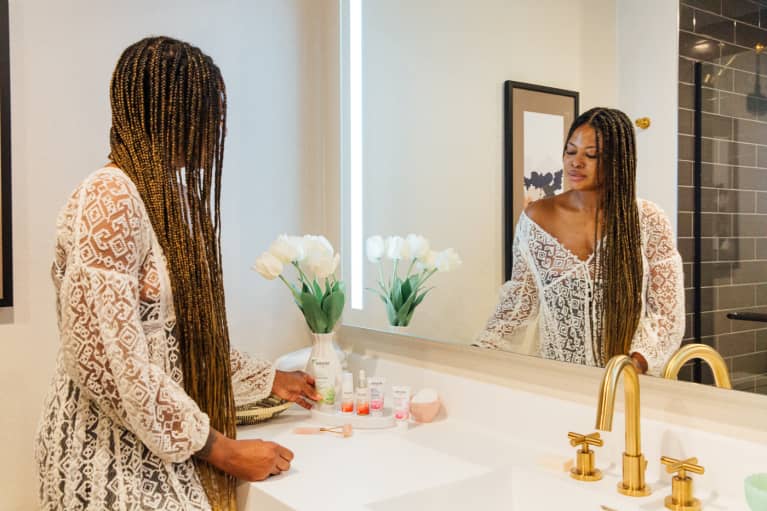 Here's how I start: A few times a week, I reach for Weleda Clarifying Gel Cleanser. This low-foam, cushiony cleanser gives my face a deep clean without going overboard. The plant-rich cleansing gel uses willow bark extract, an antioxidant with balancing, toning properties. It gives my face the best possible cleanse and greatly minimizes the opportunity for surface triggers. This critical, calm first step is a skin care nonnegotiable for maintaining a healthy and harmonious complexion.
Skin looks so much better when it is relaxed and rejuvenated. For this reason, I cannot overstate the importance of facial stimulation. Yes, face rollers are super popular right now, but your hands work just fine. Whether using clean fingertips or a jade roller, any time you massage your face, you increase circulation, which helps boost the glow and dramatically improves the appearance of skin. Facial massage can also enhance the penetration and benefits of your face creams.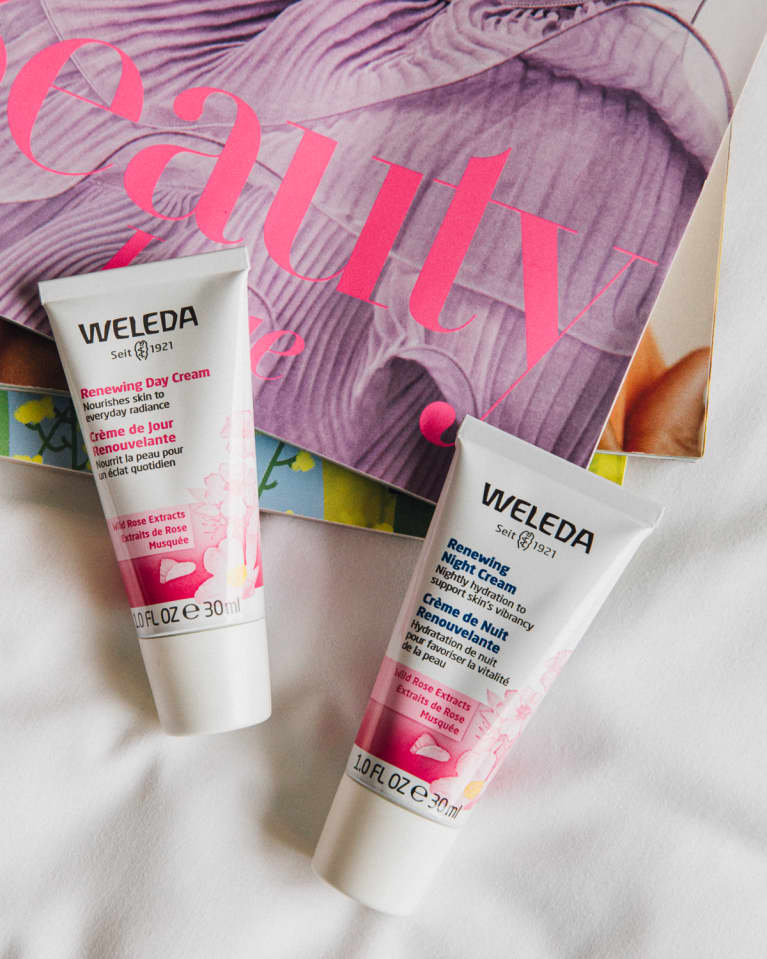 After cleansing, toning, and pressing on an essence, I like to apply Weleda Renewing Day Cream. I love that this cream contains wild rose oil to soothe my skin and hydrate while reducing the appearance of fine lines, plus it smells divine, so I highly recommend taking a moment to breathe in the aroma before massaging your face. With clean hands and a small amount of moisturizer, start at your chin and move up toward your forehead. Repeat for as long as you desire. If you can commit to five minutes, you're off to an excellent start, your skin will reap the calming benefits of rose and will beam with that just-left-the-spa glow we all love.
Striking the balance between targeted treatment and keeping skin calm is crucial. The less skin is triggered, the less your skin care routine will need to focus on troubleshooting and repairing. Finding that balance is all about listening to your skin and adding products or treatments as needed.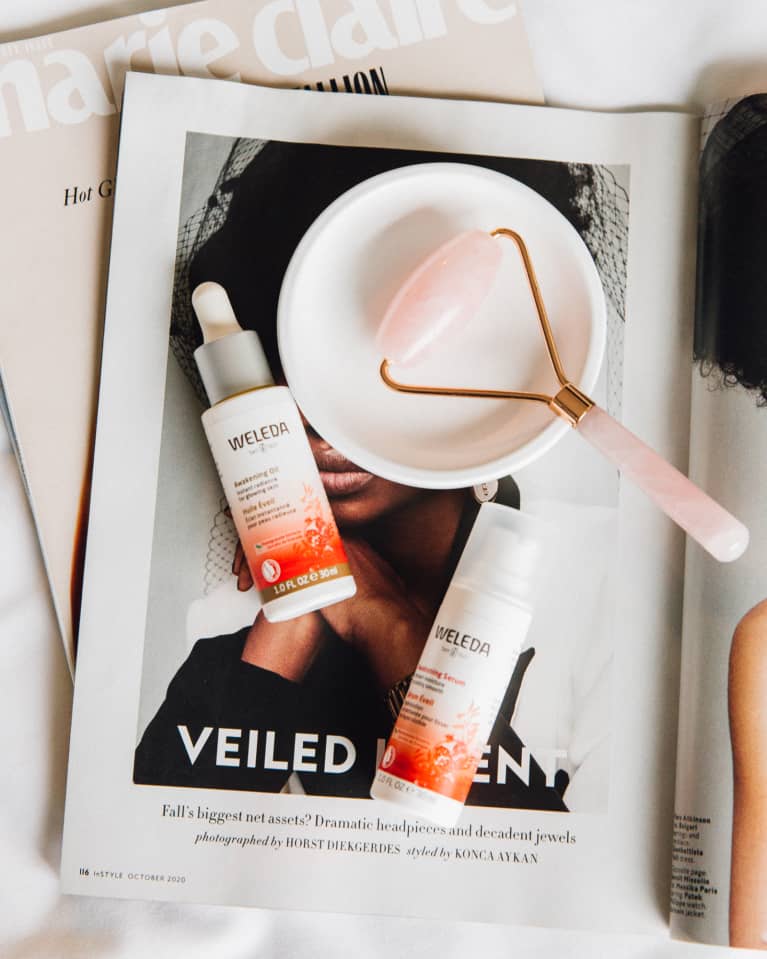 On days when my skin is telling me it needs an extra boost of hydration, I add a nourishing face oil like Weleda Awakening Oil to my routine. This intensive treatment is made of a composition of nine beneficial plant oils including pomegranate seed oil, which helps improve radiance and support the skin's reparative process. It's deeply hydrating and leaves my skin looking dewy and radiant and feeling nourished. Sometimes I apply it on its own, using clean hands to press the oil into my skin, as a final step in my nighttime routine. Other times, I will add a few drops to my day cream and massage into the skin in the morning.
In addition to infusing your routine with plant-rich ingredients and calming rituals, consider spreading out your specialty treatments and, for masking treatments that focus on resurfacing or refining skin's texture, begin with a once a week application, and be certain to follow up with gentle, soothing products. The balance really is beautiful. It's a delicate little waltz, but once you master it, your skin will rejoice!
My calming, nurturing routine using Weleda's plant-rich ingredients has not only helped me maintain balanced, glowing skin, it's also helped me to approach my entire routine with a little more TLC. The sensory experience of Weleda products—from the natural scent of rose in the Renewing Day Cream to the luxurious feeling of the Awakening Oil—inspires me to slow down, soak up those few moments to myself, and see my skin care routine as a self-care ritual.