5 Products This Raw-Food Chef & Wellness Entrepreneur Recommends To Everyone

Founder of Philosophie Superfoods
By Sophie Jaffe
Founder of Philosophie Superfoods
Sophie Jaffe is a certified raw-food nutritionist and raw-food chef. She's a member of the Yoga Alliance as an advanced teacher and is certified by the National Academy of Sports Medicine as a personal trainer.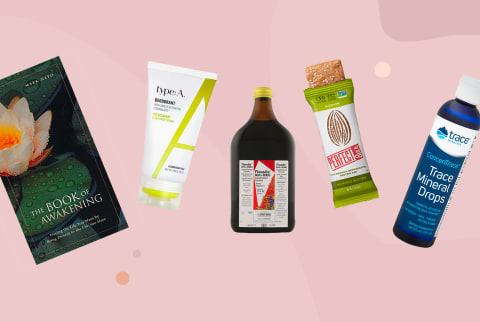 Image by mbg Creative / Contributor
July 29, 2019
We carefully vet all products and services featured on mindbodygreen using our
commerce guidelines.
Our selections are never influenced by the commissions earned from our links.
Here at mbg, we love getting a glimpse into the habits of the biggest movers and shakers in the wellness world—and what better way to do that than by looking at the products they use on a daily basis? In our latest series, mbg Collective members spill on the tools that help them live balanced, happy, healthy lives—and that they recommend to basically everyone. Next up:
Sophie Jaffe
, certified raw-food nutritionist, raw-food chef, and founder of
Philosophie
, a purveyor of
organic superfood blends
and other nutrient-rich goodies.
Book of Awakening
The Book of Awakening by Mark Nepo has been an amazing tool that I use on a daily basis to stay balanced. It's a 365-page book—one for every day—and each page includes a quote and a reading, and two or three tiny prompts for things you can do in the moment to reflect and ground yourself. As a busy mom of three, I don't always have time to do a complete meditation or journaling exercise, so being able to open up a book and get inspiration from one or two pages is a real no-brainer. It's crazy what an impact taking just three minutes every morning can have. You don't think it's enough, but it really is.
mbg creative + custom
Almond Butter Perfect Bar
On the go, I love the Almond Butter Perfect Bar. It's an easy thing to throw in my purse, and even my kids love it. It's got those good healthy fats from the almond butter, and a blend of superfoods, and it just keeps us grounded when we're feeling hangry (I'm not a good person to be around when I'm hungry!). I have a really big appetite, and I honestly don't feel full after eating most other bars. I'm really active and constantly going—mentally, emotionally, and physically—so I crave a lot of grounding, dense nutrients that leave me feeling satisfied, nourished, and balanced.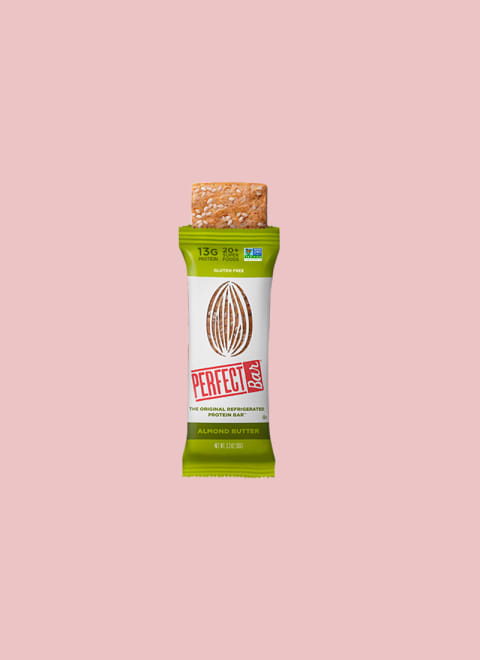 mbg creative + custom
Trace Minerals Drops
I add Trace Minerals Drops to my water most days, especially if I'm going to my favorite hot yoga class (since I'm sweating out all those electrolytes). It's really great during or after a workout, and I feel replenished and recharged when I have it. I've heard it's also great for balancing your pH levels. If you drink filtered or purified water, it's important to remember that most minerals are stripped away during this process, too, so replenishing them is important.
mbg creative + custom
Type: A. Deodorant
Type: A is my go-to natural deodorant because it actually works. I like how it applies (it's a tube that you squeeze as opposed to a stick or roller) and the fact that it's aluminum-free. It also supposedly has this sweat-activated technology," and I'd say 85 to 90% of the days I use it, it really does work. And for a natural deodorant, that's good enough for me! I love The Visionary, which has a nice lemony, citrus scent.
mbg creative + custom
Floradix Liquid Iron
I've been taking this Floradix Liquid Iron supplement for the past 12 years leading up to my period and throughout, and I notice such a difference in my energy levels and mental focus. My lifestyle is go, go, go, and I tend to be anemic, especially around my period—and without this, I'm foggy, exhausted, and weak, and I feel like I could fall asleep at any moment. Bonus: It doesn't taste awful or make you constipated! I even got it approved by my doctors to use in the hospital when I gave birth to all three of my kids, because you can lose a lot of blood during childbirth.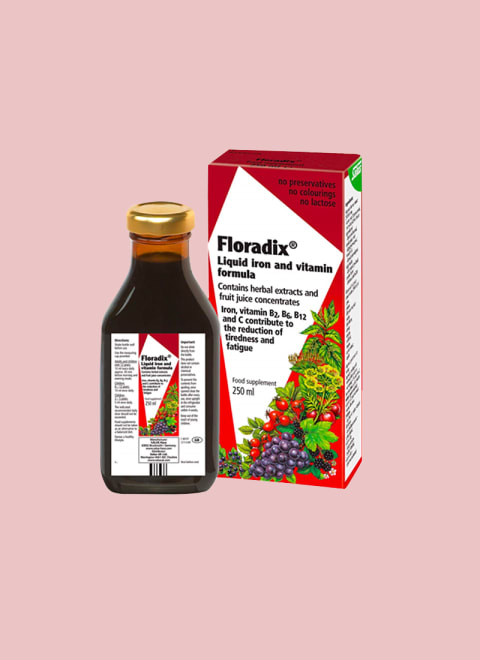 mbg creative + custom

Sophie Jaffe
Founder of Philosophie Superfoods
Sophie Jaffe is a certified raw-food nutritionist and raw-food chef. She's a member of the Yoga Alliance as an advanced teacher and is certified by the National Academy of Sports Medicine as a personal trainer.
After managing a raw foods store in Hollywood that specialized in creating group cleanses, she became dissatisfied with the "one-size-fits-all" model of detox regimens and branched off to create her own company, Philosophie.
Since then, she has found great success and gotten amazing results in providing personalized detox cleanses to a wide variety of clients, including George Clooney, Stacy Keibler, Gerard Butler, and Billy Corgan.
She has created several Superfood Products for use in super-charging every meal and two convenient, effective Quick Cleanses that can be delivered anywhere and utilized easily.