paid content
 for

The 3 Products That Empowered Me To Work Out While 7 Months Pregnant
Founder of Philosophie Superfoods
By Sophie Jaffe
Founder of Philosophie Superfoods
Sophie Jaffe is a certified raw-food nutritionist and raw-food chef. She's a member of the Yoga Alliance as an advanced teacher and is certified by the National Academy of Sports Medicine as a personal trainer.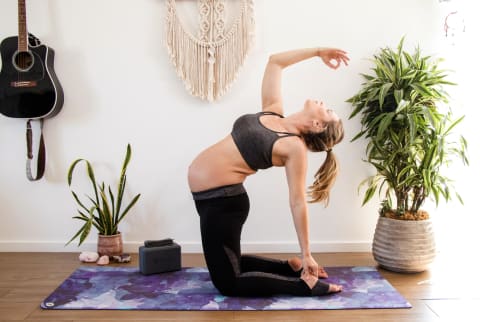 Photo by Tamara Muth-King
April 26, 2018
Being that I'm 7 months pregnant, I have been enjoying all sorts of new workout classes and at home fitness routines with equipment, adapting to whatever it is my body needs that day. Kohl's is my go-to destination for all things wellness and it's so great to be able to have one stop shopping for my whole family all in one place. Not only can I find cute activewear and shoes for myself for my workouts or running errands, but also for the boys and my husband as well. With the new spring season already here, it's time to really start upping my fitness routine in preparation for those short shorts and tanks as summer is right around the corner!
We also have loved trying new kitchen gadgets like our dehydrator and Instant Pot to cook a ton more from home all while incorporating lots of fresh veggies from the farmers market. These devices have allowed us to save time on cooking yummy leftovers throughout the week, saving time on cooking too, and allowing us more hangout time as a family.
Since I live in Southern California, I am lucky to be able to do a lot of my workouts outdoors. For me, comfort for my activewear is just as important as the style. If I feel comfortable in my clothes, I'm inspired to kick my workout routine up a notch. Plus, pregnancy has me seeking comfort at all costs, especially when it comes to being active. Whether it's an at-home workout or a local yoga class, being able to stretch and move easily in my clothing while pregnant makes a huge difference in how I feel.
I love this Gaiam wire-free sports bra for walking lunges, or for a sweaty flow at my local yoga studio. It's super comfortable and feels weightless but provides the support I need as a pregnant busy mama on the go from workout to errands to kid duties.
The Gaiam Om stirrup leggings are also a super versatile addition to my collection. They can be dressed up or down and have worked in all the different forms of fitness I've rocked them in so far-- weights in my front yard, spin, and barre. They are not sheer at all and give me full coverage to help support me through my pregnancy. The true test for me when it comes to great activewear is whether or not the fit and style can work in my favor, regardless of the type of workout. Since I don't have the time to sort through my clothing and coordinate my gear specific to different workouts—be it yoga or running—versatility is key when buying activewear to fit my needs.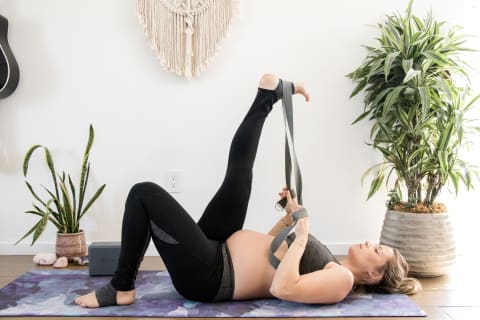 The Gaiam yoga block and strap combo has been a lifesaver lately for my tight hips. This pregnancy has been no joke and the one thing keeping me sane is my time spent on my yoga mat. It's a non-negotiable, and I always make sure to put aside an hour of peace and solitude. By throwing my feet straight up in the air and hooking into the strap, I'm able to move freely side-to-side and release any tension in my hips.
These products have not only helped my pregnancy workouts run more smoothly, but they've also added a level of accessibility to on-the-go or at-home workouts when I don't have time to go to a class! With Mother's Day approaching soon, I'm looking forward to shopping at Kohl's as a one-stop destination for treating all the mamas I love in my life.
Keeping up with a busy family life, pregnancy and work life can be really taxing, so I really appreciate Kohl's wide selection of affordable products that cater to everyone, where I can save both time, energy, and money gift shopping. Whether it be a pair of spring-themed leggings, a tank for your spring adventures, or a shiny new kitchen tool for the foodie in your life, Kohl's selection of affordable and diverse gift ideas will help you gear up for your spring festivities.

Sophie Jaffe
Founder of Philosophie Superfoods
Sophie Jaffe is a certified raw-food nutritionist and raw-food chef. She's a member of the Yoga Alliance as an advanced teacher and is certified by the National Academy of Sports Medicine as a personal trainer.
After managing a raw foods store in Hollywood that specialized in creating group cleanses, she became dissatisfied with the "one-size-fits-all" model of detox regimens and branched off to create her own company, Philosophie.
Since then, she has found great success and gotten amazing results in providing personalized detox cleanses to a wide variety of clients, including George Clooney, Stacy Keibler, Gerard Butler, and Billy Corgan.
She has created several Superfood Products for use in super-charging every meal and two convenient, effective Quick Cleanses that can be delivered anywhere and utilized easily.