Close Banner
Advertisement
This ad is displayed using third party content and we do not control its accessibility features.
paid content
 for

This Workout Plan Will Leave You Feeling More Energized Than Ever
Founder of Philosophie Superfoods
By Sophie Jaffe
Founder of Philosophie Superfoods
Sophie Jaffe is a certified raw-food nutritionist and raw-food chef. She's a member of the Yoga Alliance as an advanced teacher and is certified by the National Academy of Sports Medicine as a personal trainer.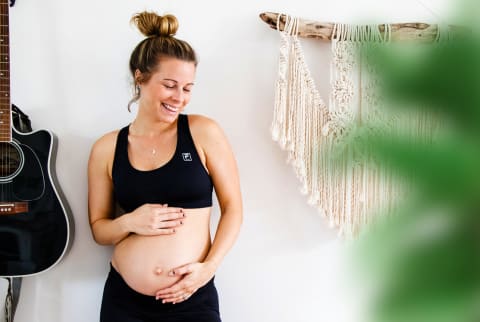 Photo by Tamara Muth-King
January 29, 2018
My everyday workout routine has changed pretty drastically in the past couple of months. I am so lucky to be pregnant with my third child—a sweet baby girl. Since it's my third time, I thought I knew what to expect, but boy was I wrong. Not only did I have trouble keeping food down, I also had to take a serious break from my fitness routine. I use exercise as a form of self-care and think it's super important not only for health and detoxification purposes but for sanity and stress levels.
I've found that the very best thing I can do for myself is stay consistent with my workout routine. I love activewear and fitness equipment from Kohl's, and I especially love having something I can wear morning to evening and everything in between. Also, as someone who primarily works from home, I tend to sneak in fitness in wherever I can, and since I'm already dressed in an outfit I can easily move in (like these cozy leggings and supportive sports bra from FILA SPORT), I have no excuses.
My suggestion? You should do the same. Snag some light weights from Kohl's (they're super affordable) so you can sneak in some bicep curls or an overhead press while you're taking a 10-minute work break or watching your favorite reality show. Plus, there's no shame in a desk workout—just saying!
Here are some of my favorite moves that can be incorporated anywhere.
Working the legs.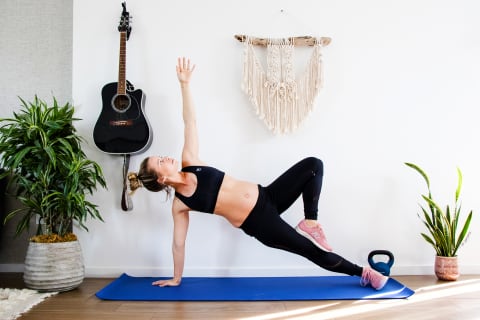 Lunges, squats, and split squats are great for strong legs—try doing three sets of 12. If you're just starting out, drop the weights and work your way up by getting your form and strength built. Form is most important, especially before adding weight.
Balancing poses like side planks are amazing for your arms and full-body strength. I love how grounded this makes me feel. Don't forget to breathe deeply in and out through your nose, filling up your belly. Prepare for any negative energy to melt away.
Open up those hips!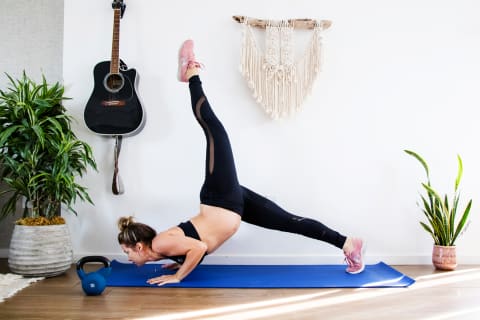 Did you know we hold a ton of toxic emotions in our hips? Hip openers not only keep you flexible but help to move anything that's "stuck" throughout our body to create a much lighter feeling internally.
Don't forget about those arms.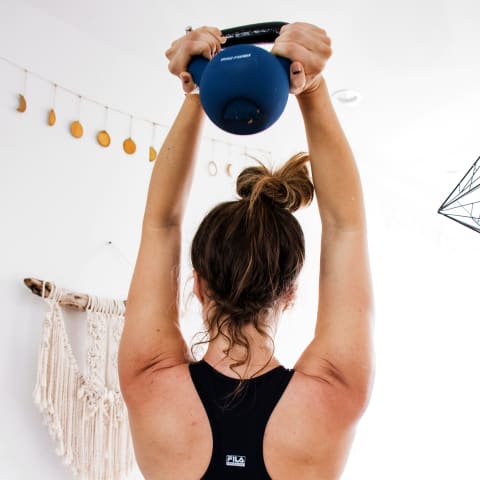 For arm-strengthening exercises, I'll grab a 10-pound kettle, put my arms straight in the air directly by my ears (be careful of holding any tension in your neck, though—try to relax!), and bend backward at the elbow. You'll feel it right away and will be tank-top ready in no time. I love how this sports bra fits so well and doesn't poke into my growing belly.
I always finish up my routine with a few minutes of meditation, surrounded by some healing and uplifting crystals (my New Balances and my rose quartz are so sweet together), paired with deep breaths, again filling up my belly and letting it all go. I try to jot any thoughts I have down, too, in a journal; it really helps writing out anything that's bothering you, almost like you're leaving it all there on the pages and moving on into peace.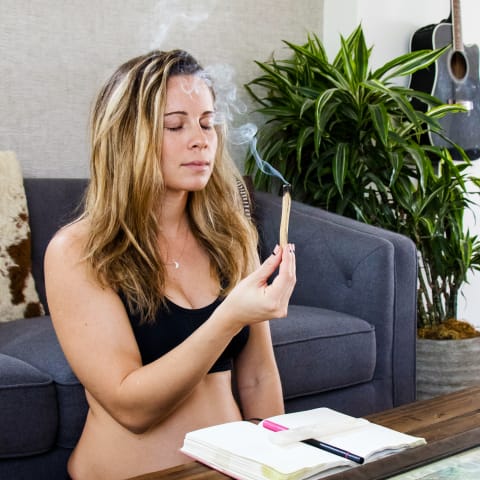 I light beautiful Palo Santo and move its cleansing energy throughout my whole home. Palo Santo is Holy Wood and helps get rid of anything toxic in your space. We sell it on my website, too, at thephilosophie.com.
Workout gear for the whole family.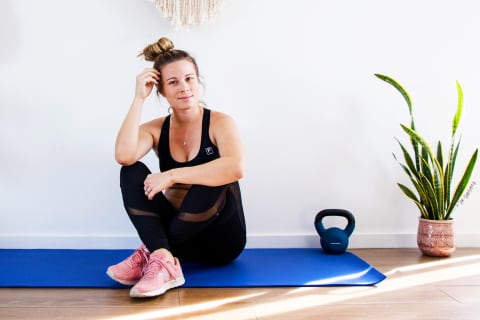 I already have two super-active boys (5 and 7), so having comfy and cute shoes like these dusted pink (for my girl!) New Balances to transition from school drop-offs to an at-home HIIT workout is key. I can already picture my little girl in matching ones.
If you liked checking out my FILA SPORT workout with Kohl's, feel free to try a few of my other workouts, too, so you don't get bored and you're constantly challenging your muscles. My favorite HIIT workout can be found here.
It's so amazing to get cute clothing that makes you feel good and helps maximize your workout—and you can get all of those things from Kohl's. And treat yourself to some of their home fitness equipment while you're at it! You can find so many workouts for free online, so ditch that gym membership and get your sweat on in the comfort of your own home, especially in these winter months! Enjoy!
More On This Topic
more Movement
Advertisement
This ad is displayed using third party content and we do not control its accessibility features.
Advertisement
This ad is displayed using third party content and we do not control its accessibility features.