Close Banner
Advertisement
This ad is displayed using third party content and we do not control its accessibility features.
paid content
 for

A 5-Night Healthy Meal Plan To Steal From This Raw Food Chef, Yogi, And Mom
Founder of Philosophie Superfoods
By Sophie Jaffe
Founder of Philosophie Superfoods
Sophie Jaffe is a certified raw-food nutritionist and raw-food chef. She's a member of the Yoga Alliance as an advanced teacher and is certified by the National Academy of Sports Medicine as a personal trainer.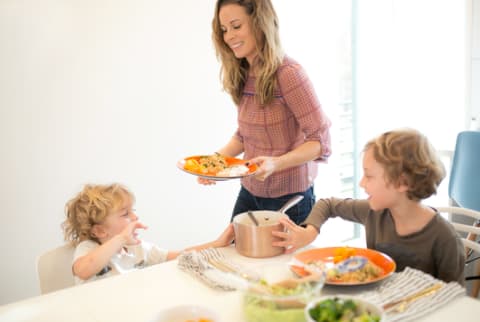 On the first day of each January, I snuggle up with my 6- and 4-year-old boys and ask them what their hopes and dreams are for the fresh new year. This year, my oldest said he wants to be a "Superfood Professor" (really!). My youngest had a more short-term goal—he dreamed of a cacao brownie hot out of the oven.
Food to fuel their spirit
To ensure that they blossom and shine brighter each day of the year, I prioritize creating nourishing, energizing, and yummy food for our entire family every week. My secret for making it happen? I discover and dream up healthy meal ideas that are so delicious, my kids, hubby, and I fall in love with our food and cherish dinner time as a magical hour when we can connect and grow together as a family.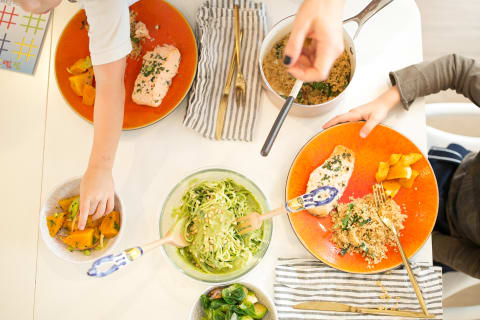 Since I'm constantly on the move while running my company, Philosophie, teaching yoga, and taking care of my kiddies, I need all the help I can get in the kitchen. To make meal prep both super simple and fun (Kai and Leo join in as my little helpers!), I rely on an assortment of handy, healthy food-prep tools from Kohl's.
To inspire your meal prep this year, I've come up with a weeklong meal plan full of my absolute favorite, kid-approved dishes.
MONDAY: Pesto Zoodles
My family loves making oodles of zucchini noodles with our Hamilton Beach Spiralizer from Kohl's—they look gorgeous and are so easy to make! While I have one of my kiddies churning out the noodles, I'll make a nourishing pesto (recipe below) with almonds and spinach to pour on as a flavor-packed sauce.
Spiralized Zucchini With Avocado Pesto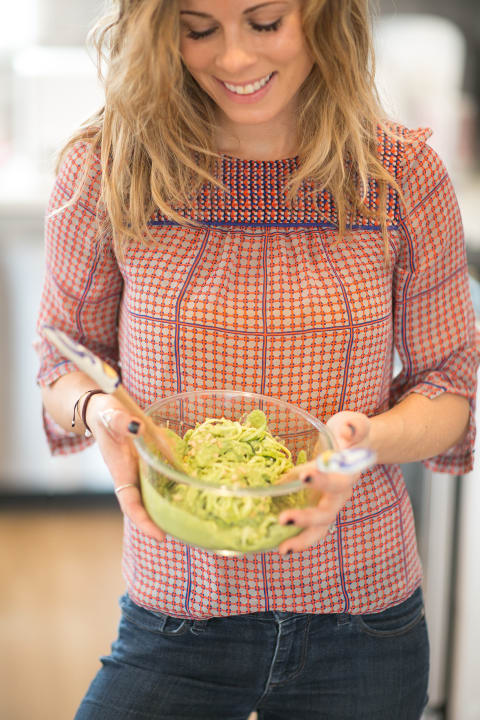 1 zucchini, spiralized
1 avocado
2 tablespoons olive oil
1 tablespoon water
1 tablespoon nutritional yeast
1 tablespoon lemon juice
1 teaspoon Green Dream Superfood + Protein Blend
1 teaspoon crushed garlic
Handful of almonds
Handful of basil
Handful of spinach
Sea salt and cracked pepper to taste
Blend the avocado, olive oil, water, nutritional yeast, lemon juice, Green Dream, garlic, basil, salt, and pepper until smooth.
Toss with the spiralized zucchini, serve, and enjoy!
TUESDAY: Superfood Smoothies (For Dinner!)
I'm a big believer that breakfast is truly for any time of day! For us, that means lining up our kitchen counter with superfoods and blending them in our Ninja at night. To cream a wholesome, frothy smoothie, I combine frozen bananas, almond milk, leafy greens, our Philosophie Superfood + Protein Blends, a handful of fruit, and a cup of ice. Coupled with a plate of heart-healthy avocado and coconut butter toast, we'll have a dinner that's super filling, unique, and nutritious! My Ninja from Kohl's is seriously such a lifesaver when it comes to quick dinner prep.
WEDNESDAY: Roasted Veggie Power Bowls
There's nothing like diving into a comforting, hot Power Bowl after a long day, and they're so easy to assemble. While I get a whole grain like quinoa or wheat berries going, I'll cook up a rainbow of colorful veggies like Brussels sprouts, beets, and bell peppers, along with a clean protein like chicken breast in my Food Network Copper Ceramic Cookware that I got from Kohl's. I especially love that this cookware requires less oil! Once everything's done cooking, I'll layer the chicken and veggies on top of the grains, drizzle on a wholesome tahini dressing or honey vinaigrette and a handful of chia seeds. Voilà!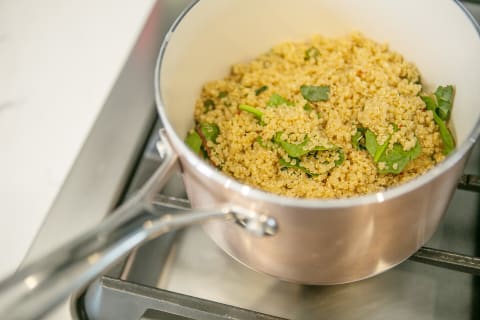 THURSDAY: Creamy Vegan Garlic Potato Soup
Thursdays are made for whipping up a wholesome, grounding soup. After cooking carrots, onions, potatoes, garlic, and ginger in veggie broth over the stove, I'll add everything to my powerful Ninja blender, add a splash of coconut milk, and let it churn up a seriously creamy soup. Talk about simple meal prep!
FRIDAY: Portable Protein Bowls + Dessert
Since Friday kicks off the weekend, we're sometimes headed off to an evening outing and need a quick grab-and-go dinner. In this case, I love to pop some sustainably caught salmon into my Excalibur Dehydrator the night before and let it work its magic. I got my dehydrator from Kohl's and love it for making healthy, portable snacks. Speaking of snacks, we also love to toss fruit into the dehydrator, like blueberries or strawberries, for a super-simple, nutrient-dense nibble.
Once the salmon is done I'll quickly steam some green beans and pack with bowls of farro or brown rice. We can assemble these fish and veggie bowls on the run, no matter where we are. Then, we treat ourselves to dehydrated fruit as a dessert!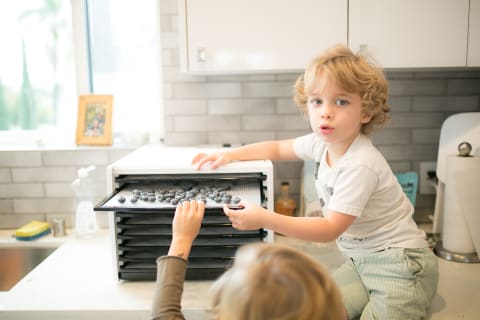 Sophie Jaffe
Founder of Philosophie Superfoods
Sophie Jaffe is a certified raw-food nutritionist and raw-food chef. She's a member of the Yoga Alliance as an advanced teacher and is certified by the National Academy of Sports Medicine as a personal trainer.
After managing a raw foods store in Hollywood that specialized in creating group cleanses, she became dissatisfied with the "one-size-fits-all" model of detox regimens and branched off to create her own company, Philosophie.
Since then, she has found great success and gotten amazing results in providing personalized detox cleanses to a wide variety of clients, including George Clooney, Stacy Keibler, Gerard Butler, and Billy Corgan.
She has created several Superfood Products for use in super-charging every meal and two convenient, effective Quick Cleanses that can be delivered anywhere and utilized easily.