This Is The World's Best Gluten-Free, Vegan Sandwich & You Need To Make It For Lunch ASAP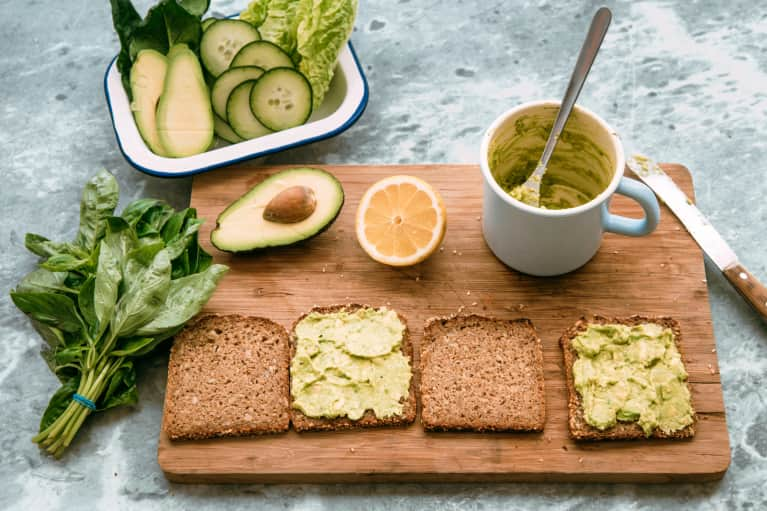 Our editors have independently chosen the products listed on this page. If you purchase something mentioned in this article, we may
earn a small commission
.
Sandwiches are one of the best lunch foods around, but all too often they're soggy, with flat flavors and textures that blend together. Not this one. Bettina Campolucci Bordi, the blogger behind the wildly successful Bettina's Kitchen who used food to help heal her PCOS, is out to change all of that. This recipe, appropriately titled the "Epic Veggie Sandwich," comes from her new book, Happy Food. It features a gluten-free, hearty bread you'll want to make on repeat, protein-packed hummus, a zesty pesto sauce, and crunchy red onion and bell peppers. Try it, and you'll never look at work lunch the same way again.
Makes 2 sandwiches
Ingredients
2 slices of red onion
2 slices of tomato
2 slices of yellow (bell) pepper
2 lettuce leaves
4 slices of Super Bread (recipe below) or good-quality shop-bought bread
2 tablespoons Pumpkin Seed Pesto (see recipe below), optional
2 tablespoons hummus (recipe below)
Prepare all the veggies that are going into your epic sandwich, and set aside.
Get two pieces of bread and spread pumpkin seed pesto on them (if using) and top with the hummus. Layer with veggies in between. Add a sprinkle of salt and pepper to taste before adding the top of the sandwich and giving it a good squeeze.
Heads up: This isn't something you'll want to eat in front of people you're trying to impress—it is messy, gooey, and absolutely yummy!
"My love of bread has always been immense," Bordi says. "Discovering my gluten intolerance was not a very good day, to say the least. Faced with many shop-bought options, I decided to make my own version of hearty bread. Inspired by the traditional Irish soda bread, I thought I'd make this version yeast-free, too."
Makes 1 loaf
Ingredients
280 g (10 oz / 2 cups) Gluten-Free Flour Mix (see below)
40 g (1½ oz / ¼ cup) ground flaxseeds
1 teaspoon bicarbonate of soda (baking soda)
pinch of salt
½ red or green apple, sliced
625 ml (2½ fl oz / 2½ cups) water
Add-ins: pumpkin seeds, sesame seeds, sunflower seeds, poppy seeds
Preheat the oven to 170ºC (340ºF/Gas 3).
Put all the dry ingredients into a bowl.
Put the apple into a blender with the water and blitz until fully incorporated.
Mix the apple water with the dry ingredients until you have a porridge-like consistency. The salt, bicarbonate of soda, and the sweetness from the apple will activate one another and make the bread lighter and fluffier.
Pour the mixture into a 450-g (1-lb.) bread tin or good-quality silicone mould—the latter is my favorite. Top with seeds, if you like, and bake in the oven for 45 to 60 minutes until golden brown. Check after 45 minutes—insert a wooden skewer in the center to see if it comes out dry. If it does, switch the oven off and let the bread set for another 15 minutes in the oven.
Once ready, transfer to a wire rack and leave to cool. The bread will last up to a week in the fridge and can easily be sliced and frozen. Great to just pop into the toaster when needed.
Tip: Refrigerate after one day. It will firm up the bread more, so it will be easier to slice and will last longer. This bread also lends itself well to freezing. Make sure you slice it first, though.
"Many shop-bought gluten-free flour mixes can be unpredictable," Bordi says. "Make a double batch of this, and you will thank me later."
Makes 900 g (2 lb) flour
Ingredients
210 g (7½ oz / 1⅓ cups) brown rice flour
140 g (5 oz / 1 cup) buckwheat flour
70 g (2½ oz / ½ cup) white rice flour
40 g (1½ oz / ½ cup) oat flour
40 g (1½ oz / ¼ cup) potato starch/flour
40 g (1½ oz / ½ cup) tapioca flour
Method
Mix all the flours together and store in an airtight container.
"This particular recipe is made with pumpkin seeds and was developed for clients with nut allergies," Bordi says. "Personally, I think pumpkin seeds have a great depth of flavor and bring some fantastic nutritional value to the table. It has even been approved by my full-blooded Italian father-in-law."
Makes 1 x 250 g (9 oz) jar
Ingredients
250 ml (8½ fl oz / 1 cup) olive oil, plus extra for sealing
120 g (4 oz / 1 cup) pumpkin seeds
bunch of basil (30 g / 1 oz)
1 garlic clove, peeled
½ tablespoon each salt and black pepper
Method
Simply add all the ingredients to a blender and blitz until you have a lovely pesto. You can choose to blend until smooth or to a chunkier consistency, if you prefer. This recipe will keep in the fridge for at least two weeks. When you put it into a clean storage jar, make sure you cover the top of the mixture with a good layer of oil, as it serves as a natural preservative. One centimeter (½ in) above the pesto is more than enough.
200 g (7 oz / 1½ cups) tinned chickpeas, drained
3 tablespoons light tahini
juice of 1 lemon
5 tablespoons water
½ garlic clove, peeled
1 beetroot, chopped
1 teaspoon Dijon mustard
1 tablespoon capers, chopped
pink Himalayan salt and black pepper, to taste
Method
For the hummus, add all the ingredients to a blender and blitz until you have a lovely smooth texture, then set aside.
Based on excerpts from Happy Food by Bettina Campolucci Bordi, with the permission of Hardie Grant. Copyright © 2018.