An Anti-Acne Super Salad + 4 Other Beauty-Boosting Recipes

Contributing Food Editor
By Liz Moody
Contributing Food Editor
Liz Moody is a food editor, recipe developer and green smoothie enthusiast. She received her creative writing and psychology degree from The University of California, Berkeley. Moody is the author of two cookbooks: Healthier Together and Glow Pops and the host of the Healthier Together podcast.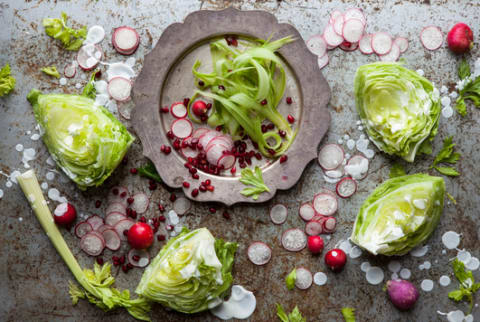 February 24, 2017
Some things just go together: Peanut butter and jelly, Beyoncé and Jay-Z, sunny days and picnics–and of course, food and beauty! In our new series, Beauty Bites, we'll be bringing you the best these two have to offer. To look, and more importantly feel, beautiful, the potent combination of nourishing your skin and self from the inside-out and outside-in can take your feelings of self-worth (and sex appeal) to crazy new heights. Each week, we'll be bringing you mouthwatering recipes and exotic beauty secrets that will make you glow and radiate a certain je ne sais quoi. You'll never look at your kitchen in the same way again...
Salads are the unsung heros of the health world, often thought of as boring, plain or just not delicious. Au contraire, the simple salad can be packed with flavor and textures green juices can only dream of. They're also an incredible opportunity to make your dinner functional (for more than just filling you up, that is). Here, we've created salads designed specifically around your skin, with a different dish for every woe, from dry skin to acne to dark circles. Most come together in less than five minutes, and they're all delectable enough to wow even the pickiest of palettes. Give 'em a go, and get your glow on.
Peace Out, Puffiness: Light & Fresh Cucumber & Celery Salad with Minty Fennel Dressing
This salad is filled with nourishing ingredients that act as powerful diuretics, hydrating your body while binding to excess liquid and flushing it from your system (magic, we know).
1/2 cup English cucumber, washed (not peeled), and chopped into 1/2" cubes
1/2 cup celery, chopped into 1/2" cubes
1 cup loosely packed spinach
1 bulb fresh fennel, with fronds
1/4 cup fresh mint leaves, stems removed
2 tablespoons apple cider vinegar
1 teaspoon Dijon mustard
1/3 cup avocado oil
Generous pinch salt
Generous pinch pepper
Cut the fennel bulb into thin pieces. Strip the leafy fronds from the end and chop; set aside.
In a blender, combine mint leaves, fennel fronds, apple cider vinegar, and mustard. Blend until well-combined. Slowly drizzle in avocado oil and blend until emulsified (alternatively, just finely chop mint and fennel and whisk vigorously).
Combine fennel, celery, spinach and cucumber in a bowl; toss with dressing until well-coated.
The Fine Line Fighter: Blackberry Arugula Bramble with White Tea Vinaigrette
This guy is all about antioxidants, which comes from the dark blackberries and the light, airy white tea. The delicate flavor will win you over while the phyto-nutrients go to work on your skin.
3/4 cup fresh blackberries
1 cup arugula
1/4 cup crushed pecans
1 bag of white tea
2/3 cup of white wine vinegar
1 tablespoon honey
1 teaspoon chopped fresh thyme
1 teaspoon minced shallots
1/4 tsp Dijon mustard
Generous pinch salt
Generous pinch pepper
1/3 cup extra virgin olive oil
Place tea bag and vinegar in a small pot and bring to gentle simmer. Reduce heat to low and let simmer for two minutes. Remove from heat and gently squeeze tea bag into vinegar to remove the most possible tea before discarding.
Whisk in mustard, honey, fresh thyme, shallots, salt and pepper until well-combined; then whisk in olive oil a little at a time.
In a dry saucepan, gently toast pecans until golden and fragrant.
Toss pecans with blackberries and arugula, then drizzle with vinaigrette and toss until well-coated.
Dark Circles Be Gone: Roasted Squash Medley with Chocolate-Balsamic Drizzle
Dark circles are often related to a lack of magnesium, which you'll get in ample quantities in the raw cacao and pumpkin seeds in this dish. The squash provides a heaping portion of Vitamin A, which helps build skin-thickening collagen (all the better to hide those dark circles with, m'dear!).
2 cups mixed squash, peeled and chopped into 1" cubes
2 teaspoons coconut oil, melted
Generous pinch salt
1/2 cup balsamic vinegar
1 tablespoon raw cacao
1/2 cup loosely packed spinach
1/4 cup pumpkin seeds
Preheat oven to 375 degrees. Toss squash with coconut oil and salt and spread in a single layer on a baking tray. Roast until edges begin to brown, flipping once, about 30-45 minutes.
In the meantime, whisk together cacao and balsamic vinegar in a small pot. Bring to simmer, then reduce heat and let simmer until reduced by half (about 15 minutes).
In a dry saucepan, lightly toast pumpkin seeds over low heat.
To serve, toss together slightly cooled squash, spinach, and pumpkin seeds; drizzle generously with balsamic cacao mixture to coat.
The Instant Hydrator: Avocado Walnut and Toasted Coconut Salad with Tropical Ginger Lime Dressing
This salad is all about good fats, with avocado, walnut and coconut (two ways!) all adding to the mix. All that good fat and Vitamin E works from the inside to plump and hydrate skin.
1 avocado, pitted and cubed
1/4 cup raw walnuts
1/4 cup flaked coconut
1" knob of ginger, grated
1 lime (preferably organic, as you'll be using the zest)
1 teaspoon honey
1/4 cup coconut milk
Generous pinch salt
1 cup mixed greens
In a medium frying pan, lightly toast the walnuts and coconut over low heat until golden brown. Set aside.
Zest lime into a bowl, then squeeze in the juice. Whisk in grated ginger, coconut milk, honey and salt until well combined.
Toss together avocado, greens, walnuts and coconut, then toss with dressing until well-coated.
The Anti-Acne Plate: Shaved Asparagus & Roasted Grapefruit Ceviche
Asparagus is one of our beauty editor's favorite foods for acne, and the grapefruit provides an astringency that tightens skin and clears out pores, with a hefty dose of Vitamin C for collagen-boosting and skin-clearing. Hemp oil in the dressing gives an extra anti-inflammatory boost.
1 bunch asparagus
6 green onions, tips and ends removed and cut in half
1 medium grapefruit (preferably organic, as you'll be using the zest)
2 teaspoons honey
5 - 6 springs thyme, destemmed and roughly chopped
1/4 cup hemp oil
Generous pinch salt
Generous pinch pepper
Zest the grapefruit, then cut it in half and place cut side up in a baking sheet. Put the oven on broil, then broil for 2 - 3 minutes, or until it begins to caramelize on top.
Remove from oven and let cool, then squeeze juice (including any that's dripped around in pan) into a small bowl. Whisk in salt, pepper, thyme and olive oil.
Using a vegetable peeler, shave the asparagus by placing them on a large cutting board, the woody end facing away from you. Grip the woody end and in one long stroke, shave ribbons off the asparagus.
Toss the asparagus ribbons with the green onions and dressing. Let sit for ten minutes, then serve.