Veggie-Packed Summer Pasta Salad Recipe (Takes Less Than 30 Minutes!)
With the hot summer months upon us, you'll need a go-to lunch or dinner that is easy to throw together but also packs a mean nutritional punch. Well, here it is!
This pasta salad is full of seasonal produce and comes together in 30 minutes or less. It is vegan, gluten-free, great served hot or cold and makes for some super delicious leftovers. Don't forget to add your protein of choice to make it a complete meal.
Cheers to sunshine and summer vegetables!
Summer Vegetable Pasta Salad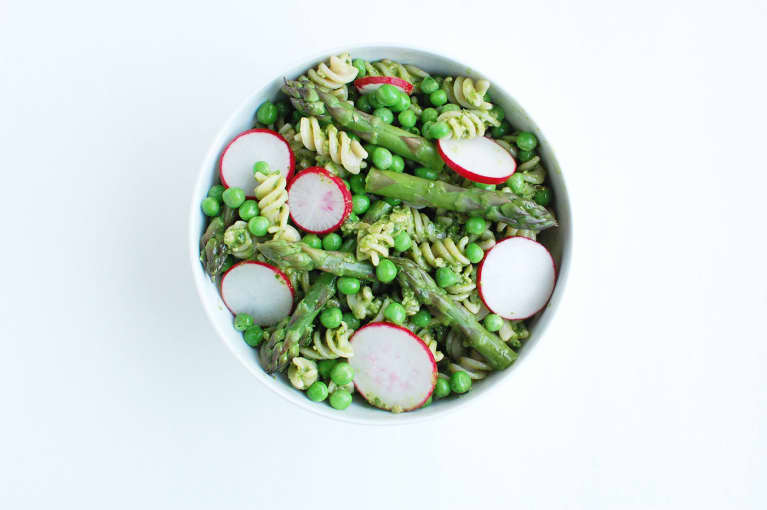 1 cup basil leaves, chopped
2 cups kale leaves, chopped
1 lemon, juiced
1 garlic clove, chopped
1/2 cup extra virgin olive oil
1/2 teaspoon sea salt
1/2 cup sunflower seeds
1 bunch asparagus
1 cup shelled green peas, fresh or frozen
1 cup radishes, thinly sliced
4 servings brown rice fusilli
Preparation
1. Make pesto by combining the basil, kale, lemon juice, garlic, olive oil, sea salt and sunflower seeds together in a blender or food processor. Blend until smooth.
2. Trim the woody ends off the asparagus. Fill a pot with 2 cups water and a pinch of sea salt. Bring to a boil. Once boiling, reduce to a simmer, add the asparagus and cover. Let cook for 3 minutes. Transfer asparagus out of the water and let cool before slicing into 1 inch pieces.
3. Bring another pot of water to a boil and cook brown rice fusilli as per the instructions on the package. Once cooked, strain and transfer to a large mixing bowl. Add in the asparagus, peas and radishes. Toss with desired amount of pesto. Divide into bowls and enjoy!
Photo courtesy of the author