A 20-Minute Hearty Salad Recipe
The farro salad you most often encounter in Italy goes something like this: farro, tomatoes, herbs, cheese, olive oil, and perhaps a splash of vinegar.
This is my attempt to take things in a different direction. Chopped green olives, chives, toasted walnuts, and honey combine with a few other ingredients into a quirky yet delicious preparation that leaves a huge impression.
Massive Sicilian Castelvetrano olives are my choice here, but any great-tasting green olives will do — Cerignola, Lucques, or Sevillano — preferably from an olive bar, not a can.
If you prepare the olive mixture a day or two ahead of time, it is even better, but bring it to room temperature before serving.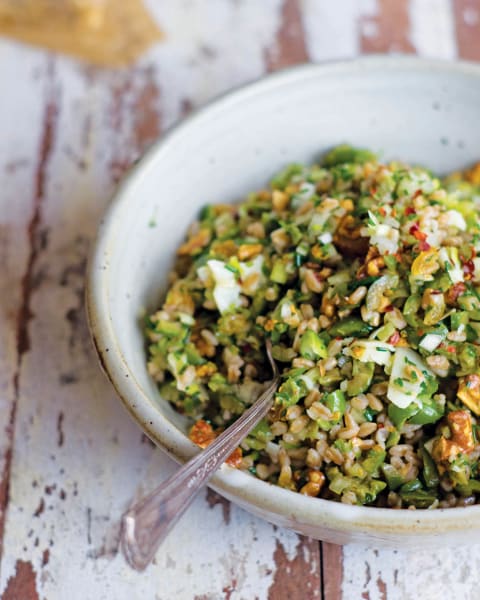 1¼ cups | 8 oz | 225 g whole or semi-pearled farro
3 cups | 710 ml water
Fine-grain sea salt
1 pound | 455 g green olives, rinsed then pitted
4 to 6 tablespoons | 60 to 90 ml extra-virgin olive oil
1 cup | 3 oz | 90 g chopped toasted walnut halves
4 to 6 green onions, trimmed and chopped
1 bunch chives, minced
Scant ½ teaspoon crushed red pepper flakes
1 tablespoon honey
2 tablespoons freshly squeezed lemon juice
⅓ cup | 2.5 oz | 70 g golden raisins, chopped
Shaved pecorino cheese, to serve
1. Combine the farro, water, and ½ teaspoon of salt in a saucepan over medium-high heat. Cover and bring to a boil, then lower the heat to take from a boil to a simmer, and simmer gently for about 15 minutes if using semi-pearled farro, longer if whole. Cook until tender but not so long that the grains become mushy. Drain off any extra water and set aside.
2. Coarsely chop the olives and place them in a bowl along with the olive oil, walnuts, green onions, chives, red pepper flakes, honey, lemon juice, raisins, and ½ teaspoon of salt. Stir well and set aside (or refrigerate) until ready to serve the salad.
The olive mixture is best at room temperature, so if you've refrigerated it, set it out for 30 minutes before doing the final toss.
3. Combine the farro and olive mixture in a bowl and mix to combine well. Taste and add more salt or lemon juice if needed. Serve topped with thin strips of shaved pecorino.
Reprinted with permission from Near & Far by Heidi Swanson, copyright © 2015. Published by Ten Speed Press, an imprint of Penguin Random House LLC.
Photography credit: Heidi Swanson © 2015

Heidi Swanson
Heidi Swanson is the author of Super Natural Cooking and Super Natural Every Day, a New York Times bestseller and winner of a James Beard Award. She is also the creator of the award-winning recipe blog 101 Cookbooks, curator of the online boutique shop Quitokeeto, and a San Francisco-based photographer. Her work has appeared in Food & Wine, Saveur, Glamour, Washington Post, Time, Fast Company, and the Vegetarian Times, among others.