It's Way Easier (And More Delicious!) To Make A Work-Friendly Keto Lunch Than You Thought. Here's How

Contributing Food Editor
By Liz Moody
Contributing Food Editor
Liz Moody is a food editor, recipe developer and green smoothie enthusiast. She received her creative writing and psychology degree from The University of California, Berkeley. Moody is the author of two cookbooks: Healthier Together and Glow Pops and the host of the Healthier Together podcast.
While many people are sold on the benefits of a keto diet, from treating epilepsy to helping with weight loss, they're stymied when faced with the question of actually incorporating it into their lives. That's where Stephanie Pedersen, author of Keto Lunches: Grab-and-Go, Make-Ahead Recipes for High-Power, Low-Carb Midday Meals, comes in. Her new book is chock-full of easy keto dishes that you can make ahead of time—and according to her, people are often overcomplicating the keto cooking process.
"The keto diet is based on food you eat all the time, which makes it super-cinchy to manage," she told mbg. "If you've ever made chicken thighs, or pan-fried a piece of salmon, or cooked bacon or cut open an avocado, you know what it is like to 'cook keto.' In some ways, it's even easier to cook keto than it is a mainstream diet, because you're not dealing with a lot of fiddly starchy ingredients like pasta, rice, or multi-ingredient casseroles." According to her, it's a surprisingly easy diet, "especially for people who enjoy high protein, high-fat foods."
Advertisement
This ad is displayed using third party content and we do not control its accessibility features.
Here, she shares three easy make-ahead keto lunches that are perfect to bring to work (or eat for dinner later!).
Keto Poke-ish Bowl
This keto-friendly version of the trendy Hawaiian dish does not use raw fish, which may not store well in your office refrigerator. Instead, it uses cooked salmon or tuna—or any leftover seafood or protein you may have in your refrigerator.
Makes 2 servings
Ingredients
1 tablespoon rice wine vinegar
2 tablespoons sesame oil
1 teaspoon fish sauce
Salt and pepper, to taste
2 cups cooked broccoli rice
1 English cucumber, peeled and chopped
1 celery stalk, chopped
1 cup sliced snow peas
2 radishes, sliced
1 carrot, peeled and shredded
1 cup watercress or other green
2 cups cooked salmon, cut or flaked into bite-size pieces
OPTIONAL: 2 tablespoons chopped cilantro, parsley, or dill
Advertisement
This ad is displayed using third party content and we do not control its accessibility features.
In a small bowl, whisk together the vinegar, oil, fish sauce, salt, and pepper. Set the dressing aside.
To assemble the bowls: Divide the broccoli rice between two sealable containers. Layer the cucumber, celery, snow peas, radishes, carrot, and watercress, dividing between the two containers.
Drizzle the dressing over the contents of both containers.
Divide the fish between the two containers, placing it directly on top of the dressed vegetables.
Sprinkle the herbs, if using, over the top of each container, before sealing each with a lid. Place in the refrigerator for up to 2 days.
Bacon Guacamole Soup
This fresh-tasting soup is a bit exotic. Light and refreshing yet filling and satisfying, it is great for a light meal or enjoyed as a first course. Try it warm, at room temperature, or chilled.
Makes about 8 servings
Ingredients
4 cups chicken bone broth, divided
⅓ cup fresh chopped cilantro, loosely packed
1 large garlic clove, minced
2 medium avocados, peeled and pitted
½ medium lime, juiced
Pinch of cumin
Pinch of chili powder
½ pound bacon, cooked and broken into small pieces
Salt and pepper, to taste
Advertisement
This ad is displayed using third party content and we do not control its accessibility features.
Add the broth to a large soup pot over medium-high heat. Bring to a boil, cover the pot, and turn off the heat while prepping the remaining ingredients.
Place the cilantro, garlic, avocados, and lime juice in a blender and pulse a few times until chunky.
To the blender, add 1 cup of the chicken broth, the cumin, and the chili powder. Blend until smooth.
Add the blended mixture to the soup pot with the rest of the broth.
Add the bacon to the soup pot.
Season with salt and pepper to taste and serve.
To serve chilled, allow soup to rest in the refrigerator for a minimum of 90 minutes.
Keto Chicken Enchilada Bowl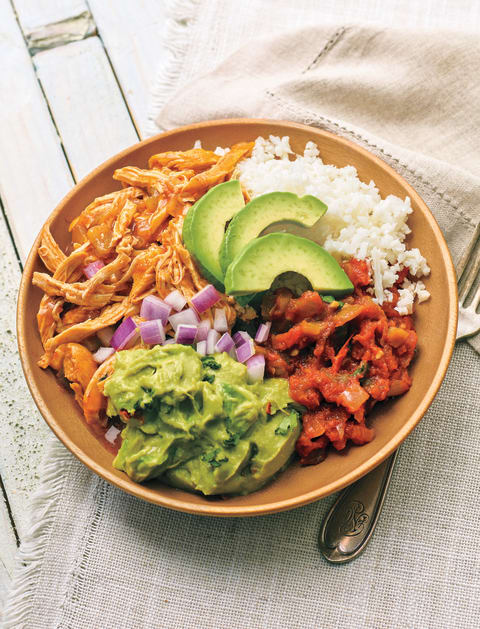 Advertisement
This ad is displayed using third party content and we do not control its accessibility features.
Mexican-themed bowls are my absolute favorite, which is why I love this one. Go ahead and personalize this by changing the veggies and seasonings.
Makes 2 servings
Ingredients
2 uncooked chicken breasts
¾ cup prepared red enchilada sauce
1 (4-ounce) can green chilies
¼ cup chopped red onion
¼ cup chicken bone broth
1 (12-ounce) bag cauliflower rice
Salt and pepper, to taste
Preferred topping, such as chopped cilantro, sliced avocado, guacamole, shredded cheese, keto salsa, etc.
Place a saute pan over medium heat. In the dry, hot pan, sear all sides of the chicken breasts until lightly browned.
Add the enchilada sauce, chilies, onions, and chicken broth to the saute pan with the chicken. When the mixture begins to simmer, lower the heat to medium-low and cover the pan. Cook until the chicken is tender, about 10 minutes. Turn off the heat and remove just the chicken.
Place the chicken in a large bowl. Shred the chicken using two forks. Add the shredded chicken back to the sauce in the saute pan, and turn the heat to medium. Allow the mixture to simmer for 10 minutes or until any liquid has disappeared. Remove from the heat and set aside.
Meanwhile, prepare the cauliflower rice per the bag's instructions and dice your preferred toppings.
To assemble the bowls: Place the cauliflower rice in the bottom of a sealable food container. Layer with the chicken mixture. Top with toppings of your choice. Seal and place in the refrigerator for up to 3 days.
Advertisement
This ad is displayed using third party content and we do not control its accessibility features.
And do you want to turn your passion for wellbeing into a fulfilling career? Become a Certified Health Coach! Learn more here.