Over Keto? This Gut-Healing Soup Will Make You Think Twice
mbg Contributor
By Caroline Muggia
mbg Contributor
Caroline Muggia is a writer, environmental advocate, and registered yoga teacher (E-RYT) with a B.A. in Environmental Studies & Psychology from Middlebury College.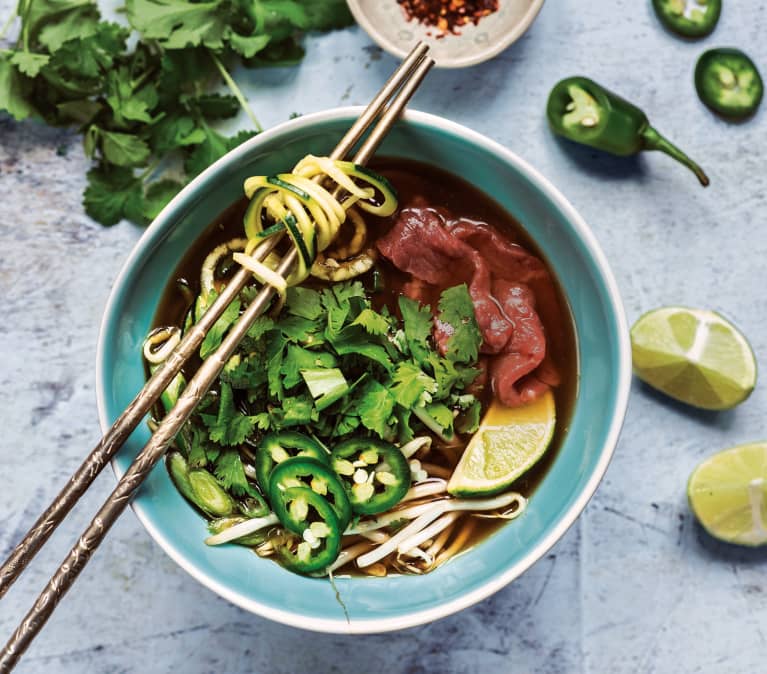 Our editors have independently chosen the products listed on this page. If you purchase something mentioned in this article, we may
earn a small commission
.
For Dr. Karen S. Lee, holistic practitioner and author of the new cookbook Keto Cooking With Your Instant Pot, her food journey began with cooking paleo foods for her family to accommodate allergies, and then eventually she turned to the keto diet to combat inflammation and maintain a healthy weight. As a working mom on the keto diet, she found the Instant Pot lifesaving, as it took the stress out of cooking keto (which is already a big commitment!).
Her new cookbook features 75 recipes including fresh, whole, and nutritious ingredients. One of these, a keto take on the classic Vietnamese beef noodle soup known as pho (pronounced "fuh"). Lee makes it with zucchini noodles, which boast benefits like detoxing your digestive tract. The aromatic taste comes from a blend of cinnamon, coriander, and ginger packed with anti-inflammatory and antioxidant benefits. You'll warm up and fill up on all the good stuff, so you won't even be thinking about the missing carbs.
Vietnamese Beef "Noodle" Soup (Pho)
1 tsp ground cinnamon
½ tsp ground coriander
½ tsp coriander seeds
½ tsp whole cloves
1 whole star anise, crushed
1 medium onion, roughly chopped
1 (3-inch [7.5-cm]) piece ginger, peeled and chopped
1 tsp chili pepper flakes 
4 cloves garlic, roughly chopped
1 cup (16 g) roughly chopped fresh cilantro, reserve 1 tsp per bowl for topping
1 tbsp (15 ml) coconut aminos or tamari
1 tbsp (15 ml) fish sauce
5 cups (1.2 L) beef stock
4 cups (600 g) zoodles or spiralized zucchini
½ lb (227 g) cooked sirloin steak, thinly sliced, for topping
4 scallions, thinly sliced, for topping
1 cup (100 g) raw bean sprouts, for topping
2 jalapeños, sliced, for topping
6 lime wedges, for topping
Turn on the Instant Pot by pressing "Sauté" and set to "More."
Insert the inner pot and wait until the panel says "Hot."
In the inner pot, add the cinnamon, ground coriander, coriander seeds, cloves, and star anise, and stir for about 5 minutes or until fragrant and smoky.
Stir constantly so as not to burn the spices.
Add the onion, ginger, and chili pepper flakes and stir for 2 minutes.
Add the garlic, cilantro, coconut aminos or tamari, fish sauce, and beef stock, and stir.
Close the lid tightly and move the steam release handle to "Sealing." Press "Cancel," then the "Pressure Cooker/Manual" button and set the timer for 30 minutes on HIGH pressure.
When the timer ends, allow the Instant Pot to cool down naturally until the float valve drops down.
This can take up to 20 to 30 minutes since the pot is almost full.
Press "Cancel" and open the lid.
Place the zoodles in bowls.
Strain the pho broth into the bowls.
Top the bowls with sliced beef, scallions, 1 teaspoon of cilantro, bean sprouts, sliced jalapeños, and a lime wedge before serving.