paid content
 for

A Moment, Please, For This Mayo-less Avocado Salmon Salad — Here's How To Make It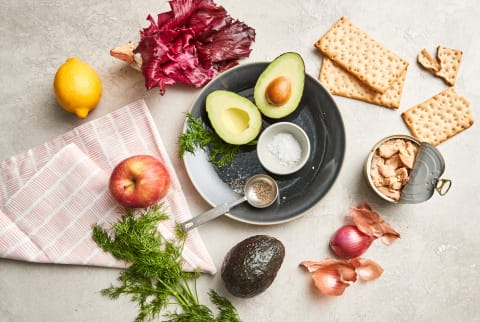 Image by Miachel Breton / mbg creative
January 18, 2019
It's true that tuna salad has built its reputation on being a favorite lunchtime staple, but sometimes you want to switch it up!
Here's our stealth-health secret for mayo-based salads and beyond: Swap in an avocado instead. We put this into action in our latest Food With Benefits video, mixing canned wild salmon and avocado to create a creamy, delicious, and filling snack, lunch, or dinner. And because you want a nice and ripe avocado for this recipe, we used Avocados From Chile, which we love for buttery smooth avos even in the off-season.
Avocado is a superstar in the health food world: The fruit is full of hunger-busting monounsaturated fat and fiber, as well as tons of vitamins and minerals. Eating avocados can help reduce your cholesterol, help keep your eyes healthy, and even help you absorb fat-soluble vitamins in other fruits and vegetables.
Whip up this salad any day of the week for a quick and satisfying meal. Here's how to make it (and get the full recipe below!):
Avocado Salmon Salad
1 avocado (you want this to be nice and ripe!)
2 tablespoons finely diced shallot
¼ cup diced apple
2 tablespoons finely chopped dill
1 teaspoon organic lemon zest
1 tablespoon organic lemon juice
⅛ teaspoon kosher salt or more to taste
Freshly ground pepper to taste
1 can (5 oz.) unsalted wild salmon in water (We like the kind with bones and skin as it adds loads of calcium, but that is not for everyone, so you can also find the kind without.)
In a medium bowl, smash the avocado with the back of a fork until smooth and creamy.
Add shallot, dill, diced apple, lemon zest and juice, salt and ground pepper. Drain the salmon and add to the bowl, breaking up the fish with the fork. Mix well, until all the ingredients are thoroughly combined.
Serve on crackers, in a lettuce wrap, or on your favorite sandwich bread! Best eaten immediately, but if you are storing in the fridge, press plastic wrap into the surface of the salad to prevent the avocado from browning.