A Simple, Delicious Way To Eat Sardines + Get Your Omega-3s
As a naturopath and research nutritionist, I'm always searching for new and exciting ways to fuel up on nutrient-dense foods. Heavenly mouthfuls of buttery fish and creamy goat's cheese wrapped in a refreshing romaine lettuce leaf not only creates a divine tasting dish, it's also super nutritious and incredibly quick to make.
Unlike most fish, sardines are low in contaminants due to their position further down the food chain. They are also super high in omega-3 fats, which I recommend in my clinic for all sorts of conditions from skin problems to depression. Studies on the potential health benefits of omega-3 fats are endless.
Despite their unique health benefits, omega-3 fats are not consumed in sufficient amounts by most individuals in the Western world. So I'm making my contribution by encouraging more delicious sardine specialities!
Quick + Nutritious Buttery Fish Wrap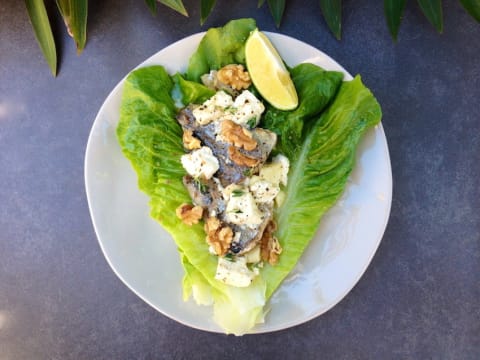 1 tablespoon organic butter or ghee
1 clove of garlic, minced
1 can of unflavoured sardines
50g of goat's cheese, cubed
½ teaspoon dried oregano
¼ cup of walnuts
2-3 romaine lettuce leaves
squeeze of lemon/lime
1 tablespoon extra virgin olive oil
1 sprig of fresh thyme
1. Fry garlic in butter/ghee and oregano on medium heat. Place sardines gently in the pan and cook for 1-2 minutes.
2. Scatter goat's cheese over the top and cook for another minute, being careful not to stir too much so the goat's cheese melts but remains intact. Lightly season with sea salt and pepper.
3. To serve, lay 2-3 romaine lettuce leaves on top of each other on a plate. Top with sardines and goat's cheese and a squeeze of lemon or lime. Scatter walnuts on top, plus a drizzle of extra virgin olive oil and a sprinkle of fresh thyme. To enjoy as a wrap, fold the bottom edges of the lettuce in, followed by the two sides.