What's Your Hair Type? Find Out With This 3-Minute Quiz + Styling Tips For Each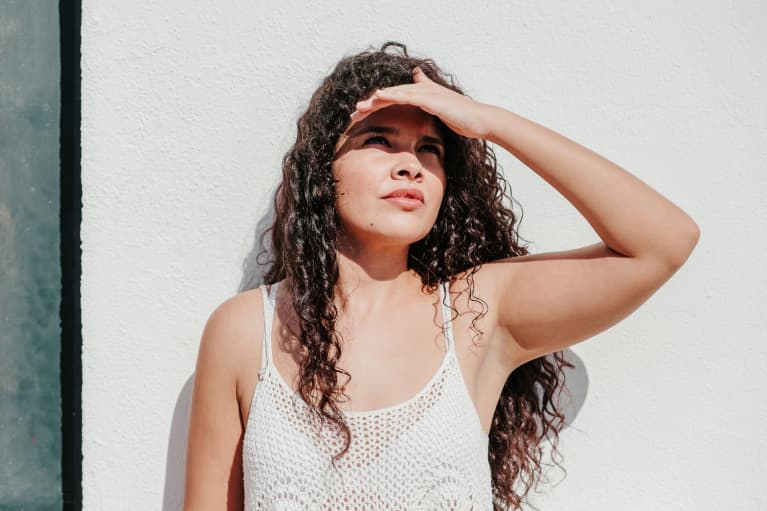 Examining your personal set of tresses—from straight strands to kinky coils—isn't just a fun fact to have in your back pocket or a defining feature to gab about with your hairstylist. It's actually crucial for starting a hair care routine.
According to hairstylist Levi Monarch, knowing your hair type is the first step toward dissecting all the hair care products lining market shelves: "Understanding your hair is so important. Then from there you can figure out how to go about enhancing your curl," he previously told mbg about hair types.
Why you need to know about your hair type.
It's a similar venture to knowing your true skin type—those with oily, acne-prone skin might reach for water creams and purifying actives, while those with chronically dry skin fare best with thick, buttery confections topped with an oil. Same goes for tending to your hair: A curly girl with type 4b strands wouldn't opt for the exact same styler as someone who sports 2c waves. We digress.
Of course, you can have a hybrid of multiple textures (in fact, most people do!), so figuring out your true hair type isn't so cut and dried. It may take some personal guesswork to figure out what methods work for your specific locks, but identifying your general strand pattern—say, through a hair type quiz—is step one on the journey.
We should also note that this quiz doesn't take density, porosity, and strand thickness into account—while those do tend to associate with certain hair types, it's not the be-all and end-all. For instance, anyone can have coarse or fine strands, regardless of whether their hair dries coiled or stick-straight. For the purposes of this quiz, we're sticking to tried-and-true hair types (to test your strands for porosity and coarseness, meander on over here and here).
What's your hair type? A quiz.
OK, so you're ready to get to know your hair type. Time to air-dry! Before studying your hair type, mind this very first step: "Start from scratch," says Monarch. "Wet your hair in the shower, and let it dry naturally so you can see what your hair pattern wants to do without any manipulation."
Then, move right along with this quiz.
On the quest for really good hair days, knowing your hair type is key. Only then will you know which products to parse and which methods to include in your hair care regimen (to find products for your hair type, check out this guide). It may take some time—a lot longer than this three-minute quiz—but understanding your hair with all its little details is well worth the investment.
Want to turn your passion for wellbeing into a fulfilling career? Become a Certified Health Coach! Learn more here.