14 Best Hyaluronic Acid Serums To Make Your Skin Plump & Impossibly Dewy

mbg Beauty & Wellness Editor
By Jamie Schneider
mbg Beauty & Wellness Editor
Jamie Schneider is the Beauty & Wellness Editor at mindbodygreen. She has a B.A. in Organizational Studies and English from the University of Michigan, and her work has appeared in Coveteur, The Chill Times, and Wyld Skincare.
Image by GUILLERMO DE LA TORRE / Stocksy
Last updated on February 4, 2022
Our editors have independently chosen the products listed on this page. If you purchase something mentioned in this article, we may
earn a small commission
.
Advertisement
This ad is displayed using third party content and we do not control its accessibility features.
Hyaluronic acid is a fabulous hydrator, so it definitely deserves all the hype: "It draws water into the stratum corneum, the top layer of the skin.
It is a humectant, so it gives an immediate improvement in the way the skin looks—less ashy, dry, dull," holistic dermatologist Cybele Fishman, M.D., told us about the beloved ingredient.
In the hopes of softer, plumper, more elastic skin, many flock to HA-infused serums—and because you can find an overwhelming number of these on the market, here we've rounded up the very best.
A quick note: On the hunt for the best hyaluronic acid serum, chances are you'll come across some funky names, like sodium hyaluronate, sodium acetylated hyaluronate, and hydrolyzed hyaluronic acid.
Don't sweat the science jargon: All "hydrolyzed" means is breaking the chemical down with water so it's easier for your skin to absorb (regular HA has a larger molecular weight, which can make it difficult to penetrate into pores).
Sodium hyaluronate, a salt form of hyaluronic acid, has an even smaller molecular weight than hydrolyzed HA, so it can really shimmy into the deep layers of your skin.
But enough chemistry—let's dive into our all-time favorite hydrators.
Savor Beauty Hyaluronic Acid Serum
Along with 2% HA, this pillowy serum includes chamomile extract (a known skin soother) and rice bran extract to cushion and plump your skin. Plus, it has a base of aloe vera juice, so you know it hydrates to the max.
Hyaluronic Acid Serum, Savor Beauty ($84)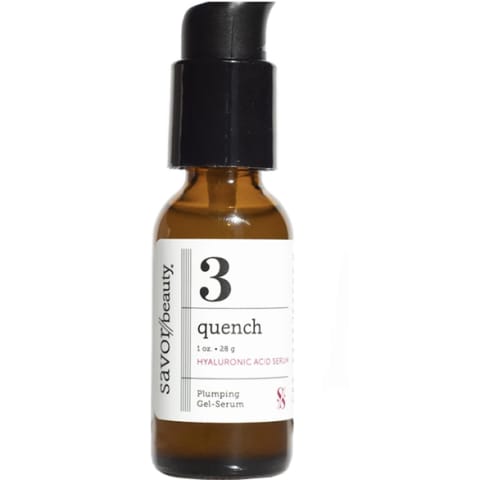 Savor Beauty
Versed Hydration Station Booster With HA
Dubbed an HA "booster," this serum contains two types of hydrolyzed hyaluronic acid for a lightweight veil of hydration. Either use it on its own, or feel free to mix a few drops into your moisturizer for extra slip or even in your foundation for dewier coverage.
Hydration Station Booster With HA, Versed ($19.99)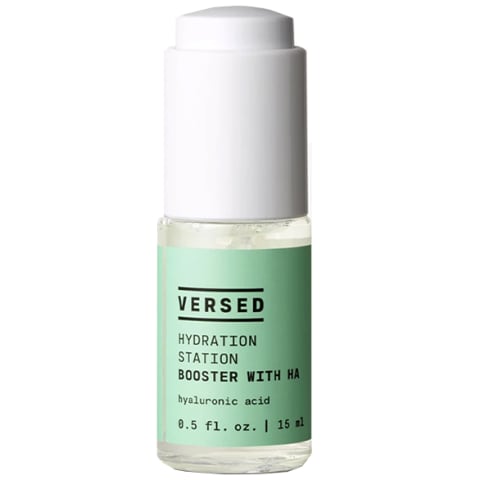 Versed
Glow Recipe Plum Plump Hyaluronic Serum
Prepare to be stunned: This number includes a blend of five (yes, five) molecular weights of hyaluronic acid (ultralow, low, medium, high, and ultrahigh) to truly plump each layer of your skin. It also has three types of plum extracts—Kakadu, Illawarra, and Burdekin—for a welcome antioxidant kick. Your skin? Looking bright and juicy.
Plum Plump Hyaluronic Serum, Glow Recipe ($42)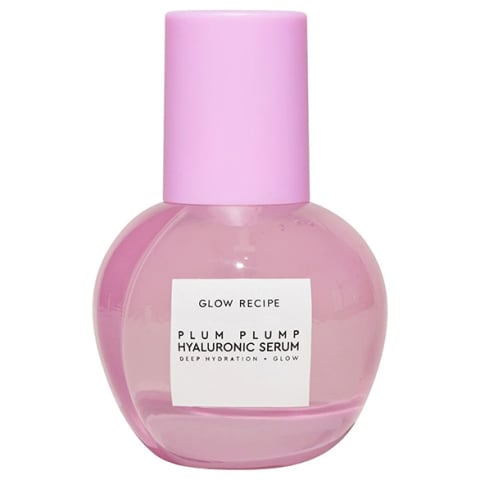 Glow Recipe
Pai Back to Life Hydration Serum
If you have sensitive skin, this HA serum was designed just for you: Along with the hydrating star, it has jojoba oil, glycerin, vitamin E, sunflower oil, and a blend of fruit extracts to condition your skin and leave it supple.
Back to Life Hydration Serum, Pai ($74)
Pai
Knours Beauty Sweet Rescue Bubble Burst Serum
Peer closely into the bottle, and you'll notice little specks suspended in the pale pink goop—those, ladies and gentlemen, are the gromwell-root-oil-infused bubbles that "pop" and melt into your skin upon application—the ingredient has been used as a skin repairer in Traditional Chinese Medicine (TCM). To top it off, the formula has three types of hyaluronic acid and rosewater for a swell of hydration.
Sweet Rescue Bubble Burst Serum, Knours Beauty ($38)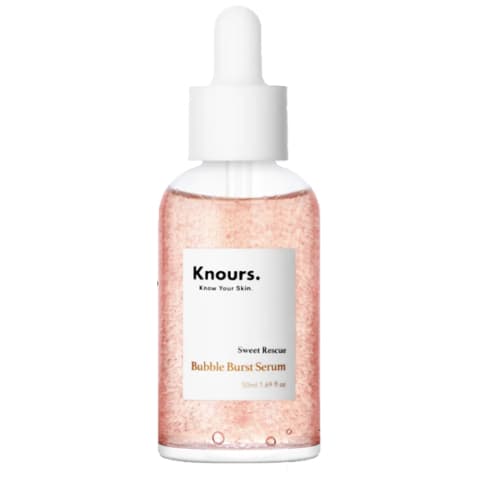 Knours Beauty
Susanne Kaufmann Hyaluron Serum
Simple, highly concentrated, and does the job just right: This potent HA serum is like a drink of water for your skin, and it folds perfectly into any skin care routine.
Hyaluron Serum, Susanne Kaufmann ($169)
Susanne Kaufmann
Drunk Elephant B-Hydra Intensive Hydration Serum
Along with HA, this serum contains a cocktail of skin-conditioning ingredients, like ceramides, panthenol, squalane, and a lentil, apple, and watermelon antioxidant complex for brightness.
B-Hydra Intensive Hydration Serum, Drunk Elephant ($48)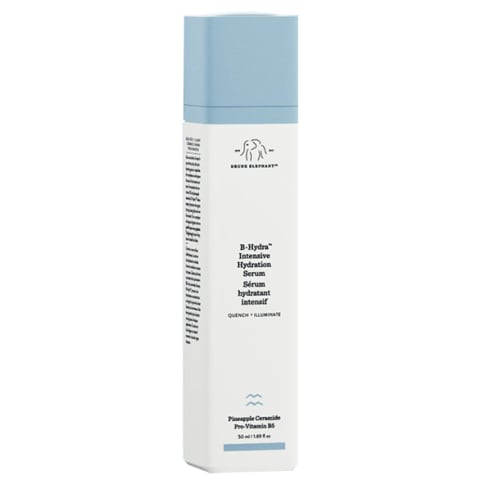 Drunk Elephant
The Inkey List Hyaluronic Acid
Arguably your best budget buy—simple, to the point, yet oh-so hydrating. A no-fuss bottle any skin type will adore.
Hyaluronic Acid, The Inkey List ($7.99)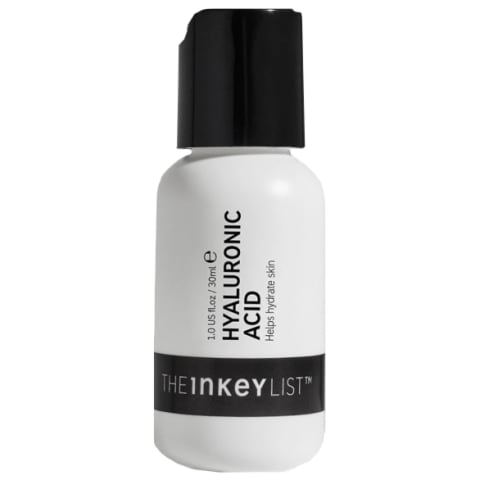 The Inkey List
Dr. Barbara Sturm Hyaluronic Ampoules
Think of ampoules as potent, supercharged serums. So when your skin feels especially dull and dehydrated, reach for this set of HA boosters: Crack one open each day, let your skin drink them up, and prepare for the dewiest glow.
Hyaluronic Ampoules, Dr. Barbara Sturm ($145)
Dr. Barbara Sturm
Allies Of Skin Multi Hyaluronic Antioxidant Hydration Serum
A blend of HA and antioxidants make up this silky serum, like strawberry fruit extract, vitamin E, astaxanthin, licorice root extract, and resveratrol. For more barrier-supporting benefits, it also features niacinamide and peptides—needless to say, this is one jam-packed formula.
Multi Hyaluronic Antioxidant Hydration Serum, Allies Of Skin ($75)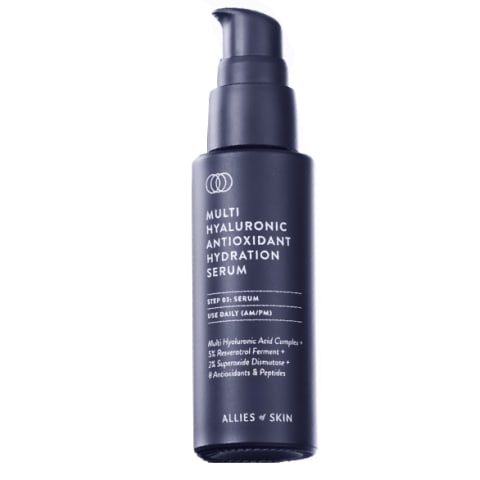 Allies Of Skin
Skinfix Barrier+ Triple Lipid-Hyaluronate Serum
Dry, dull skin no more: This lightweight serum contains a triple lipid complex to help replenish your skin's moisture barrier, as well as a trove of nourishing oils and antioxidant-rich botanicals. It puts in the work without ever feeling greasy or heavy; your thirsty skin will thank you.
Barrier+ Triple Lipid-Hyaluronate Serum, Skinfix ($50)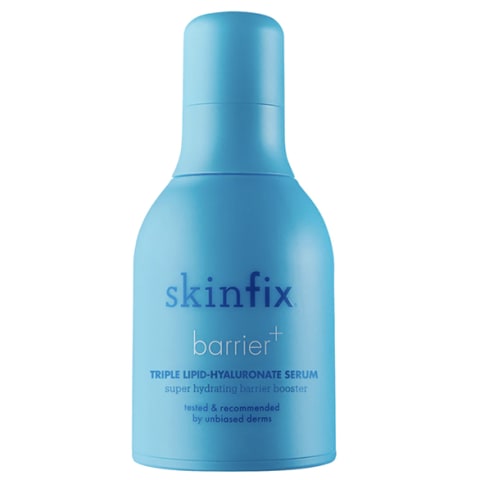 Skinfix
Klur Immersion
Immersion is the perfect moniker for this number, as it sinks immediately into the skin upon application. So lightweight that you'll barely even notice it's there—but trust that the green tea leaf water, aloe, and hyaluronic acid base penetrate into your skin and plump it up with hydration. Beta-glucan, vitamin C, panthenol, and vitamin E also make a welcome appearance to brighten and even tone.
Immersion, Klur ($70)
Klur
Caudalie Vinosource SOS Deep Hydration Serum
This decadent serum uses the brand's signature grape water and polyphenols, along with the famed HA and olive-derived squalane for an instantly soothing experience. So cushiony and soft (never sticky!), you can reapply anytime you need an extra hit of hydration.
Vinosource SOS Deep Hydration Serum, Caudalie ($49)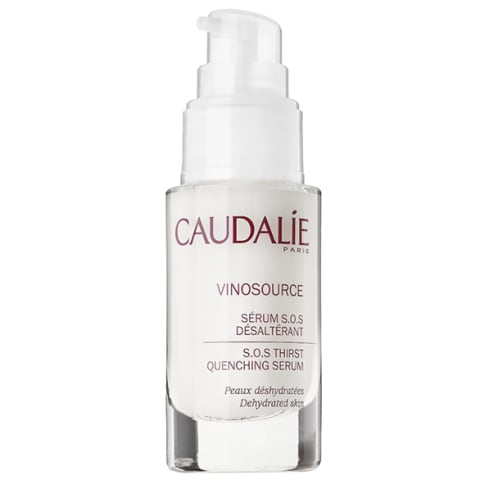 Caudalie
Grown Alchemist Instant Smoothing Serum
Triple the hyaluronic acid, triple the hydration—or, well, that's how it feels with this calming skin treatment. Use it on the daily, and your skin will feel supple and smooth; one shopper even compares it to "liquid gold."
Instant Smoothing Serum, Grown Alchemist ($95)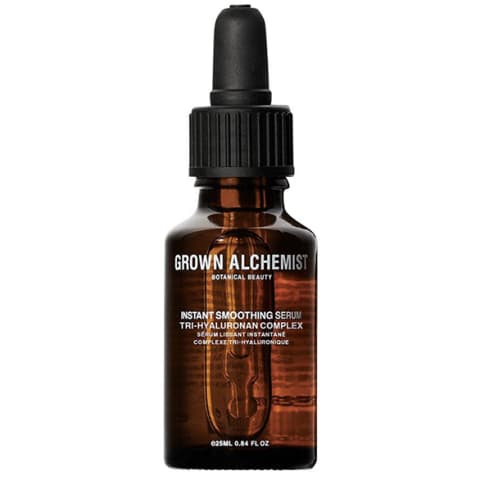 Grown Alchemist
When should you apply a hyaluronic acid serum?
Serums are your treatment step—they should go on after cleansing, before moisturizing. But while some switch up their serums from day to night (vitamin C in the morning, for example; retinoids or AHAs at bedtime), feel free to use hyaluronic acid at any hour of the day—some even do a double dose of HA in both their morning and nighttime skin care routines.
No matter the time you apply, you'll want to apply it on a freshly cleansed, slightly damp face. After all, hyaluronic acid is a humectant, which means it pulls in water to hydrate your skin.
By patting it on moist skin, you're making the job a bit easier by supplying it with the water it's looking for.
"After you cleanse, you want to lock in all that watery goodness," adds board-certified dermatologist Angelo Landriscina, M.D., about applying products on damp skin. "The humectants in your products, like hyaluronic acid and glycerin, will have an easier time holding on to moisture if you're providing it."
Then after your serum step, be sure to lock in all the precious moisture with an occlusive cream or oil.
Advertisement
This ad is displayed using third party content and we do not control its accessibility features.
The takeaway.
Hyaluronic acid is a wonderful hydrator that can help the skin appear plump and dewy. If you're thinking about adding HA to your routine, you simply can't go wrong with any of these pillowy serums.
Advertisement
This ad is displayed using third party content and we do not control its accessibility features.