Want Glowing Skin? Eat These 10 Hydrating Foods
Contributing Wellness & Beauty Editor
By Lindsay Kellner
Contributing Wellness & Beauty Editor
Lindsay is a freelance writer and certified yoga instructor based in Brooklyn, NY. She holds a journalism and psychology degree from New York University. Kellner is the co-author of "The Spirit Almanac: A Modern Guide to Ancient Self Care," with mbg Sustainability Editor Emma Loewe.
Medical review by
Keira Barr, M.D.
Board-certified dermatologist
Keira Barr is a dual board-certified dermatologist and founder of the Resilient Health Institute.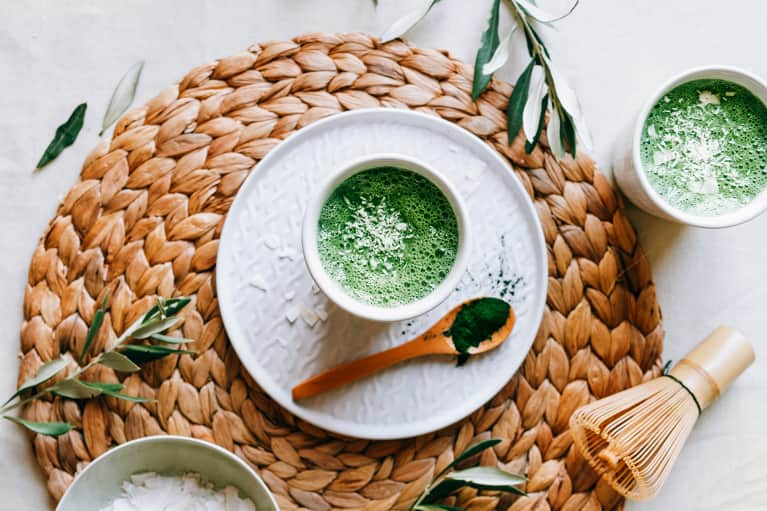 Last updated on December 2, 2019
Last Thursday, mindbodygreen hosted our second Supper Series in partnership with Sephora, and the theme of the night was hydration. Between two panels, we talked about all things water, and the conversation didn't disappoint—from how to improve the quality of the Earth's oceans to the best filters for drinking water to how to care for our skin. Following the conversation for the evening was supper, which was a gorgeous three-course meal, plus passed apps of water-dense, high-fat, hydrating foods known for their complexion-changing properties.
We can't blame you for wanting a sneak peek into the menu! These healing ingredients were instrumental in the menu—not only were they delicious, but many of them are gut-healing, anti-inflammatory, and therefore beneficial for the skin. Next time you're feeling like your skin needs a boost, reach for one of these:
The night was bookended with collagen. To start, bone broth was one of the passed apps at the "happy hour" reception. There was one chicken, one beef, and one "glow," which was a combination of veggies and chicken all courtesy of Bonafide provisions. To end the evening, almond milk collagen hot chocolate was served with gelatin marshmallows—which are chock-full of collagen.
Taking a collagen supplement has been shown to brighten the skin, and in fact, experts say that oral consumption and supplementation of collagen is the most effective way to use it on skin. Products that help boost collagen and contain it are helpful, too, but it's best to work from the inside out.
A cucumber is more than 95 percent water, so if you have a hard time remembering to drink water throughout the day, try noshing on some cucumber. One study found that cucumber contains many bioactive compounds, including cucurbitacins, cucumegastigmanes cucumerin , vitexin, orientin, and apigenin that can help hydrate skin, reduce swelling, irritation and even alleviate pain from sunburn. As soon as guests arrived, they nibbled on vegan cantaloupe and cucumber skewer (vegan) that were dusted with Korean chili flakes and nondairy yogurt drizzle. Cucumber-and-mint-infused water was one of the three infused-water variations at our hydration station, and it's quite a refreshing combination.
At the dinner, we served endive spears with vegan avocado mousse, julienne radish, fresh grapefruit, and micro basil—which has been shown to have acne-fighting properties. Fun fact: Kristin Cavallari, who has notoriously beautiful skin, swears by the healing powers of basil in her cooking, too.
The healing properties of apple cider vinegar are well-known—it's acne-clearing, supports gut health when diluted, and is famous for being a multipurpose cure-all. It contains malic acid, which is an alpha hydroxy acid (AHA). mbg's associate health editor Gretchen Lidicker did a thorough analysis of the research behind the spectrum of claims of apple cider vinegar and found that it can be helpful in blood sugar regulation, which ultimately benefits the skin, too. Each guest at the Supper Series received a small apple cider vinegar shooter to dilute and use as a palate cleanser.
Squash is high in beta-carotene, which gives the winter root veggie its yellow to orange huge. Butternut squash in particular contains potassium, an important electrolyte that may help reduce inflammatory responses. One particular study found that it has significant benefits for skin health, including: reducing inflammation, preventing cellular damage, preventing premature skin aging, and protecting against sunburn and skin cancer by inhibiting free radicals. At the Supper Series event, roasted winter squash was served in the first course, which was mushroom bisque, and was also the main event of our vegan entrée: a stuffed winter squash with wild rice, hazelnuts, and cherries.