A Tasty Turmeric Latte For Immunity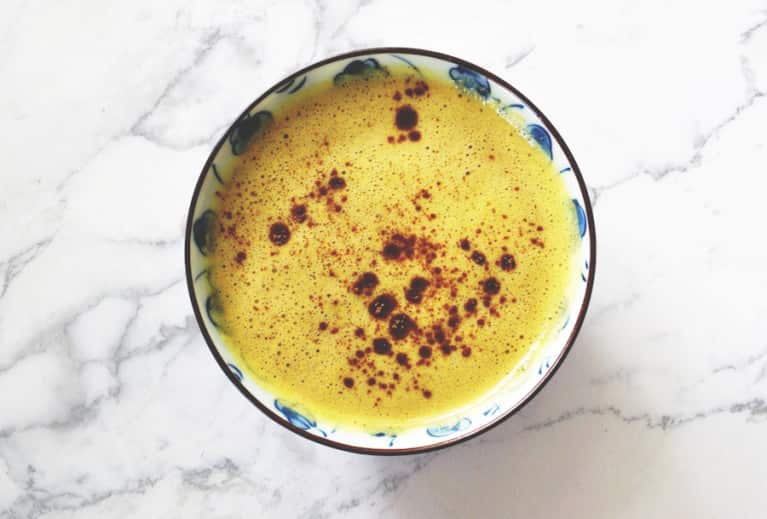 All hail the superpower of turmeric.
Turmeric and its primary component, curcumin, are profoundly healing. As a potent anti-inflammatory, it is wonderful for managing chronic pain. Turmeric can also be helpful in easing depression, protecting the liver from oxidative stress, lowering blood cholesterol, inhibiting cancer cells, acting as an antimicrobial, and supporting brain health.
One problem with curcumin is its low level of bioavailability, as much of it gets metabolized before it can be absorbed. But combining turmeric with black pepper (whose active ingredient is piperine) increases curcumin's bioavailability in the body by 2,000 percent—pretty amazing. Piperine is known to interrupt certain intestinal digestive enzymes, so it can increase the amount of any drug or supplement that the body can absorb.
I have been adding this glorious spice to absolutely everything from milks to soups to simple vegetable dishes. I even put it in my ice creams and use it in my homemade face masks to soothe inflamed skin.
Turmeric's many healing properties keep my Lyme disease–related joint pain at bay. One of my favorite turmeric recipes is this latte—I am sure to have one every single day.
With the addition of my go-to medicinal mushrooms, it's also a wondrous concoction for boosting the immune system. This particular recipe veers a bit from the traditional Ayurvedic recipes that use cow's milk. Cow's milk doesn't agree with me, so I substitute in one of my favorite adaptogenic teas, Gynostemma, along with coconut milk to lend a creamier texture.
12 oz. hot Gynostemma tea
12 oz. warmed coconut milk
1 tbsp. turmeric
1 tsp. ghee
1 tsp. coconut oil
1 tsp. ginger
¼ tsp. allspice
⅛ tsp. cardamom
½ tsp. Reishi mushroom
½ tsp. Chaga mushroom
1 tbsp. raw local honey or stevia to taste
Pinch of black pepper
Preparation
Blend all ingredients, dusting some cinnamon on top, if desired. Adjust any flavors as needed. Sip in a quiet space.