This Hot Chocolate Oatmeal Has An Anti-Inflammatory Secret Ingredient
Contributing Food Editor
By Liz Moody
Contributing Food Editor
Liz Moody is a food editor, recipe developer and green smoothie enthusiast. She received her creative writing and psychology degree from The University of California, Berkeley. Moody is the author of two cookbooks: Healthier Together and Glow Pops and the host of the Healthier Together podcast.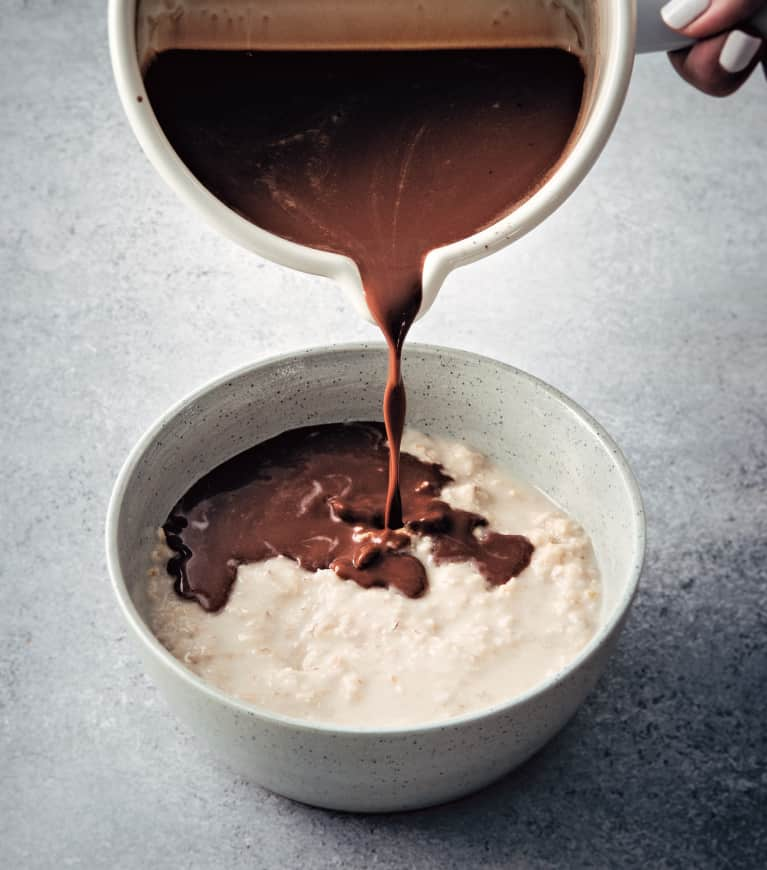 Our editors have independently chosen the products listed on this page. If you purchase something mentioned in this article, we may
earn a small commission
.
If you need a bit of anti-inflammatory reset but don't want to give up on festive indulgence, we've found the perfect breakfast for you. This recipe, from Naturally Sweet Vegan Treats by Marisa Alvarsson, combines three of our favorite winter foods for a decadent but nourishing breakfast: Golden Milk, Hot Chocolate, and Oats. Says Alvarsson, "Some describe hot cocoa as 'a hug in a mug.' But add comforting oatmeal and the warming spices of anti-inflammatory turmeric-infused golden milk to the mix, and a wholesome, next-level cozy-yet-energy-boosting breakfast awaits! I have also found this chocolaty, barely sweetened breakfast makes a great wet-weather mood-improver."
We agree—it's much easier to wake up on even the grayest day when you know you're five minutes away from this type of breakfast.
Golden Milk Hot Chocolate Oats
Makes 2 generous servings
Ingredients, Hot Chocolate
1 cup (240 ml) unsweetened nut or coconut milk, or a combination of both
2 tbsp (15 g) raw cacao powder or pure unsweetened cocoa powder
1 tsp ground turmeric
½ tsp ground ginger
Pinch of pure vanilla powder
1 tsp maple syrup (or to taste)
A crack of freshly ground black pepper
1 tsp organic coconut oil, optional
1 cup (100 g) rolled oats
1 cup (240 ml) unsweetened oat, nut, or coconut milk
1 cup (240 ml) water + extra if needed
Tiny pinch of salt, optional
In one small- to medium-size saucepan, warm the milk gently over low heat. Sift in the cacao, turmeric, ginger, and vanilla, whisking well to combine. Add the maple syrup, and whisk it through to incorporate. Add a crack of black pepper.
Taste to see if any adjustment needs to be made. My taste buds have acclimated over time to low-sweetener foods of all kinds, but if this way of eating is new to you, add a touch more maple syrup if you feel it's needed. In time, if you eat in a reduced-sugar manner, you will find that you can cut back even more on all kinds of sweeteners.
Once the milk is heated thoroughly and the ingredients are well-combined, add the coconut oil, if using, and stir. Turn the stove heat down to the lowest setting and leave until the mix is required.
In a separate saucepan, add the oats, pour in the milk and water, and sprinkle in the salt (if using). Bring the oatmeal to a boil, and then reduce the heat and simmer for about 4 minutes or until it reaches the desired consistency, stirring from time to time to ensure it doesn't stick to the bottom of the pan.
Divide the oatmeal between two bowls and pour half the hot chocolate mix over one portion and the rest over the other. Stir a little to combine.