Self-Care Sunday: 14 Expert Tips For A Self-Care Ritual Rooted In Beauty
mbg Beauty Director
By Alexandra Engler
mbg Beauty Director
Alexandra Engler is the beauty director at mindbodygreen and host of the beauty podcast Clean Beauty School. Previously, she's held beauty roles at Harper's Bazaar, Marie Claire, SELF, and Cosmopolitan; her byline has appeared in Esquire, Sports Illustrated, and Allure.com.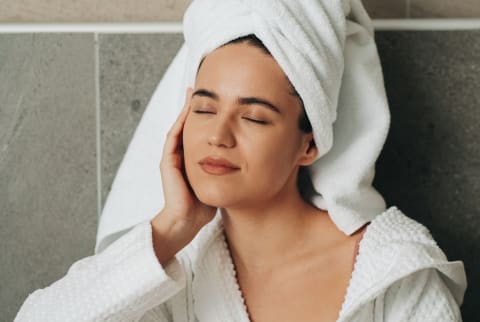 Image by Brkati Krokodil / Stocksy
July 26, 2020
We know that for real, sustainable, and meaningful self-care, you need to go deeper than a face mask. Self-care, at its core, is about connecting with yourself, grounding your emotions, and tending to your own needs. However, sometimes in the pursuit of this radical self-care, you just might want to stop and apply that aforementioned face mask. After all, self-care looks different for each of us—and for beauty fans, sometimes it really does mean taking care of your skin, hair, and body.
Here, we listed some of our favorite advice from experts on achieving your ultimate self-care ritual, well beauty ritual. We've included some product recs, but most are easy, affordable things you can try at home. (There shouldn't be a barrier to entry for self-care, full stop.) Pick-and-choose what works best for you, adapt them to your life and routine, and have a happy little Sunday:
1.
Make a hydrating rosewater mist.
A rosewater mist has become a favorite among natural beauty users—and making one yourself can be an easy, wonderfully aromatic activity. Not only will you end the day with a brand-new beauty product, but you'll have the joy of a day spent with flowers and concocting your own experiment. Learn how to make one here.
2.
Apply a curls-friendly avocado hair mask.
A slow weekend is the perfect time to rehydrate your hair. You can, of course, reach for your favorite store-bought mask, but you can also make this nutrient-dense avocado, honey, and olive oil version at home. "Care for your tresses with a once-a-week deep-conditioning mask treatment. This will help restore, renew, and replenish your curls," says hairstylist and co-founder of Miss Jessie's Originals Miko Branch, who formulated said DIY mask.
Baths tend to get a lot of attention as far as "self-care" goes, which we understand. They are not only a moment of pause, but with the right additions, they can offer real therapeutic benefits, too. Epsom salt baths are a good place to start—and feel free to toss in other ingredients like essential oils and the like.
4.
And if you don't have a tub, try a foot bath.
Not all of us have a full tub, however. Turns out, you may not need the whole thing to get some relaxation and stress relief. Try a foot soak, instead. In fact, many studies show that foot soaks can help relieve anxiety and may even improve sleep quality. This one found that a nightly foot soak was able to help patients sleep more soundly throughout the night—these benefits were even greater when paired with a gentle foot rub. Another showed they helped lower levels of cortisol1, the stress hormone, in patients.
What does this mean? Holistic esthetician Elle Feldman says, "I always say, masking twice a week. Masks deeply penetrate the skin to soothe, hydrate, and restore its luminous glow. This is especially true if your skin is feeling tight and dry; is red, rough, and patchy; or you have fine lines; [you can] build your skin's natural moisture barrier with regular masking. Mask on the W's is how we remember to mask twice a week. Do it on Wednesday nights and weekends." Given the second "W" is for the weekend, your masking day can fold gently into your Sunday self-care routine.
Let us not forget the simple things that bring us joy. It takes seconds to light a candle, and yet it can fill a space with warm, comforting aromas and help you set intentions. If you are on the hunt for a new one, here are several of our favorites.
8.
Or an easy DIY scalp mask.
If your scalp is on the drier, itchier side perhaps you want a moisturizing endeavor. In which case, there's no more satisfying than a homemade aloe vera version. "Apply it directly onto your roots and gently massage to spread and help nutrients penetrate," Reslan tells us. Try to have a clean scalp beforehand if you can help it. "The cleaner your scalp, the better for penetration. You won't gain all the benefits if you have lots of buildup," she says.
9.
Curate your signature scent.
If you're a fan of fragrance, you know that finding a new favorite scent is a beloved experience. Go a new step further: Don't just stumble upon a fragrant find, make one with our DIY guide.
10.
Organize your bathroom.
It can be oh-so-satisfying to tidy up, no? And listen, while cleaning can feel more like a chore than self-care, the act of making a space in your home that feels satisfying and important to you can be a form of taking care of yourself. Here, we spoke with organizers who gave us advice on tending to your cosmetic products.
11.
FaceTime with a friend—and try a new look for it.
Sometimes seeing friends, near or far, is all you need to soothe your soul. Make a habit of catching up with others, especially those you can't see regularly for whatever reason, on Sundays. And while you're at it, get gussied up for your video chat. Of course, the most important thing for this point is spending time with friends, but it can be a delight to get ready for the virtual date like you might a real one.
12.
Explore the world of ear seeds.
This one might take some planning in advance, as you'll need to find and acquire ear seeds (if you don't already have 'em). As a short recap: Ear seeds are a form of traditional Chinese medicine in which small beads are placed on various parts of the ear to stimulate various responses. (It's also called auricular therapy.) They have been studied for anxiety, specifically, and yield promising results. Read more about ear seeds here.
13.
Enjoy a gua sha session.
Gua sha has a place in many skin care fans' routines thanks to its feel-good effects as well as efficacy. If you have a roller, scraping stone, or another tool, slather on some oil and let the stones soothe your skin.
14.
Find comfort in a hot oil treatment.
Hot oil treatments have been used by a diverse group of cultures for centuries—which likely says something about its place on our list. And you can try it at home by following a few easy steps.
Alexandra Engler
mbg Beauty Director
Alexandra Engler is the beauty director at mindbodygreen and host of the beauty podcast Clean Beauty School. Previously, she's held beauty roles at Harper's Bazaar, Marie Claire, SELF, and Cosmopolitan; her byline has appeared in Esquire, Sports Illustrated, and Allure.com. In her current role, she covers all the latest trends in the clean and natural beauty space, as well as lifestyle topics, such as travel. She received her journalism degree from Marquette University, graduating first in the department. She lives in Brooklyn, New York.