Close Banner
Advertisement
This ad is displayed using third party content and we do not control its accessibility features.
Curious About Yoga International? I'm A Yoga Teacher & Here's My Honest Take
mbg Spirituality & Relationships Editor
By Sarah Regan
mbg Spirituality & Relationships Editor
Sarah Regan is a Spirituality & Relationships Editor, and a registered yoga instructor. She received her bachelor's in broadcasting and mass communication from SUNY Oswego, and lives in Buffalo, New York.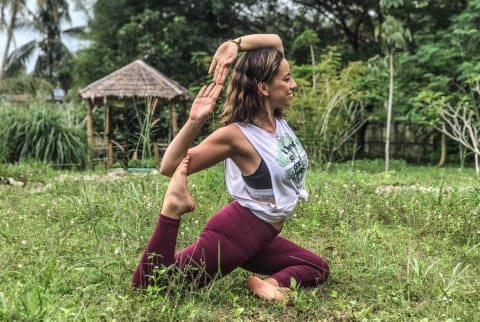 Image by Sarah/ Regan mbg creative
We carefully vet all products and services featured on mindbodygreen using our
commerce guidelines.
Our selections are never influenced by the commissions earned from our links.
As a yoga teacher, I'm always looking for ways to grow my practice, learn something new, or squeeze in a quick flow. Truth be told, I often turn to in-person classes—but I jumped on the chance to review Yoga International.
Best thought of an an online resource for the yogic lifestyle, Yoga International delivers more than 3,000 on-demand yoga classes, including yoga nidra, pranayama, guided mediations, and more for just $20 a month. Here's my honest take on the Yoga International app and website as a yoga teacher, including pros and cons of the app, who it's right for, and a few of my favorite classes.
Don't have time to read? A sneak peek:
Yoga International
scroll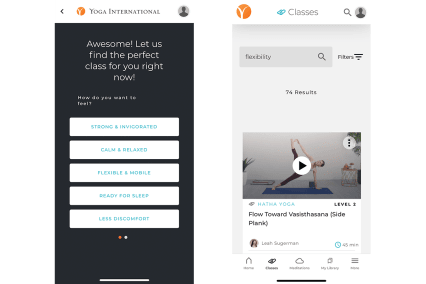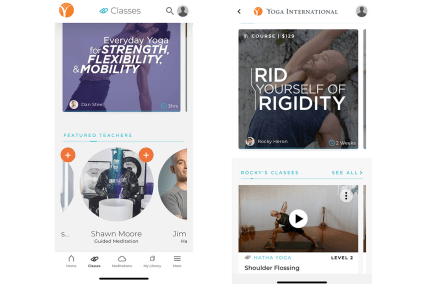 Types of classes offered
Ashtanga, Hatha, Kundalini, Restorative, Prenatal, Vinyasa, Meditation & Breathwork, NidraI, yengar
What I loved about Yoga International

Virtually all styles of yoga offered
Large amount of knowledgable & passionate teachers
Educational content including articles & podcast
Additional challenges, courses, & trainings
Additional resources for yoga teachers
Free-trial
What I'd change about Yoga International

No live classes
Some reviews mention issues with difficulty canceling subscriptions
My final thoughts

Yoga International app is a great way to align your practice with your schedule, keep learning, and take your yoga practice to the next level.

As a yoga teacher, my take is that Yoga International is a good option for anyone looking to deepen their yoga practice. If you're a beginner, the sheer plethora of options might be a bit intimidating, but rest assured, you can make it clear through your filters that you're a beginner looking for something on the easier side.

If you're more intermediate or advanced in your asana practice, there are definitely plenty of more challenging classes to try, workshops to learn from, and additional resources for whatever your yoga journey is needing.

If you're a teacher, I highly recommend this app for learning more about yoga philosophy and anatomy—which are usually the first things we forget after teacher training and the last thing we think to talk about in class. As teachers, it's vital to preserve the history of yoga and the spiritual essence of what the practice is all about, and Yoga International has plenty of resources to help you continue growing your practice and learning new things, which you can then bring to your students.
What is Yoga International?
Yoga International began as a print magazine created by the Himalayan Institute back in 1991, and was acquired by Gaia, a spiritual content streaming service, in 2021. Today, Yoga International serves as a "digital yoga studio," with yoga, meditation, and pranayama videos that you can stream on your phone, tablet, laptop, or TV.
According to their mission statement, Yoga International strives to offer the best yoga classes and teachers in the world, "so you can experience the transformational health benefits of yoga," while they, "stay true to yoga and our mission to help you find the path that works best for you."
And indeed, with literally hundreds of yoga teachers from around the world and thousands of yoga classes in a variety of styles, there's something for everyone interested in yoga on this app.
All those choices for teachers and classes might sound overwhelming, but one aspect of the app I enjoyed is their tailored filters for whatever you're in the mood for, whether you want to unwind before bed, stretch your shoulders, or even dive deeper into yoga philosophy.
How to get started with Yoga International
When you create your account, you're prompted to provide some information about yourself and where you are in your yoga journey (whether you're an instructor or not, how often you practice yoga, how often you meditate, your goals, etc.).
The app uses this info to recommend classes and programs, but you can still easily filter the content yourself by others factors like class duration, experience level, or preferred yoga style. I also loved the option to filter classes by specific body part focus—like neck, legs, or core—and to adjust my selection based on the props that I had available.
The user experience is also one of the more impressive ones that I've experienced. It allows you to save your favorite classes into a playlist to return at a later date. You can also follow your favorite instructors to stay updated on their newest classes
Of course, there are a few features that you'd simply expect from any program, like the ability to look back at classes taken to track your progress.
How I tested Yoga International
I signed up for Yoga International and was prompted to select my goals, my yoga interests, and my skill level. I said I wanted to reduce pain, meditate daily, build strength, and reduce stress, plus that I was a yoga teacher and specifically interested in Vinyasa and Iyengar yoga, as well as yoga nidra.
As I perused the app, the first thing I wanted to do was a quick, calming meditation. The beauty of their search function is that they always ask you how much time you have, whether that's just a few minutes or 45.
For my fist every class, I opted for Corina Benner's "Release Into The Tender Embrace Of Mother Earth" 14-minute meditation. Spoiler: It totally did the trick. After my session, I felt calm, cool, collected—and connected.
Of course, I also wanted to try the yoga classes. I already teach three classes a week and try to take at least one class myself on top of that, so with Yoga International, I was looking for short, strengthening flows, or targeted flows for specific pain points that I can't always focus on in an in-person class.
What's so nice about the app's wide selection of videos is that you can find something that fits your exact needs. In a studio space, you're more likely to get a general class that hits a bit of everything. While I typically don't mind the standard flow in a group class, I loved the ability to focus on areas that really needed the attention–like my lower back.
For example, I took Nam Chanterrwyn's "The Sacral Clock: A 5-Minute Exercise to Relieve Back Pain" video. Not only did I learn a lot about the mobility of the pelvis in just 5 minutes, but the stretches were super effective (and I'm actually pumped to take them to the classes I teach).
From there, the rest was history. I did a ton of different short flows (we love a 10-minute workout that actually gets you sweating!), a handful of meditations, and pranayamas.
I also keep gravitating back to Stephanie Lopez's 20-minute yoga nidra practice; I set the sleep timer on my TV, pull up the video from my bed, and more often than not I'm asleep before the video ends. The nights I've settled into sleep with yoga nidra, I swear I feel so much more rested in the morning. I can't recommend enough!
My favorite classes on Yoga International
Main features
Yoga classes
Yoga International is, for all intents and purposes, an app for online yoga classes and connecting deeper with your yoga practice. My favorite aspect of the app is, by far, the huge variety in yoga styles offered, as well as length of class times, skill level, and of course, the instructors from all around the globe.
As a yoga teacher myself, I'm acutely aware of how yoga and yogic culture has been commodified, appropriated, and/or lost in translation, so it's important for me—and should be for anyone interested in yoga, I think—to seek teachers and classes that are authentic, well-intentioned, and true to yoga's origins.
From my time on the app taking classes and browsing the content, I do feel that it's an authentic experience and like I can trust the instructors, which is a big win in my book. Plus, I'm excited to keep diving into all the different styles of yoga the app offers, which include:
Acroyoga
Conditioning
Diverse movement
Forrest
Gentle
Jivamukti
Mobility
Postpartum
Myofascial
Slow flow
Yoga therapy
Meditation
While Yoga International definitely has more yoga than anything else, there is a decent sized collection of guided meditations as well—over 700, in fact. Plus, there's plenty of options depending on how much time you have, what your goal is, and how much experience you have with meditating.
Guided meditation
Guided relaxation
Kundalini meditation
Mantra meditation
Prenatal meditation
Postpartum meditation
But beyond just the style of meditation, you can also filter your "focus," or goal, with options like:
Anxiety Relief
Bedtime
Centering
Calming
Creativity
Emotional wellbeing
Energizing
Grief
Grounding
Productivity
Peace
Seasonal
Sleep
Spiritual
Visualization
Pranayama
Pranayama (or "breath control," sometimes known as breathwork) is a practice in the yogic tradition that involves breathing in a specific sequence to control the breath, and subsequently, the body and mind.
Yoga International has over 100 different guided pranayama videos that can teach you sequences for a variety of goals, including:
Abdominals
Anxiety relief
Calming
Energizing
Mind and brain
Reduce stress
Sleep
Vitality
Additional resources
Educational content
One aspect of this app that, to me, really makes it stand out, is the amount of additional educational content you can access. They have a host of articles on all things Ayurveda, yoga philosophy, and more, as well as a handful of podcasts discussing the history of yoga, how to improve your asana practice, Ayurveda, etc.
If you're interested in yoga on and off the mat, this is the kind of content you want to look for. All too often, yoga in the West is just about the physical practicing of postures (asana), but Yoga International seems committed to ensuring the true roots of yoga are not lost.
Courses
Whether you're a yoga teacher yourself or just looking to dive deeper into certain poses or areas of the body, Yoga International has a bunch of longer courses and workshops that are much more thorough and educational than your typical half hour flow class.
To rattle off just a few of my faves, there's a 3-hour course on how to do yoga for digestion, an hour long explainer on how to do myofascial release, and a workshop on yoga for emotional intimacy. They've even compiled three "Member Favorites" series, where user feedback is considered to narrow down which classes people are loving, whether you're a beginner, intermediate, or seasoned yogi.
Trainings
For additional charges, Yoga International offers a variety of different trainings to help you master your practice—and/or become a better yoga teacher. Whether you want to learn how to breathe properly, understand anatomy and physiology, or learn how to create your own awesome yoga sequences, there's probably a course about it!
This section of the app might be a bit too much to bite off for a beginner, but if you've established a yoga practice or you're a teacher, it's definitely worth browsing the training offerings to see if any pique your interest.
And for what it's worth, all courses completed end with a certification and continuing education credits (CEUs).
How to sign up
You can sign up for Yoga International by visiting their website or downloading the app. You'll be prompted to start the trial and either select a monthly or annual subscription, then you'll answer questions about your yoga practice and goals so the app can suggest the right classes for you.
From there, you're ready to start your first Yoga International class.
How much it costs
Yoga International offers a 7-day free trial, and if you want to subscribe, it's $19.99 a month or $169 annually.
If you do not want to keep the subscription, be sure to proactively cancel ahead of time, as some reviews mention difficulty canceling subscriptions.
Yoga International does not offer refunds on subscriptions or their additional trainings.
What users are saying
As one five star reviewer happily writes, she was "intrigued by the variety of courses offered," so she started the trial, and it turned into the "best decision" she's made on her holistic journey. "The contents of the site for the membership price can't be beat," she writes, adding, "The information, choices of courses, and challenges offered are amazing...and the best part is they continue to add new courses and challenges which are informatively narrated."
In another review, a customer says the app has been a "life changer" for her as a working mom and caregiver to her mother. "Getting to yoga classes was next to impossible. I've tried lots of other apps plus videos, but nothing comes close to this app," she says.
Not all reviews are quite so shiny. As one self-reported yoga teacher writes, she gives the content 5 stars, but the app itself only 2. "Sadly the usability of the app has left much to be desired [...] There are many more annoying issues. They need a good QA team on board to check on all the bugs, both mobile app and web. I don't want to level up on my subscription because all these bugs."
I tested out Yoga International on an iPhone, which may explains why I didn't run into any issues with glitches or bugs. Many of these negative reviews on UX also seem to come from 2022, while I trialed the app in 2023.
FAQs:
How good is Yoga International?

As a yoga teacher, my take is that Yoga International is a good option for anyone looking to deepen their yoga practice, whether you're a beginner, intermediate, or seasoned yogi.
How much is the Yoga International app?

A Yoga International subscription is $19.99 a month or $169 annually after a free 7-day trial.
How do I cancel my Yoga International membership?

To cancel your Yoga International membership, visit the website or app and click your user icon in the top right corner. Select "My Account" from the dropdown menu, and then select "Membership." Select "Cancel Membership" and complete the cancelation form.
The takeaway
Deepening your yoga practice can help you not only increase your strength, balance, and flexibility, but also cultivate inner stillness, calm, and resilience. If making it to your local studio isn't an option but you don't want to miss out on yoga, then I believe the Yoga International app is a great way to align your practice with your schedule, keep learning, and take your yoga practice to the next level.
Sarah Regan
mbg Spirituality & Relationships Editor
Sarah Regan is a Spirituality & Relationships Editor, a registered yoga instructor, and an avid astrologer and tarot reader. She received her bachelor's in broadcasting and mass communication from State University of New York at Oswego, and lives in Buffalo, New York.