This RD Shares Her Healthy Eating Tips For People With GI Issues
mbg Director of Scientific Affairs
By Ashley Jordan Ferira, Ph.D., R.D.N.
mbg Director of Scientific Affairs
Ashley Jordan Ferira, Ph.D., R.D.N. is Director of Scientific Affairs at mindbodygreen. She received her bachelor's degree in Biological Basis of Behavior from the University of Pennsylvania and Ph.D. in Foods and Nutrition from the University of Georgia.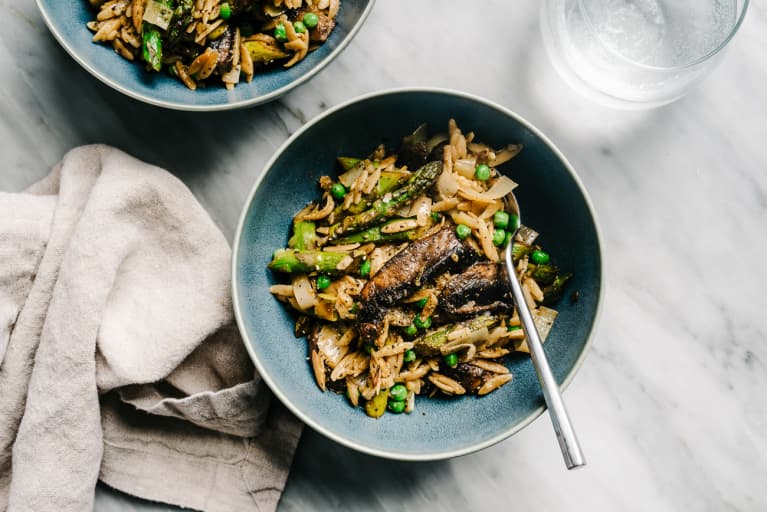 It's
National Nutrition Month
! All month long, we're highlighting the importance of a personalized nutrition approach and celebrating R.D.s across a range of specialties—hospitals, schools, community programs, universities, private practice, industry, and beyond.
If the gut works, use it. That's a slogan all dietitians learn early on in clinical training, then apply in hospital and outpatient settings across the world. When the gut doesn't work (temporarily or chronically), an R.D. can help calculate a patient's individualized nutrition needs for enteral (tube) and/or parenteral (intravenous) feeding approaches.
Carol S. Ireton-Jones, Ph.D., RDN, L.D., CNSC, knows a lot about calculations for nutrition needs. After all, she developed the equation all dietitians use around the globe.
Ireton-Jones is a clinical nutrition expert with decades of nutrition care experience for a variety of patients in hospital and outpatient settings. She developed "The Ireton-Jones equations" that R.D.s and M.D.s use in clinical settings, for estimating energy requirements in hospitalized patients.
At her successful private practice headquartered in Dallas, Ireton-Jones manages patients with gastrointestinal (GI) disorders, including IBS, IBD, and gastroparesis. She also serves patients with parenteral and enteral nutrition needs (i.e., individualized intravenous and tube-feed nutrition formulas). What's more, she has been named a fellow of both the Academy of Nutrition and Dietetics (FAND) and the American Society for Parenteral and Enteral Nutrition (FASPEN).
I had the distinct pleasure of discussing this year's National Nutrition Month theme with Ireton-Jones. She shared invaluable insights on her philosophy and approach to personalized nutrition, for herself and her patients with GI challenges.
What does this year's National Nutrition theme "Personalize Your Plate" mean to you?
One of my favorite National Nutrition Month slogans was "All Foods Fit," and the slogan for 2021 goes right along with that. Good nutrition is what someone likes to eat and therefore will eat—it's personal. For example, my personal plate will not contain beets! For others, beets are standard fare.
My clients have GI challenges, which means they may have very specific foods or food components that they can and cannot tolerate. They personalize their plate to their liking—as an R.D., it is my job to help them find what they like and give suggestions to keep it healthy. In fact, I think everyone has a personalized plate.
Do you follow a specific dietary pattern?
Following a specific diet pattern is not for me. I like the Mediterranean and DASH diets, as both of these patterns deliver a nice balance of nutrients and foods. When my clients do not know where to start, I recommend both of these.
I teach the FODMAP elimination diet for my clients with IBS, but the most important thing to remember about that diet is that it's elimination and reintroduction. The goal is not to be restricted to low-FODMAP for a lifetime but to discover what foods work for that individual—a personalized plate.
What's your go-to nutrient-dense meal right now (breakfast, lunch, or dinner)?
My favorite snack/lunch is cottage cheese. I have been conducting an informal survey in my practice, and only about 20% of my patients like cottage cheese. So many people are missing out! It is delicious, versatile, packed with protein, and provides calcium and some potassium.
In one-half cup of cottage cheese, I have a high-protein snack. As a lunch, I can mix it with fruit or a salad and hearty whole-grain crackers. If lactose is a problem, the lactose-free cottage cheese is equally good.
Is there one "MVP" healthy food or meal addition you're personally loving right now?
Many of my clients cannot tolerate garlic or onion, yet these are staple spices. What I have found in trying different recipes using a variety of spices is that sometimes these garlic and onion flavors overpower the flavors of the natural food.
Imagine a streamlined tomato sauce with whole peeled tomatoes, extra-virgin olive oil, sea salt, and fresh basil. This is a delicious recipe from chef Chris Bianco that I got out of the local newspaper. Trying different spices or just using salt and pepper to taste allows the real flavor of foods to come out and shine.
Connect with Ireton-Jones at Good Nutrition for Good Living and on social @DrCIJRD.