The 10 Healthiest Nut Butters: From Peanut To Pistachio (And Beyond)
Health Writer & Editor
By Kristine Thomason
Health Writer & Editor
Kristine is a writer, editor, and editorial consultant who lives in Long Beach, CA.
June 11, 2021
Our editors have independently chosen the products listed on this page. If you purchase something mentioned in this article, we may
earn a small commission
.
I won't even try to play it cool: I'm a huge fan of nut butter. As someone who follows a primarily vegetarian diet, I often turn to nut butters as a source of protein, in addition to healthy fat. Plus, they're downright delicious and make so many of my go-to dishes (oatmeal, smoothies, protein bites, healthy cookies, stir-fry) taste top-notch.
I'm certainly not alone in this fandom. I chatted with a number of nutritionists and chefs to get their take on the benefits of nut butters, how to find the healthiest options, and some fun ways to use them.
Advertisement
This ad is displayed using third party content and we do not control its accessibility features.
Plus, as a health editor, I've tried my fair share (read: a lot) of different varieties of nut butters over the years. So I've also compiled some of the healthiest types of nut butters you can find, along with my go-to brands.
Benefits of nut butter.
"Nut butters can be a great part of a nutritious diet, especially when they're made with simple ingredients," says Maggie Moon, M.S, R.D. "When the main ingredient is nuts, it's hard to go wrong. Nut butters will offer up the good nutrition nuts are known for."
For starters, nut butter is an easy and convenient way to get plant-based protein and healthy fats into your diet. In fact, nuts often make appearances in longevity studies, particularly tied to the Mediterranean diet1, says Ella Davar, R.D., CDN. "They are packed with healthy anti-inflammatory fats, fiber, and fat-soluble vitamins."
What's more, "they're a nutrient-dense food, which means they deliver a ton of goodies in a small portion," says Frances Largeman-Roth, R.D. "For people who are trying to add protein and/or calories to their diet in a healthy way, nut butters are the ticket!"
Advertisement
This ad is displayed using third party content and we do not control its accessibility features.
What to look for in a healthy nut butter.
While it may seem like it's hard to go wrong with nut butters, the reality is they're not all created equal. A good rule of thumb is to look for nut butters with a short and simple ingredient list—and the nut should always come first.
Davar always prioritizes the quality of ingredients, opting for organic and non-GMO wherever possible. She also recommends steering clear of fillers, emulsifiers, sugars, natural flavors, and partially hydrogenated vegetable oils (like soybean or canola).
"You really don't need anything in the jar besides the nuts, a little salt, and sometimes some oil to keep that creamy consistency," says Largeman-Roth.
Advertisement
This ad is displayed using third party content and we do not control its accessibility features.
Healthiest nut butters.
While peanut and almond may be the most common players in the nut butter world, there are actually a wide range of options that take advantage of the flavor and nutrient profiles of many different nuts.
1. Almond Butter
Almond butter has been a staple in my pantry for years. I love the subtle nutty flavor, along with the fact that it contains vitamin E, magnesium, calcium, and healthy monounsaturated fats2. I'm personally a big fan of Justin's (and Largeman-Roth agrees with me, noting she has a "soft spot" for the brand). While this Colorado-based nut butter company makes a number of awesome flavors, I'm pretty partial to this creamy classic. Another favorite in this category: Barney's Bare Smooth Almond Butter.
Justin's Classic Almond Butter, justins.com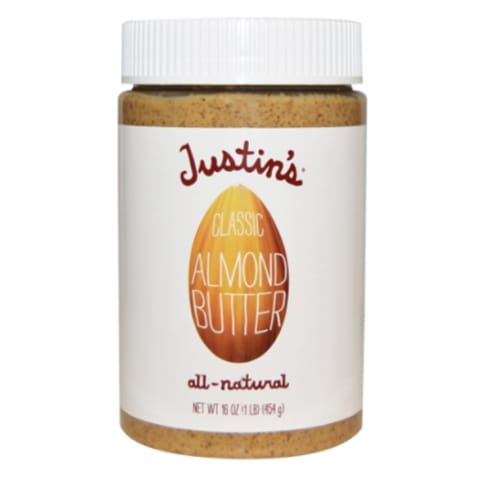 Justin's
Advertisement
This ad is displayed using third party content and we do not control its accessibility features.
2. Walnut Butter
As a kid, my parents always told me that walnuts are a super snack for brain health—and science certainly backs that up. "They're high in plant-based omega-3, alpha-linolenic acid (ALA), which has been studied for its anti-inflammatory effects and shown to be beneficial for heart health and cognitive functioning," says Davar.
That's why I love this colorful, dreamy nut butter, which has a walnut base, along with cashews and macadamia nuts. As a nutrition bonus, this blend gets its vibrant hue from blue spirulina.
Butterfly Blue Dream Nut Butter, butterflysuperfoods.com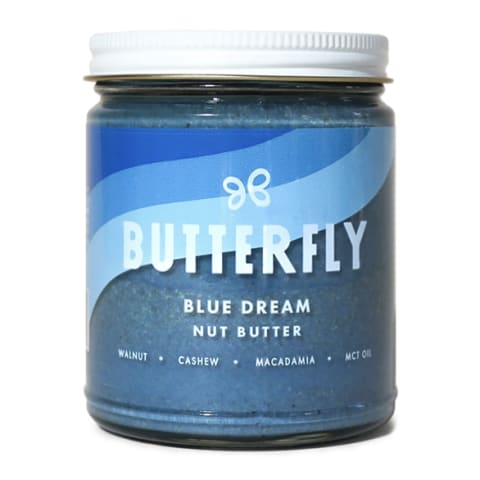 3. Pecan Butter
Pecans have the highest phytochemical concentration of flavonoids3 of all tree nuts, among other important vitamins and minerals. Not to mention, they taste absolutely delicious—especially in this date pecan butter by Abby's Better. I appreciate that this tasty blend has three simple ingredients: dry-roasted pecans, dates, and pink Himalayan salt.
Abby's Better Date Pecan Butter, abbysbetter.com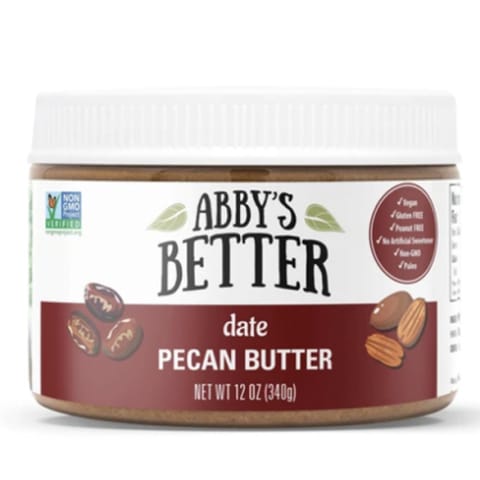 4. Peanut Butter
There are certainly a lot of peanut butter options out there—and frankly, I wouldn't qualify many of them as "healthy." As a general rule, I try to stay away from nut butters with fillers and hydrogenated oils and look for peanuts as the primary (if not only) ingredient on the label. Two of my favorites that fit the bill are Once Again and Santa Cruz Organic. With these two options, I can confidently enjoy the protein, fiber, B vitamins, and healthy fats of peanuts.
Santa Cruz Organic Crunchy Light Roasted Peanut Butter, santacruzorganic.com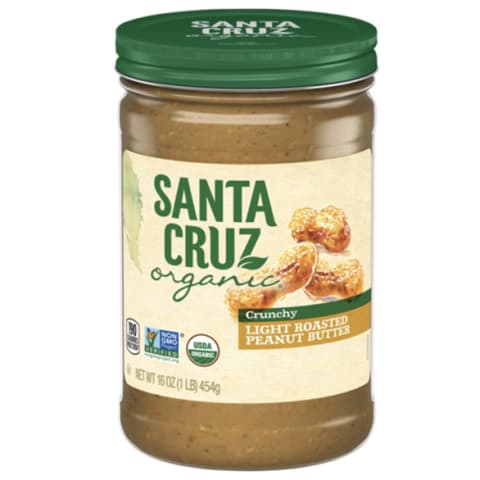 Advertisement
This ad is displayed using third party content and we do not control its accessibility features.
5. Cashew Butter
Cashews are something of a culinary wonder—you can blend them into vegan cheese, dairy-free ice cream, and so much more. And, of course, the copper- and magnesium-rich nut makes for a delectably creamy nut butter. This Big Spoon Roasters offering takes it to the next level, with a touch of coconut nectar for natural sweetness, coconut oil, and Jacobsen sea salt (is your mouth watering, yet?)
Big Spoon Roasters Cashew Butter with Coconut Nectar and Sea Salt, bigspoonroasters.com
6. Cacao Hazelnut Butter
Growing up, chocolate hazelnut spread was one of my absolute favorite special treats. Since then, brands have (fortunately) come out with some healthier versions of this renowned sweet (this one opts for coconut sugar, which is a better-for-you sweetener). Now, I can spoon up this tasty nut butter, knowing I'm getting some antioxidant-rich cacao along with blood-sugar-supporting hazelnuts.
Artisana Organics Hazelnut Cacao Spread, thrivemarket.com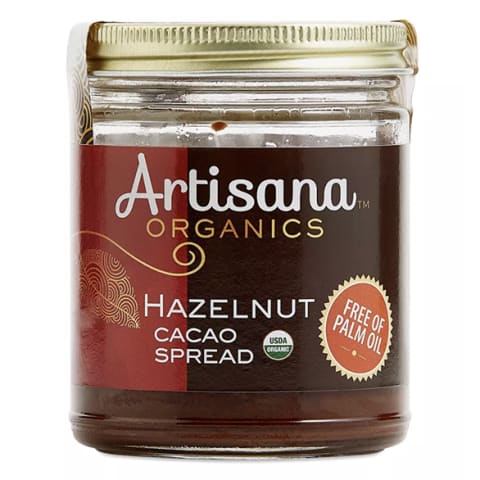 7. Pistachio Butter
In addition to pistachios' extensive nutrient profile, Moon says they stand out for "winning on complete protein," considering they're the only nut that contains all nine essential amino acids.
Moon adds that since pistachios are a softer nut, they blend well, so it's easy to make your own pistachio butter at home. Still, I'm partial to this Sicilian pistachio spread, which is impossibly creamy and includes heart-healthy EVOO. It does have a touch of sugar, so I'd reserve this one as a sweeter treat.
Il Colle Del Gusto Sicilian Pistachio Spread, milkstreet.com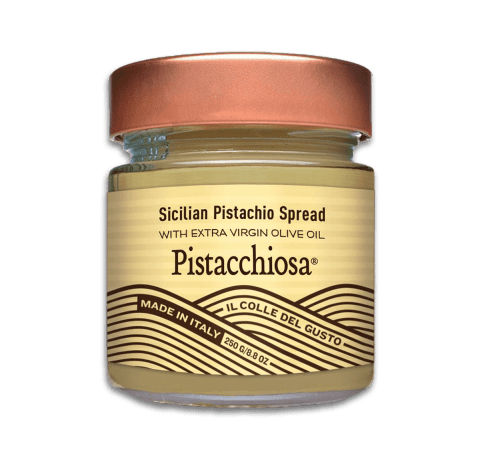 8. Coconut Butter
Yes, coconuts are technically a nut—and they make for a nutritious, versatile spread. Coconut oil and butter is high in medium-chain triglycerides (MCT) along with lauric acid4, which can lower bad cholesterol. It's a great butter alternative in baked goods, or even smeared on toast—and now, a number of brands are blending it with other nut butters for extra creaminess and nutrition. Take this awesome RX nut butter packet, for example: It features coconut butter alongside almond butter (plus its signature egg white ingredient) for a nutrient-dense snack pack.
RX Coconut Almond Butter, rxbar.com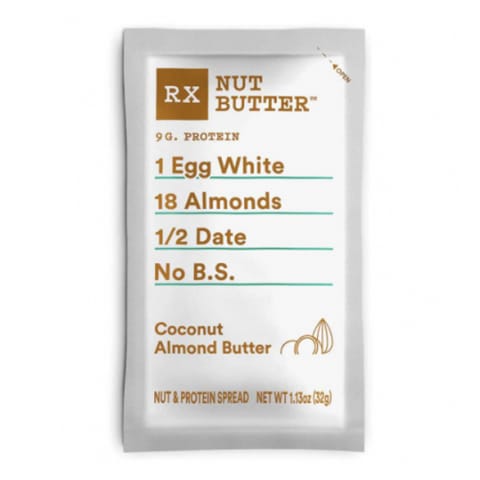 9. Mixed Nut Butter
Why have just one nut when you could have them all? This fantastic blend is a favorite of Davar's, featuring dry-roasted almonds, dried coconut, Brazil nuts, hazelnuts, and other nutritious seeds.
One unique ingredient worth noting is Brazil nuts, which "are high in selenium and play an intricate role in immune system functioning," says Davar.
Nuttzo Organic Power Fuel, nuttzo.com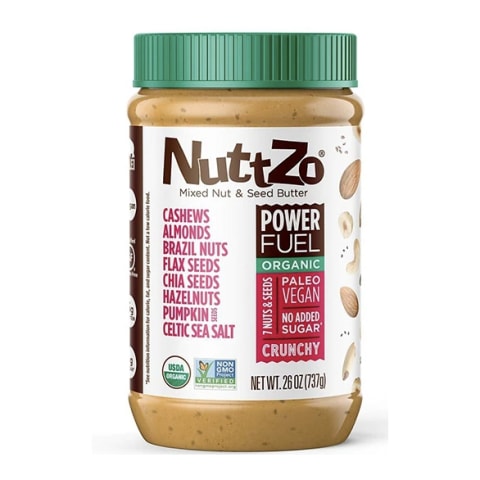 10. Granola Butter
OK, this one isn't technically a nut butter, but I'm throwing it in the mix for anyone out there with a nut allergy or sensitivity. This unique product combines two of my favorite things: the lovely taste of cinnamon granola, and the smooth texture of nut butter. The ingredient list is simple: gluten-free oats, flax, coconut oil, and a hint of maple syrup for natural sweetness.
Kween Granola Butter, kween.co
How to use nut butter.
Now that you've found your new favorite nut butters, it's time to put them into action. "Nut butters are incredibly versatile and can be used beyond toast, in yogurt bowls, smoothies, and quick breads," says Largeman-Roth.
"I also love swirling almond butter into oats for a nutty flavor and boost of protein, fiber, and good fats. It really gives the oats staying power," says culinary and integrative dietitian Marisa Moore, MBA, RDN, L.D.
You can also get a little creative with it: "One of my favorite simple snacks that's in high rotation at home is a dollop of nut butter in the base of a small bowl surrounded by apple slices to look like a flower," says Moon. "Nut butter is also great for making homemade granola clusters."
On the savory side, "I use nut butter as a base for sauces and dressings to drizzle over broccoli and other roasted vegetables," says Moore. "They are also perfect as a stand-alone spread or dip."
Oh, and one more surprising application: "I even love a little PB in my grilled cheese!" says Largeman-Roth.
As you can see, the options are pretty endless when it comes to these delicious, nutritious spreads. Once you give them a try, I'm sure you'll join me in the healthy nut butter fan club.
Kristine Thomason
Health Writer & Editor
Kristine is a writer, editor, and editorial consultant who lives in Long Beach, CA. Kristine is a New York University graduate with a degree in journalism and psychology, and also a NASM-certified personal trainer. She has spent her editorial career focused on health and well-being, and formerly worked for Women's Health and Health. Her byline has also appeared in Men's Health, Greatist, Refinery29, HGTV, and more. In her current role she oversees, edits, and writes for the health, food, and movement sections of mindbodygreen.