Pistachios Are Now Considered A Complete Source Of Protein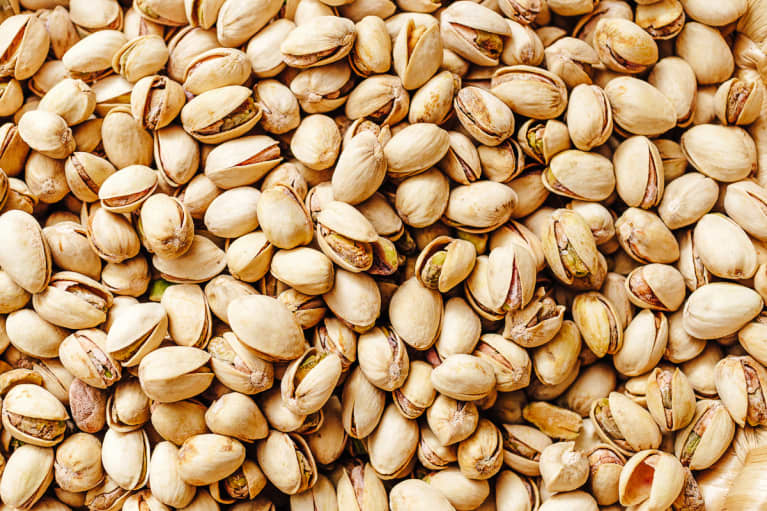 Eating a plant-based diet produces a variety of health benefits, including improvements in gut health and heart health. Unfortunately, finding a diverse source of complete proteins, without eating meat and dairy, can be challenging. But according to FDA guidelines, U.S.-grown pistachios are now considered a complete source of protein for anyone over 5 years old.
What is a complete source of protein?
In order for a protein to be considered "complete," it has to contain significant levels of all nine essential amino acids (aka the protein-building blocks our bodies don't naturally produce).
Using the Protein Digestibility Corrected Amino Acid Score (PDCAAS), researchers determined roasted pistachios do, in fact, contain significant levels of all nine essential amino acids. They now join quinoa, tofu, hemp seeds, and chickpeas, as one of the few plant-based protein sources.
Until the announcement, made during the APG Annual Conference, most nuts were considered incomplete sources of protein. Additionally, most sources of complete protein were meat, fish, eggs, or dairy-based, meaning people who followed a vegan or vegetarian diet would have to combine at least two incomplete sources of protein in order to meet their nutritional guidelines.
Additionally, having a snack food rather than a main dish be considered a complete protein can be helpful for people who are traveling long distances, working long hours, or simply not in the mood to cook.
"This news is particularly exciting for active adults and athletes who want the convenience of a complete protein that's portable, said Nigel Mitchell, B.S., M.S., R.D., in a news release. "As a complete protein, roasted pistachios contribute to the varied and balanced diet and healthy lifestyle important for good health."
Want to turn your passion for wellbeing into a fulfilling career? Become a Certified Health Coach! Learn more here.