10 Healthy Smoothie Recipes For A Refreshing, Nutrient-Packed Meal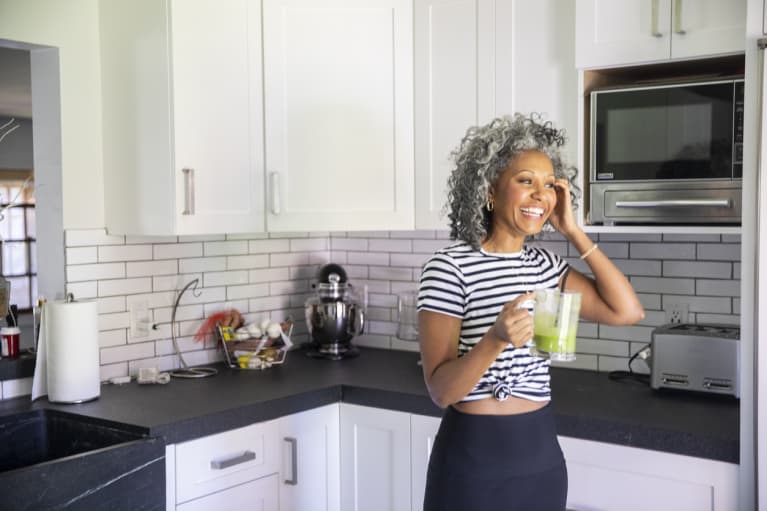 Smoothies are often thought of as on-the-go breakfasts, but a nutritionally dense smoothie can also hold down hunger at lunch- or dinnertime. These 10 smoothies in particular feature a combination of vitamins, fiber, protein, and healthy fats, to name a few. The variety of ingredients and flavors will help keep you nourished and satiated until the next meal.
1.
Perfect Green Smoothie
mbg's perfect green smoothie recipe involves dark leafy greens for antioxidants, fruit for sweetness, protein, and healthy fats to keep you full. Plus, a secret ingredient to take your smoothie to the next level is mindbodygreen's organic veggies+ powder. It's a great way to add veggies to your blend if you don't have any on hand (or just don't like the taste of kale and spinach in your smoothie). Plus, this tasty greens powder contains hard-to-find sea veggies, digestive enzymes, antioxidants, prebiotic fiber, and so many more powerhouse nutrients to help support your immune system and encourage nutrient absorption.*
2.
Hormone-Balancing Breakfast Smoothie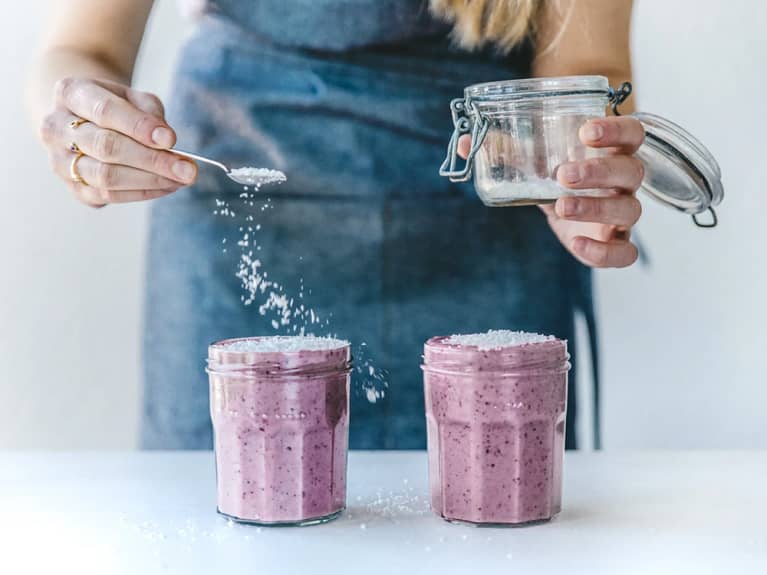 This breakfast smoothie was developed by integrative medicine doctor Taz Bhatia, M.D., who relies on the combination of ingredients (like fibrous fruit, anti-inflammatory flaxseeds, and antioxidant-rich leafy greens, to help manage hormonal imbalance.)* She also adds collagen powder to support gut and digestive health.*
3.
organic veggies+ Green Smoothie
"Let's face it: We're not getting enough veggies in our diets these days," chef and recipe developer Danielle Shine says, which is exactly why she created this organic veggies+ green smoothie, which combines greens powder with raw zucchini and avocado, among other natural ingredients, like dates for sweetness and mint leaves for their bright, refreshing flavor.
4.
The Real Deal Smoothie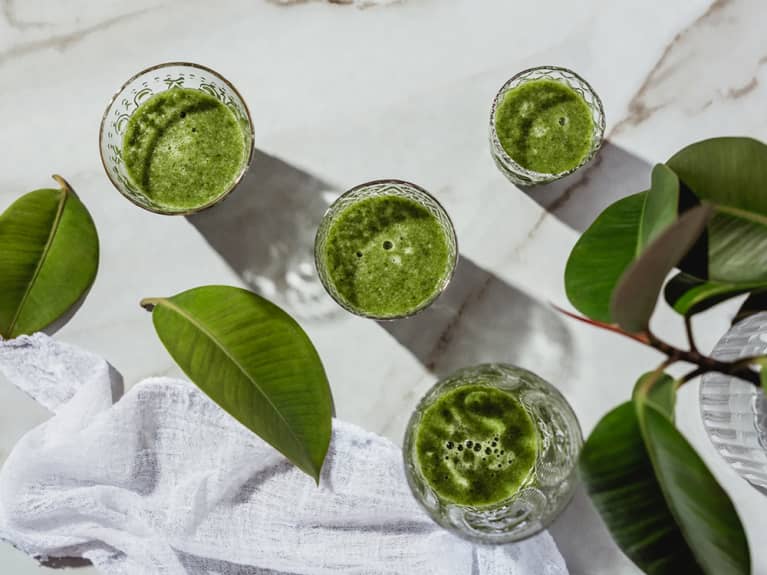 5.
Berry & Veggie Smoothie
6.
Belly Feel-Good Smoothie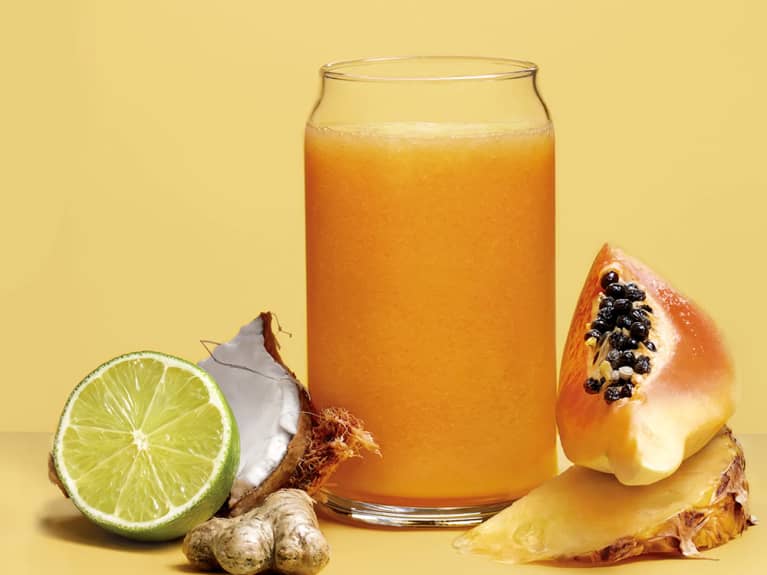 7.
Tropical Smoothie Bowl
This tropical smoothie bowl combines frozen tropical fruits, like pineapple and mango, with coconut water for a cool, refreshing bite, and yogurt for a healthy dose of probiotics.
8.
Cherry-Almond Recovery Smoothie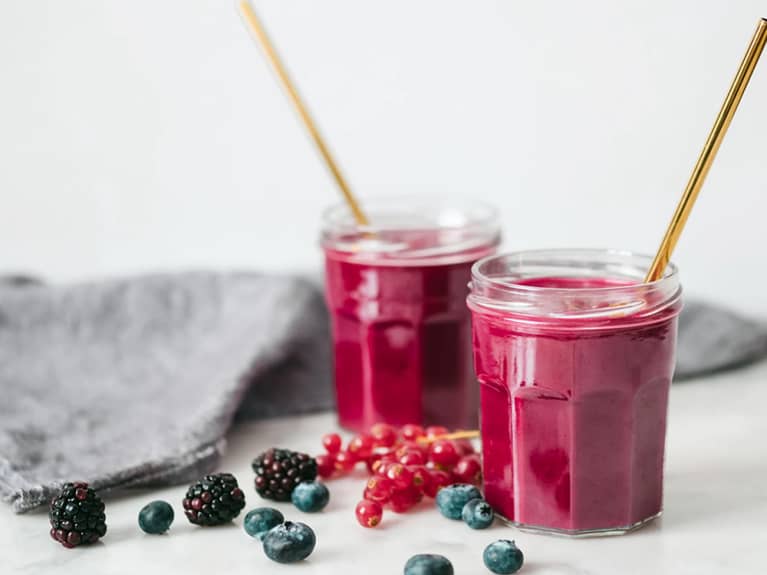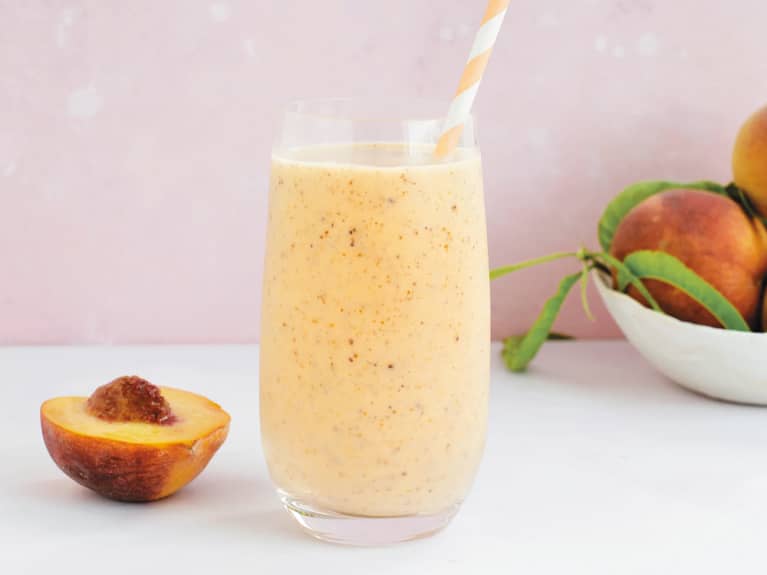 This ginger and peach smoothie provides potassium and magnesium from the frozen bananas, omega-3 fatty acids from the flaxseeds, and seasonal sweetness from the peaches. For anyone with an intense sweet tooth, add more dates or honey.
10.
Healthy Mint Chocolate Smoothie
Mint chocolate chip ice cream can be refreshing, but in some cases, it can taste grainy and artificial. Avoid the disappointment of the latter by making your own mint chocolate smoothie at home. This concoction combines spinach, mint leaves, and the sea veggie chlorella with rich cacao nibs for a better-for-you take on the "dessert."