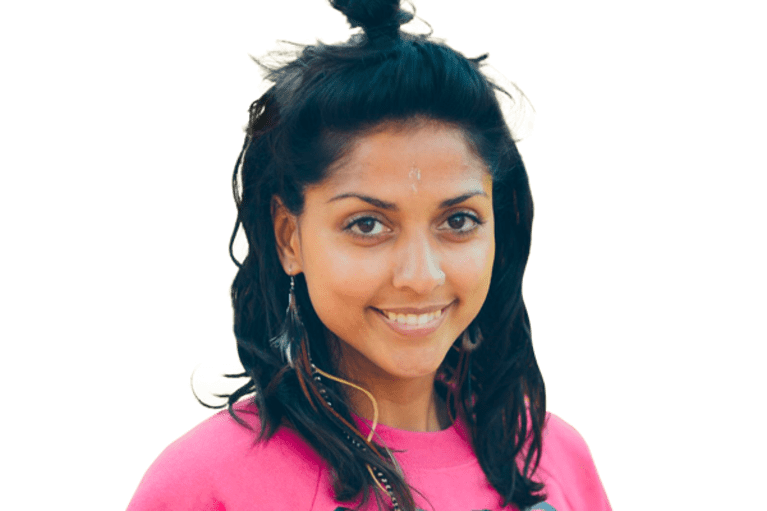 Rhea Mehta, Ph.D.
Molecular Toxicologist & CEO of Bowhead Health
Rhea Mehta, Ph.D., is a molecular toxicologist, integrative health coach, and CEO of Bowhead Health, a health care startup on a mission to remove the pain points and inefficiencies of health management by offering more accessible and secure solutions. Bowhead is launching a smart device that enables at-home biometric testing of critical biomarkers and real-time dispensing of personalized supplements and vitamins. Join the mailing list and connect on social media @bowheadhealth for news and updates and to be among the first to try the Bowhead device and mobile app. Rhea is also the founder of Global Smoothie Day and the co-founder of adult summer camp and digital detox Camp Reset.
Articles
Q&A
What is your wellness philosophy?

Wellness is a privilege. For those of us who are fortunate to have the time and space to practice wellness, I believe we have a responsibility to learn and unleash our health potential. If not for us, then for our fellow earth citizens. Given the approach to wellness is unique to each individual, I like to think of it as a formula that combines intention + practice + support. In this way, you're invested in mindset, you are building a toolbox of rituals and routines through repetitive action, and you're leaning on your community for accountability, to ensure you can build this way of living into the future.

What brought you into wellness?

I moved into wellness through urgency and astonishment. My PhD thesis project focussed on the toxicity of the Western Diet and the role of B vitamins and other nutrients in preventing chronic disease. And the irony was that at the time, I was consuming the western diet and I had no concept of the role of nutrition in my daily health and wellbeing. Thankfully, everything changed with a serious and sudden health scare mid-way through my doctorate which forced me into the present moment and into examining my own life. The wonderful world of wellness appeared in my consciousness rather quickly from there and the scientist in me was eager to experiment. I turned my mess into my message and I have never looked back.

What does You. We. All. mean to you?

Health impacts us all. We all have bodies that require our love and attention. We all share the same home, planet earth, that requires our love and attention. If one of us is sick, we are collectively sick. We must therefore make choices that consider and benefit us all.

What gets you up in the morning?

A deep-rooted knowing that I have yet another opportunity to be, feel and do.


What's your favorite ritual?

I love shaking my sillies out! It's the first thing I do upon waking. I bounce and let my shoulders drop with gravity, I shake out my joints from my extremities, and I stick my tongue out and exhale with force and sound. It helps me release tension, ground my body and get into a very playful state.