This Refreshing Feel-Good Smoothie Will Boost Your Digestion
mbg Contributor
By Caroline Muggia
mbg Contributor
Caroline Muggia is a writer, environmental advocate, and registered yoga teacher (E-RYT) with a B.A. in Environmental Studies & Psychology from Middlebury College.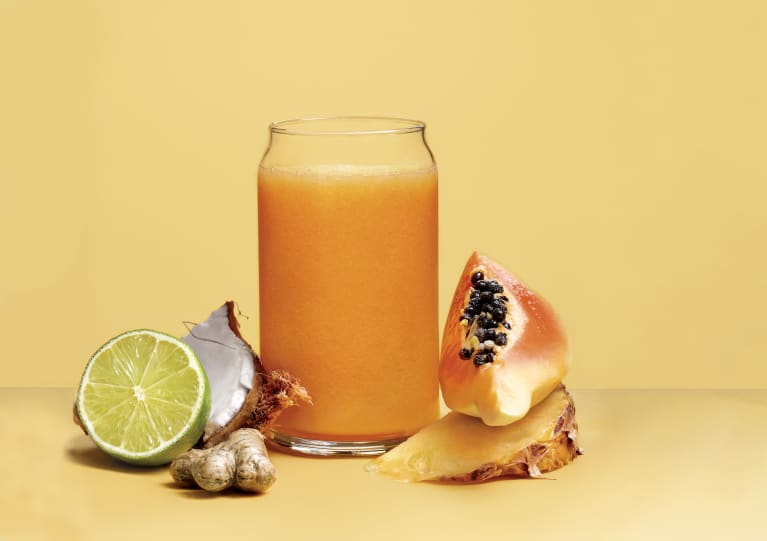 Our editors have independently chosen the products listed on this page. If you purchase something mentioned in this article, we may
earn a small commission
.
Kimberly Snyder is the founder of Solluna and the #FeelGoodMovement, a multi-time New York Times best-selling author, and the author of the new book Recipes for Your Perfectly Imperfect Life. Her book features personal anecdotes about building self-worth, healing unhealthy relationships with food, and embracing imperfections. The over 100 recipes will nourish you from the inside out and transform your mind, body, and soul. Snyder is a well-known nutritionist and has changed the lives of clients like Drew Barrymore, Reese Witherspoon, and Channing Tatum.
Snyder recently said that one of the crucial factors in Drew Barrymore's recent weight loss was healing her gut. "If we don't have balanced guts, it means our digestion is compromised, and we tend to 'hold' more, making weight loss much harder," said Snyder.
One of the best recipes for promoting a healthy gut and digestion is the Belly Feel-Good Smoothie. "It's one of my favorites to help clients with belly health, and I've made it for Drew Barrymore," said Snyder. It includes papaya and pineapple, high in digestive enzymes such as bromelain; ginger, known for a cleansing and calming effect on the gastrointestinal tract; and aloe, which research suggests may help reduce symptoms of leaky gut as it could help lower inflammation in the colon.
While you could head to the Solluna by Kimberly Snyder, an organic juice and smoothie bar at the Four Seasons hotel in Beverly Hills, Los Angeles, you don't have to travel that far to get a smoothie. All you need is a few ingredients and a blender, and you'll be on your way to happier and healthier digestion!
2 cups diced fresh pineapple
2 cups peeled and diced fresh papaya
1 medium ripe banana
1½ cups coconut water
1 tablespoon fresh lime juice
½ teaspoon peeled and minced fresh ginger
1 teaspoon aloe juice
Pinch of sea salt
Combine all the ingredients in a blender. Starting on low speed, slowly increase the speed to high and blend the ingredients together until smooth, around 45 seconds.