The LOC Method: How To Layer Products For Soft, Frizz-Free Curls
mbg Associate Editor
By Jamie Schneider
mbg Associate Editor
Jamie Schneider is the Associate Editor at mindbodygreen, covering beauty and health. She has a B.A. in Organizational Studies and English from the University of Michigan, and her work has appeared in Coveteur, The Chill Times, and Wyld Skincare.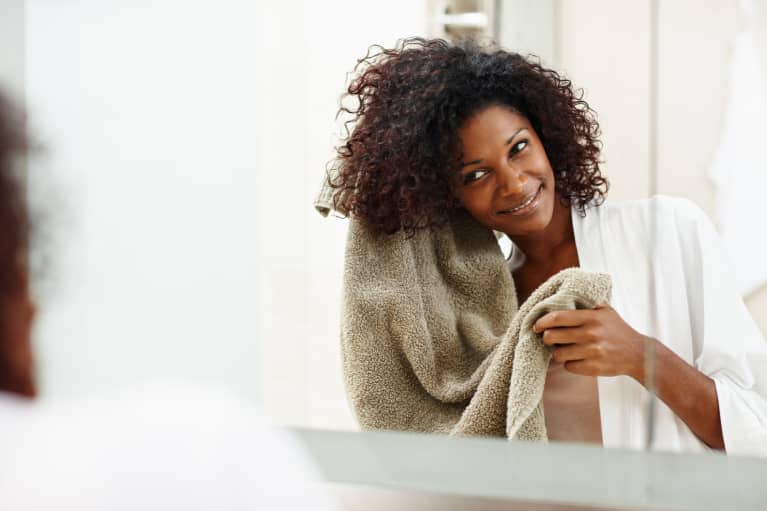 Our editors have independently chosen the products listed on this page. If you purchase something mentioned in this article, we may
earn a small commission
.
Ask anyone in the curl community the secret to soft, bouncy curls, and they'll likely tell you: Moisture, and lots of it. But sometimes your hair is perpetually thirsty no matter how many hydrating hair masks you lather on—leaving it dry, frizzy, and dull.
Enter: the LOC method. A popular term in the curl community that isn't so difficult to add to your post-shower routine (you may even have all the products you need at the ready). If you find your strands practically screaming for moisture, consider this clever three-step technique to lock in the hydration.
The LOC method, explained by experts.
The term itself was coined by the natural hair community, a mnemonic device for the order of products you should use post-rinse: That is, liquid (or leave-in), oil, and cream. "For me the LOC method is something you do whenever you're doing a wash-and-go curly style," adds hairstylist Anthony Dickey, founder of Hair Rules. It's been a popular topic among many natural hair forums, where people of color discuss their own natural hair journeys—including what helps keep their curls healthy and hydrated. One of those tried-and-true ways is to condition and seal the hair shaft immediately post-wash. And that's where this layering order comes into play.
That's not to say other hair types can't benefit from the LOC method, too. The kicker here is about the layering order of products rather than the products themselves, so you'll want to select the right products for your individual hair texture, "especially when it comes to selecting your oil," says Nick Stenson, celebrity hairstylist and artistic director of Matrix. While it's hard to identify a general rule of thumb (everyone's hair is different), heavy product usually weighs down fine hair, while too-light products might not provide coarse hair with enough moisture.
How to master the LOC method:
Curious about how to refine those curls? After hopping out of the shower, mind the three steps:
"L" stands for "liquid" or "leave-in." There's some nuance here: Some are partial to using just water, while others use a water-based leave-in conditioner to coat the strands. Whatever you choose, make sure you're applying enough moisture. "You want to lubricate the strands and soften the hair, which helps to rebuild your natural texture," Dickey says. Stenson agrees, even recommending a spray bottle to keep the strands saturated, especially on the porous ends of the hair.
Second is "O," which stands for "oil." It's meant to seal in all the moisture you've just applied to your hair. So after coating your hair with leave-in, slide a natural oil through your strands. At mbg, we're partial to jojoba oil (as is Dickey), as it mimics the natural sebum on our scalps.
Finally, your final layer of product: "C," which stands for "cream." Once your oil seals the hair shaft, apply a styling product to better hold those curls. In terms of which products to reach for, it again depends on your hair type. Do you need a curl créme? A mousse? It may vary based on your individual hair's needs, but for those prone to extra dryness, a thick butter-based cream can make sure all that moisture stays locked in.
After, just let your curls dry in their natural form, and try not to touch your hair (it only creates more frizz!). You can also do a two- or three-strand twist out if you so choose, which Stenson notes will help you "achieve a style with longer wearability."
How often should you do the LOC method?
Again, it depends on hair type. An important note: Every time you do the LOC method, you need to start with wet, detangled hair, says Stenson. Which is important, because where you fall on the texture spectrum will determine how frequently you should wash (or co-wash, which is essentially rinsing and reconditioning your hair without a full shampoo)—and thus, how often you should apply the LOC method.
It makes sense: In order to lock in moisture, you have to, well, add some in the first place. "Water is moisture," Dickey says. So in order for the LOC method to have any lasting benefits, knowing how often to rinse is a key point.
The LOC method is just a clever way to remember how to layer products for a frizz-free, curly style. Again, knowing your hair type is key for success; for some fine-haired folk, layering all those products on sopping wet hair can leave your strands limp and oily. And it's not a hard-and-fast rule for curls and kinks, either: Sometimes you'll have to experiment with the order to find what works best for you. Allow us to reemphasize, the perfect air-dry game is a journey, not a destination.