A Thorough Guide To Co-Washing: What It Is + 5 Expert-Approved Tips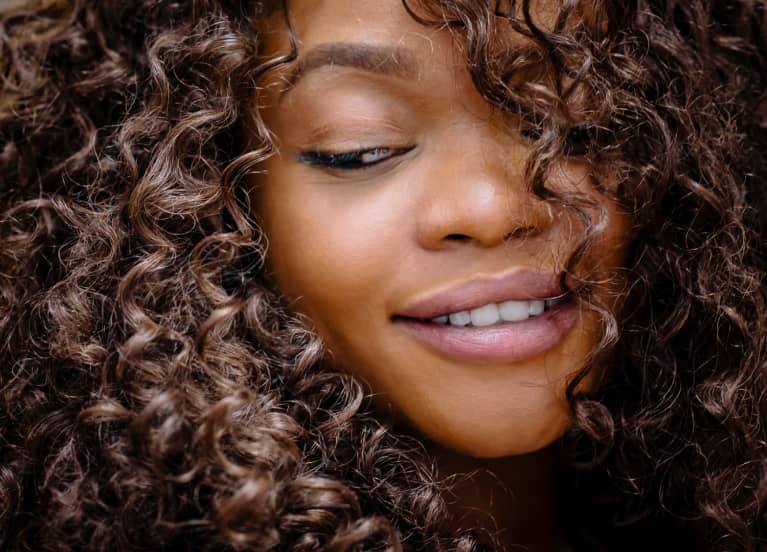 Our editors have independently chosen the products listed on this page. If you purchase something mentioned in this article, we may
earn a small commission
.
Curls, coils, and kinks need moisture, full stop. This poses a problem with shampoos as surfactants, the active ingredient that does the cleansing, are notoriously drying. This is even true of sulfate-free shampoos: Even though they are far more gentle than their traditional counterparts, they contain surfactants that can be overtly drying to delicate hairs. So for those with really dry hair, skipping shampoos actually may be the answer.
That's where co-washing comes in: If you are curious about making the switch, we spoke with top hair care experts and stylists for tips on how to help.
"Co-washing—or, conditioner washing—allows the gentler cleansing without the drying detergents that can harm the scalp and hair. Also, co-washing protects the integrity and strength of the hair while maintaining its natural oils," says hairstylist Miko Branch, founder of natural hair care brand Miss Jessie's.
What hair types should try co-washing?
As we've mentioned, co-washing is for those with drier hair types, notes Branch, which includes curls, coils, and kinks. "Textured hair requires extra moisture and hydration, and harsh shampoos can be damaging to curls," she says.
Those with severely damaged hair—like damage, say, from heat, relaxing, or color processing—may also consider co-washing. "Those with weak hair, or anyone with chemically damaged hair may also consider co-washing," says Danielle Malary, owner of Lumiere Vive Salon.
If you have oily hair or scalp, skip co-washing and side with shampoos—co-washing won't be strong enough to clean the hair, and the scalp may encounter buildup, irritation, and inflammation.
1.
Find the right conditioner.
First up, a proper co-washing product is different from the traditional conditions you might use if you're on the shampoo train. So once you've decided to go full co-wash, you'll need a product revamp. "The idea is to use conditioner, though not just any conditioner, as a replacement for shampoo. An ideal co-wash very gently cleanses the hair using mild surfactants while a typical shampoo uses more concentrated surfactants that really work to deeply cleanse the hair," says Malary.
So this iteration of conditioner have the same hefty hydrators as a standard one, but it will also infuse minimal cleansing agents (so you're not just totally abandoning washing altogether).
Simply find a co-washing-specific product—it will be marketed as such—and test it out to see if it works for you. You may need a bit of a guess-and-test to find the right one, as every scalp-and-hair combo has different needs, and every formula is better suited to different people. "Don't just try a product and give up immediately. Sometimes, it is very necessary to change the routine up to find what works for you," says Malary. Read: It may be a journey to find your perfect match, but we have some suggestions below.
2.
Be gentle, yet thorough, in the shower.
As for actually using said product, know that because it doesn't contain sudsy sulfates, you'll have to do some of the work to get it into the scalp. So while you are saturating your hair with the conditioner, really massage your scalp to help break up and remove and buildup. "Remember to co-wash the scalp with fingertips, not fingernails, to remove product buildup, dirt, debris, and sweat," says Branch. From there, "detangle gently and patiently with great care—with your fingers and a wide-tooth comb. Rinse thoroughly with cool water to seal the ends, and use a microfiber towel to soak up excess water. After applying a styling product, air dry is always the best dry."
3.
Pay attention to your scalp and strands.
Hair washing is not an exact science, for anyone. In fact, there are many influencing factors at play (read more here). So the smartest thing you can do on your co-wash journey is to learn and pay attention to your own unique needs.
"I highly recommend that clients become in tune with their hair if the hair begins to feel oily, or oversaturated—alternate frequently with a sulfate-free shampoo," says Malary. "The routine should be specific to the client's hair and needs."
4.
You don't need to abandon your shampoos entirely.
And on that note, you may also find you need to fold in a shampoo as part of your co-washing routine—that's OK. (Co-washing isn't an all-in or all-out sort deal.) Because at the end of the day, you need to make sure you aren't leaving buildup on your scalp. "It's very important to deep cleanse your hair; it's just that many times it may not be necessary as frequently," notes Malary.
"For those who co-wash who need the occasional extra cleansing, it's important to stick to sulfate-free shampoos that don't strip already dry hair. And partner this with a once-a-week deep-conditioning treatment to replenish moisture and provide hydration," advises Branch.
5.
Yes, you can co-wash daily; just find the right formula.
Some people love a daily cleanse—be it because of their scalp's sebum production, habit, or workout schedule. Don't worry, a daily co-washing routine is entirely doable: "Fellow curlies who need daily co-washing need a hydrating product that was created especially for daily use," says Branch. Basically it just goes back to the principle that you need to find a co-washing product that works for you.
At the end of the day, your co-washing routine will look entirely different from someone else's. That's because you need to get to know yourself and your hair to really figure out what's right. There's no professional knowledge in the world that rivals self-knowledge: "I cannot stress studying your hair enough. A stylist can only give you recommendations, but essentially you go home with your hair," says Malary. "Feel your hair out, document how it reacts. Essentially, keep a journal for your hair and learn to love it."