We Rounded Up 28 Of The Best Sweet, Savory & High-Protein Vegan Snacks

mbg Contributing Writer
By Brooke Ely Danielson
mbg Contributing Writer
Brooke Ely Danielson is certified in plant-based nutrition through the T. Colin Campbell Center of Nutrition Studies via Cornell University and offers plant-based coaching. She is an editor and consultant for several publications.
September 4, 2021
We carefully vet all products and services featured on mindbodygreen using our
commerce guidelines.
Our selections are never influenced by the commissions earned from our links.
Who's ready for a snack? How about a healthy vegan no-fuss snack you can rely on to nourish your body and fuel your busy day?
Many of us have experienced the "mindless reach" into a snack bag, leaving us munching on processed chips, crackers, and cookies that don't leave us feeling very satiated. However, there are better options out there—even packaged ones—that can keep you from falling into the "junk food veganism" trap.
If you're looking for more mindful choices, look no further than our list of 28 healthy vegan snacks you can nosh on. To further back up our delicious vegan snack choices, we spoke with registered dietitians about snacking, what they snack on, and how to go about finding the best options that are nutrient-dense and satiating.
What to look for in a healthy vegan snack. 
The three most important factors to keep in mind when choosing a healthy snack are fiber, fat, and protein. "I always recommend looking for a snack that has fiber, protein, or healthy fat, as these are nutrients that help keep you fuller for longer and can keep you from getting hangry and overeating," plant-based dietitian Amy Gorin, M.S., RDN, says. Additionally, it is important to avoid additives and sugar when possible, she tells us.
And don't forget produce! Plant-based nutritionist Jessie Funchion, M.S., R.D., says to snack on "ideally a combo of produce and protein or fat. Examples include banana and almond butter, carrots and hummus, or plum and pistachios. The produce has water, carbs, and fiber that help fill you up in the short term, and the nut or bean product has protein and fat, which take longer to digest and keep you satisfied until your next meal," she explains.
As for packaged options, the next time you're browsing the grocery store aisle (or online snack store pages), keep some of these vegan snacks in mind.
28 best healthy vegan snacks.
High-Protein:
Abby's Better Vanilla Cashew Nut Butter Bites
Packed with pea protein, these bites are made up of six ingredients that are ideal for a long hike, workday, or post-workout refuel (think fiber-rich dates, fat-filled cashews, and pea protein).
Vanilla Cashew Nut Butter Bites, Abby's Better Nut Butter ($13)
Abby's Better Nut Butter
Hippeas Vegan White Cheddar Chickpea Puffs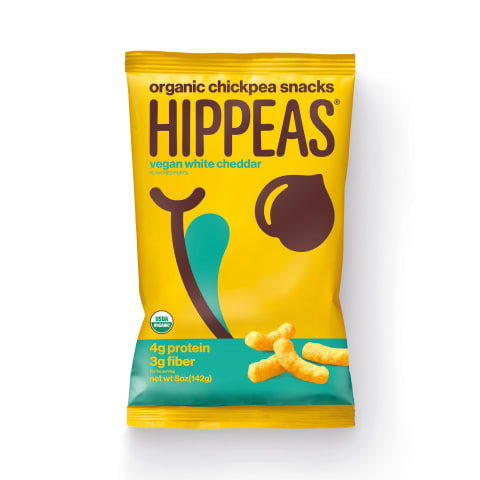 Hippeas
Biena Sea Salt Chickpea Snack
With just three ingredients and 6 grams of protein per serving, these salty, crunchy chickpeas are a great snack and also a fantastic salad topper!
Sea Salt Chickpea Snack, Biena ($3.79)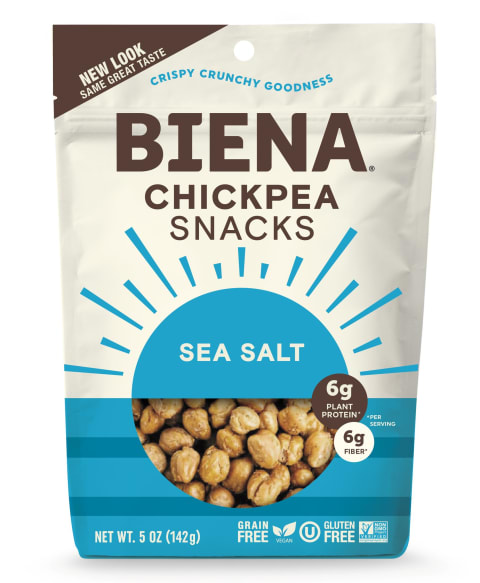 Biena
Bars:
Lärabar Cashew Cookie
Just two simple ingredients: cashews and dates. This grab-and-go bar blends fiber and healthy fat for the ultimate snack time treat.
Cashew Cookie Bar, Lärabar ($9 for 8 bars)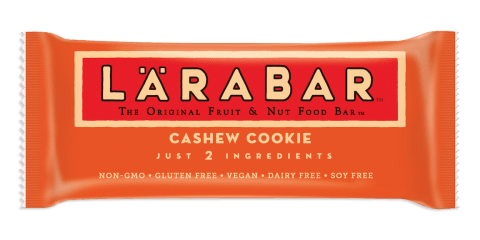 Larabar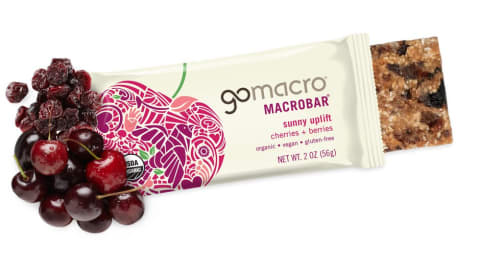 GoMacro
LivBar Lemongrass Cherry & Matcha Bar
"I love to recommend this superfood bar to vegan eaters. It boasts 6 grams of plant protein, as well as 10% of the daily value for iron—a nutrient that many vegan eaters struggle with getting enough of," says Gorin. "I also love that LivBar is one of the only baked energy bars on the market, which means it has a really delicious and complex flavor profile. Also, how cool is it that the wrapper is compostable?"
Lemongrass Cherry & Matcha Bar, LivBar ($33 for 12 bars)
LivBar
Chips & Crackers:
Dirt Kitchen Blushed Bell Pepper Crisps
This vibrant snack features three simple ingredients: bell peppers, extra-virgin olive oil, and salt (yep, that's it!). Eat some produce and satisfy your crunch craving, all at once. You can also feel good knowing this snack brand rescues imperfect, surplus veggies—to help reduce food waste.
Blushed Bell Pepper Crisps, Dirt Kitchen ($30 for pack of 9)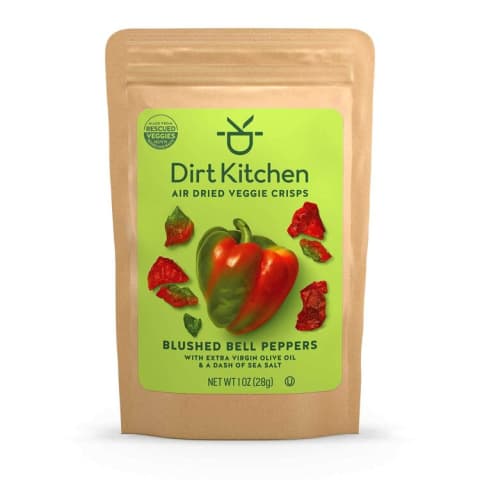 Rhythm Organic Beet Chips
Not fried, not baked, just beets. These delicious crunchy beet chips are dehydrated. Snack on them naked or dip them in hummus for extra fiber and protein.
Organic Beet Chips, Rhythm ($16.30 for 4 bags)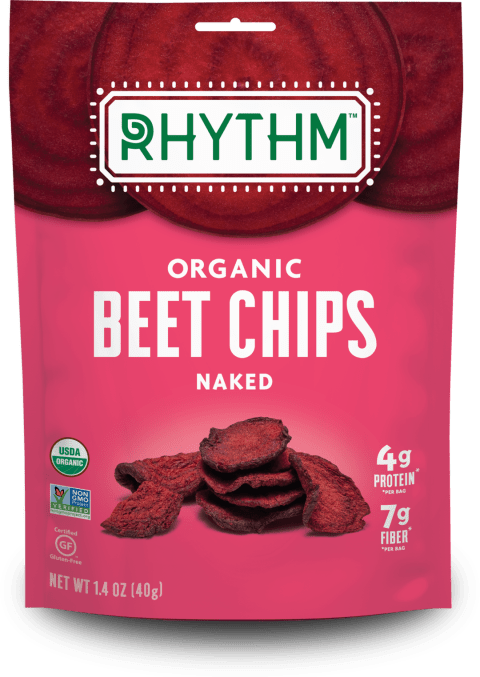 Rhythm
Brad's Plant Based Crunchy Kale Chips
Raw, nutrient-dense, and packed with flavor, these kale chips are great as a stand-alone snack, or perfectly paired with a vegan dip of your choice.
Crunchy Kale Chips, Brad's Plant Based ($48 for 12 bags)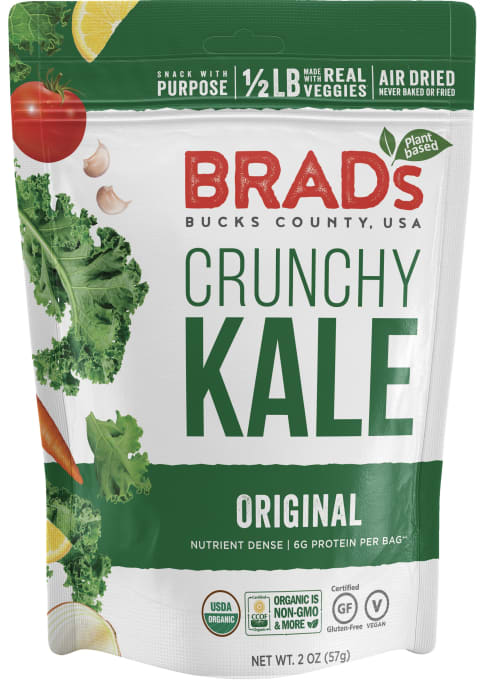 Brad's Plant Based
Mary's Gone Crackers Super Seed Crackers
The super seed cracker with super nutrients. The thin, round crispy crackers are made with whole ingredients including seaweed, black sesames, and quinoa.
Super Seed Crackers, Mary's Gone Crackers ($4.59)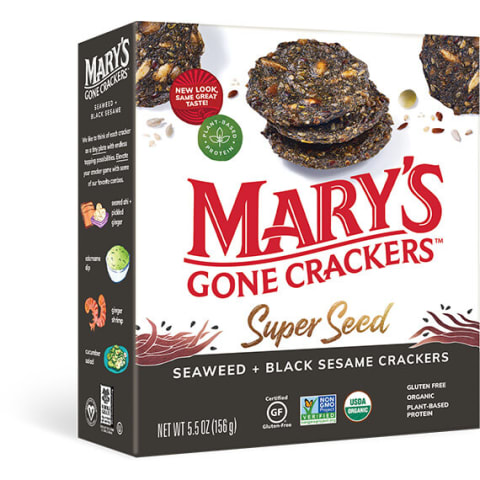 Mary's Gone Crackers
Thrive Market Sea Salt Seaweed Snack
For those on the go and needing a super snack you can travel easily with, these sea salt seaweed snacks from Thrive Market are a must.
Sea Salt Seaweed Snack, Thrive Market ($6 for 4 packs)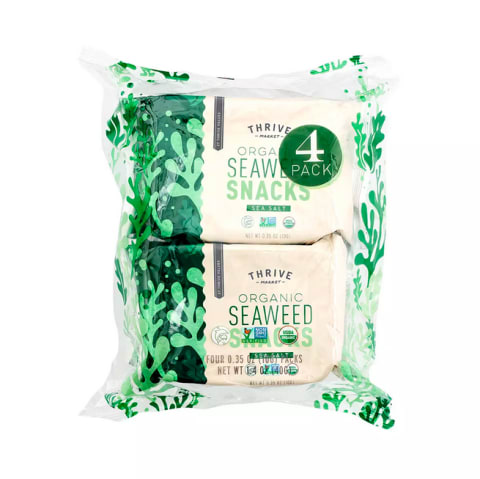 Thrive Market Sweet Potato Chips
Looking to satisfy the potato chip craving? These Thrive Market sweet potato chips are baked simply with coconut oil and a bit of sea salt.
Sweet Potato Chips, Thrive Market ($2.79)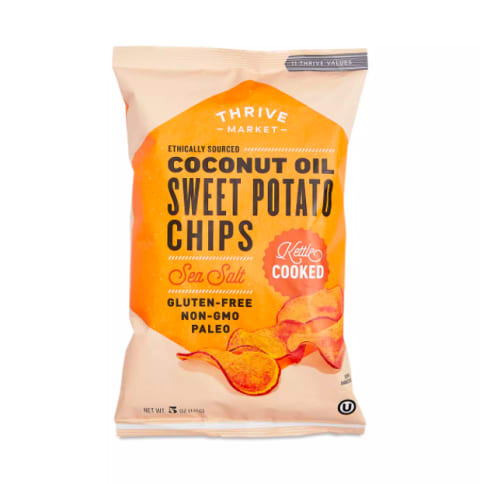 Simple Mills Almond Flour Crackers
These tasty vegan and gluten-free crackers are the perfect pairing with your favorite dairy-free cheese or dip. They're made with a blend of almond flour, sunflower seeds, and flaxseeds—with vitamin E and protein in every serving. (Check out more of our favorite healthy crackers here.)
Fine Ground Sea Salt Almond Flour Crackers, Simple Mills ($5)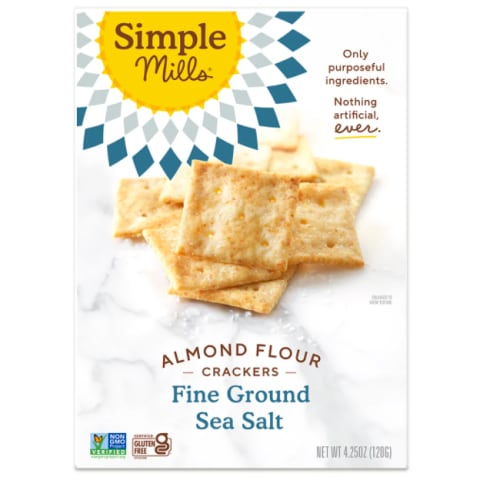 Chipotle BBQ Tortilla Chips
Siete makes a number of tasty vegan & grain-free snacks, and these BBQ tortilla chips are an mbg favorite. Featuring nutritious ingredients like cassava flour, chia seeds, and avocado oil—plus plenty of zesty flavoring—these chips are sure to jazz up any snack time. Chipotle BBQ Tortilla Chips, Siete Foods ($36 for 8 bags)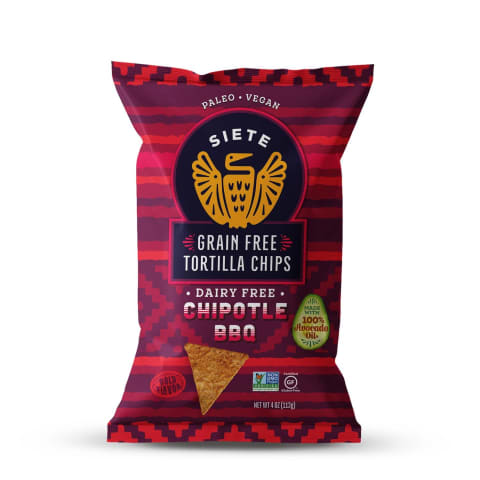 Dips:
Ithaca Classic Hummus
We love that Ithaca hummus is simple, made with real ingredients, and does not contain any preservatives. Grab a few carrots, celery, and cucumber slices to dip into this delight.
Classic Hummus, Ithaca ($6)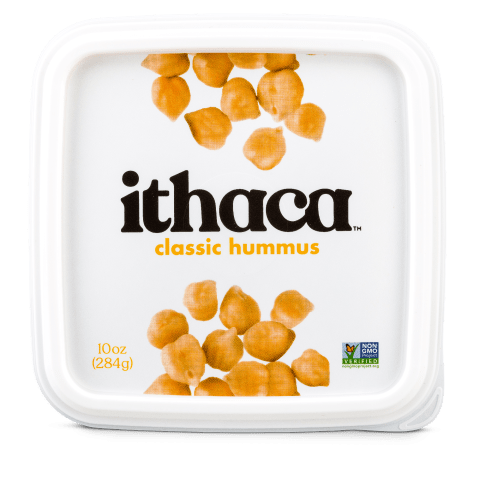 Ithaca
Kite Hill Dairy-Free Queso
Vegan does not mean sacrifice. For those craving a cheesy dip, Kite Hill has it for you. This almond-based queso brings the heat and is a tasty complement to your favorite vegan chip.
Dairy-Free Queso, Kite Hill ($5)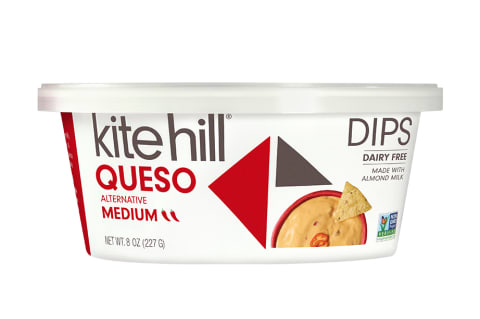 Kite Hill
Core + Rind Cashew Cheesy Sauce, Rich and Smoky
This tasty combination of sweet potatoes, cashews, and smoky flavor makes for a hearty dip you can pair with veggies, kale chips, or your favorite cracker. It contains good fats from the cashews and vitamins from the sweet potato. Plus, this one's ketogenic.
Cashew Cheesy Sauce: Rich and Smoky, Core + Rind ($9.49)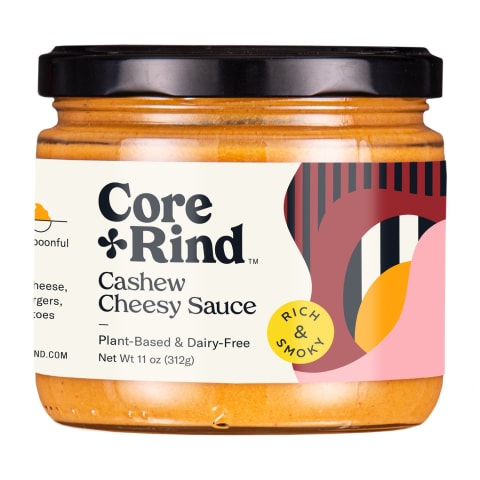 Core + Rind
Trader Joe's Vegan Tzatziki Dip
Go Greek with a vegan tzatziki spread. Dunk veggies into this flavorful dip, or spread on bread for the ideal complement to a veggie sandwich.
Vegan Tzatziki Dip, Trader Joe's ($4)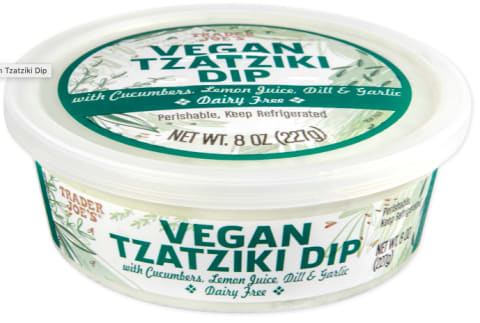 Yogurts:
Kite Hill Blueberry Yogurt
This protein-packed yogurt is made with almond milk and boasts a sweet blueberry flavor. While many see yogurt as a breakfast food, it also makes for an ideal and easy snack.
Plant-based blueberry yogurt, Kite Hill ($2)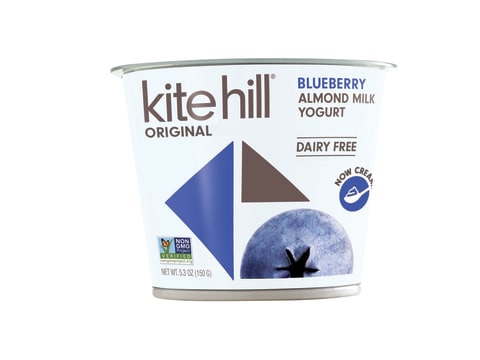 Kite Hill
Siggi's Plant-Based Coconut Blend Vanilla Yogurt
Incredibly creamy, filling, and rich in healthy fat, Siggi's coconut yogurt comes in a variety of flavors. We like to add organic berries on top, plus some slivered almonds!
Plant-Based Coconut Blend Vanilla Yogurt, Siggi's ($7.49)
Siggi's
GT'S Cocoyo coconut yogurt
Cocoyo is a gut-healthy coconut yogurt you can snack on at any time of the day. It will keep you full for hours to come and is also a great probiotic food.
Coconut Yogurt, GT's ($6)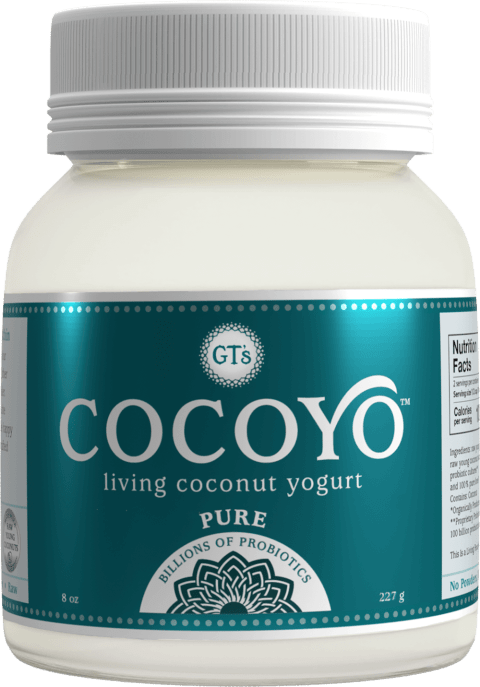 GT's
Culina Plain & Simple Plant-Based Yogurt
A probiotic-rich coconut yogurt you can eat plain or make delicious dips out of, like homemade tzatziki.
Plain & Simple Yogurt, Culina ($4.69)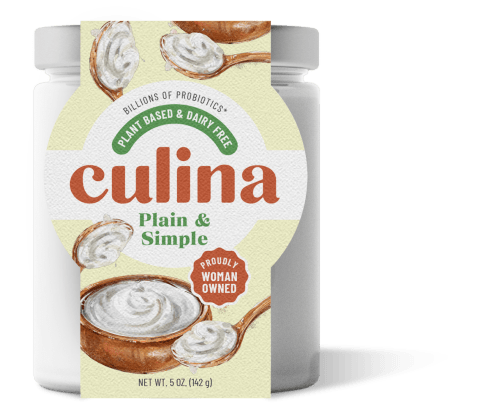 Culina
Nuts + Seeds:
Living Intentions Wild Berry Sprouted Trail Mix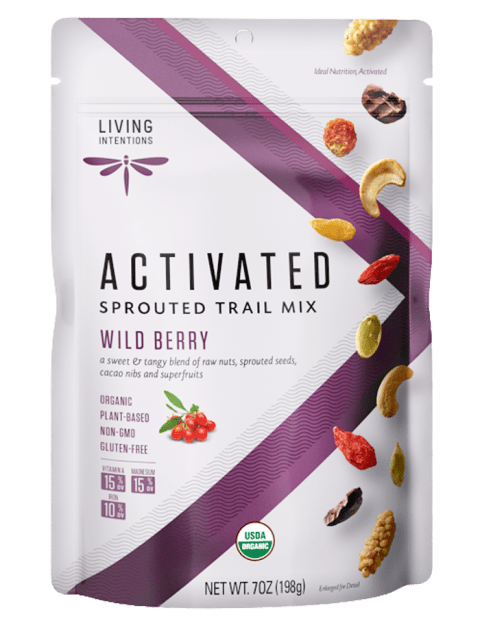 Living Intentions
Skinny Dipped Dark Chocolate Cocoa Covered Almonds
In need of something sweet without the subsequent sugar crash? These dark-chocolate-dipped almonds are a filling dessert-like snack. Sprinkle them on a plant-based yogurt for an added bonus.
Dark Chocolate Cocoa Covered Almonds, Skinny Dipped ($25 for 5 packs)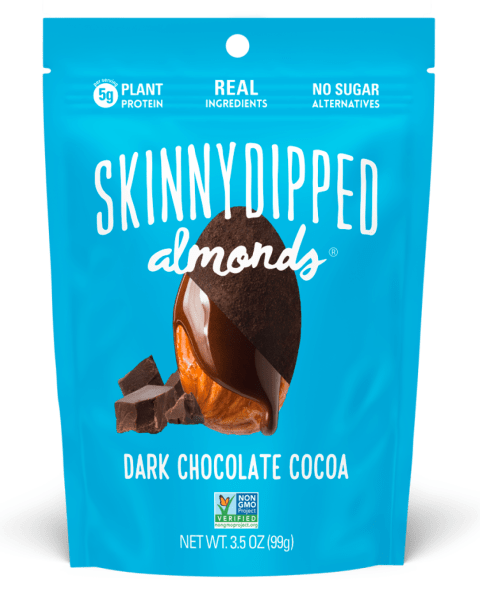 Skinny Dipped
Thrive Market Organic Sprouted Pumpkin Seeds
These sprouted salted pumpkin seeds are an easy on-the-go snack, filled with protein and healthy fat. Keep them around in reusable snack packs, and try sprinkling them on grain bowls and salads.
Lightly Salted Organic Sprouted Pumpkin Seeds, Thrive Market ($12)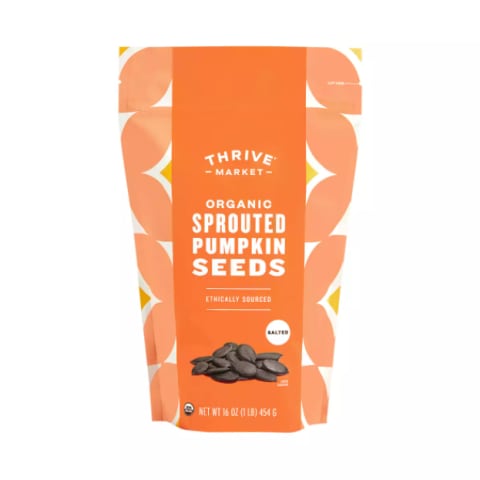 Thrive Market Organic Tamari Almonds
These tamari almonds have just enough tang and flavor to add some diversity to those taste buds throughout the day. The healthy fat from the almonds will keep you full for hours to come.
Organic Tamari Almonds, Thrive Market ($8)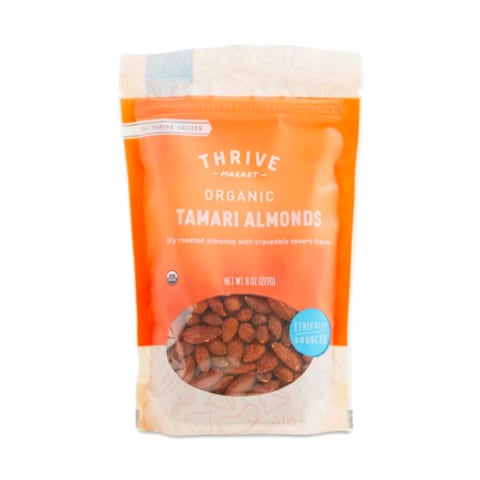 Capao Cherry Almond Cacao Fruit Bites
These flavor- and nutrient-packed bites are perfect when you're in a pinch. They feature the underutilized pulp from cacao fruit—rather than just the beans—to help minimize waste. This underrated fruit contains magnesium, iron, zinc, potassium, fiber, and polyphenols.
Cherry Almond Cacao Fruit Bites, Capao ($27 for 6-pack)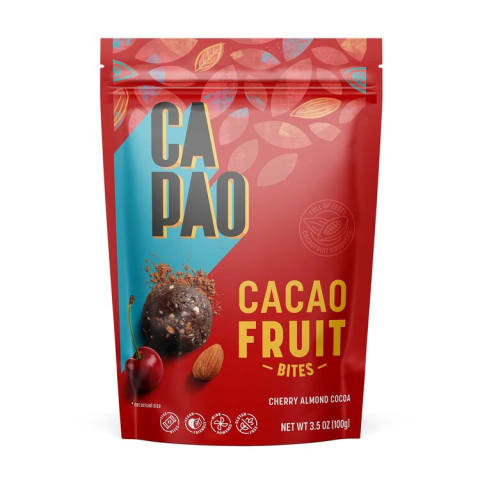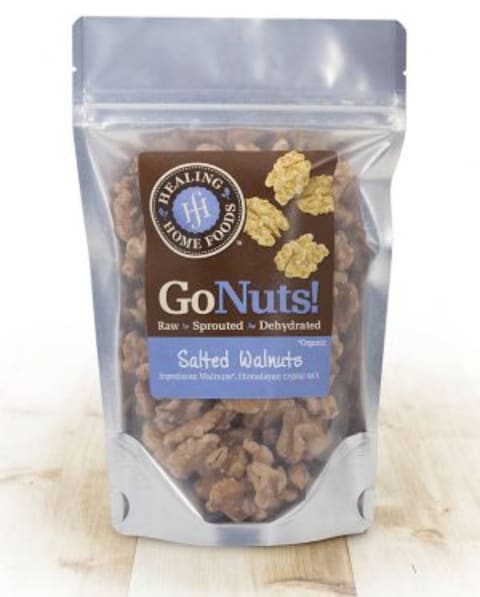 The best places to buy vegan snacks.
"These days, vegan snacks are thankfully more available than ever," says Amy Gorin. You can buy vegan snacks online or in most grocery stores, not just specialty shops. Retailers like Thrive Market, Trader Joe's, and Whole Foods Market even have their own proprietary vegan snacks, in addition to go-to brands we love. Traveling and nervous about healthy options? The good news is that most airport kiosks and gas stations now carry many of the vegan snacks mentioned in this article.
Conclusion
Overall, snacking vegan is easier now than ever. With a tremendous amount of snack variety, and places to purchase them, remember that not all vegan snacks are created equal. Be sure to pay attention to the ingredients: Seek out healthy fat, fiber, and protein, while avoiding excessive additives or unhealthy oils. And, as always, pay attention to your body and what it needs. When in doubt, reference the 28 vegan-approved snacks we have put together above, and you'll be good to go!

Brooke Ely Danielson
mbg Contributing Writer
Brooke Ely Danielson is certified in plant-based nutrition through the T. Colin Campbell Center of Nutrition Studies via Cornell University and offers plant-based coaching. As a seasoned Fashion Editor, stylist, social media strategist, and on-air personality, Danielson has held editorial positions at Shape, Glamour, and Vogue.com, as well as Instyle.com as their contributing fashion news editor. She has also consulted for several brands including Aztech Mountain, Tory Burch and O2 Aspen. Most recently she has grown the social media and editorial platforms for several health and wellness brands.
She is passionately plant-based, an art lover, avid reader, and an Achilles International guide. She began running several years ago and is now hooked on the sport, having run the New York City, London, Chicago, Boston, Los Angeles, and Sacramento Marathons, and an ultra-marathon—completing a 50K in the North Face endurance series. Danielson currently resides in Aspen, CO, by way of New York City.