10 Healthiest Crackers To Buy In 2023, From Nutrition Experts
Health Writer & Editor
By Kristine Thomason
Health Writer & Editor
Kristine is a writer, editor, and editorial consultant who lives in Long Beach, CA.
August 15, 2023
We carefully vet all products and services featured on mindbodygreen using our
commerce guidelines.
Our selections are never influenced by the commissions earned from our links.
As someone who loves entertaining, I've become well-acquainted with an important cornerstone of any successful soirée: the cheeseboard.
I love carefully curating a selection of organic cheeses, nutritious nuts, and fresh fruit. But if there's one element that always presents a bit of a challenge, it's crackers.
While there are countless varieties of crackers on supermarket shelves, most of them don't exactly meet my standards as an mbg health editor.
I'm perpetually in search of healthy crackers that contain ingredients I can actually get behind. Luckily, I'm here to report, they do exist. We consulted the experts for the healthiest crackers you can buy in 2023.
What to look for in a healthy cracker
Let's rewind for a second: What actually qualifies as a "healthy cracker" in the first place? As Maggie Moon, R.D., perfectly puts it: "I'm a fan of crackers that feel like real food. I know that may sound nebulous, but you know it when you see it and when you taste it. They feel substantial. You know there's good stuff inside. You might even imagine making some yourself."
For ingredients, Frances Largeman-Roth, R.D., suggests looking for nutritious options with whole grains (where the main ingredient is whole wheat, whole oats, whole brown rice, etc.), nuts, fruits, and seeds.
What to avoid in a cracker
Moon recommends steering clear of overly processed grains and excessive added sugars. At mbg, we also try to stay away from products that contain unhealthy vegetable oils whenever possible.
"Crackers are a simple food, and the ingredient list should reflect that. There's no reason for store-bought crackers to have artificial ingredients," says Moon. "In fact, there are plenty of options available today that are made with simple ingredients you'd find in a well-stocked pantry."
After testing out dozens of brands myself and getting recommendations from nutritionists, I've narrowed down a few tried-and-true favorite healthy crackers that actually fit the bill.
1.
Simple Mills Original Organic Seed Flour Crackers
These tasty crackers hit the shelves earlier this year and immediately became one of my favorites. They impressively accommodate most dietary needs and food sensitivities (think gluten-free, grain-free, corn-free, and vegan). While many alt-crackers contain a laundry list of processed additives, these feature a clear, simple ingredient list—with a seed flour blend and cassava flour as the star components. The only aspect I don't love is the sunflower oil, but every other ingredient is on point.
2.
Hippie Snacks Almond Crisps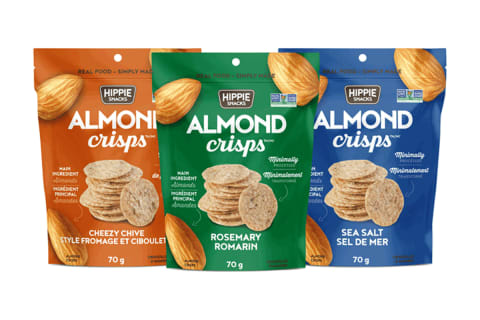 Another great gluten-free option, these tasty almond crisps are a recent find from Largeman-Roth—and I'm a big fan of the simple, minimally processed ingredient list. Beyond almonds, they contain nutrient-rich cassava flour, sunflower seeds, hemp seeds, rosemary, and psyllium husk—all standouts in my book. These are perfect if you prefer a light, ultra-crispy cracker on your charcuterie board or an easy snack.
3.
Mary's Gone Super Seed Crackers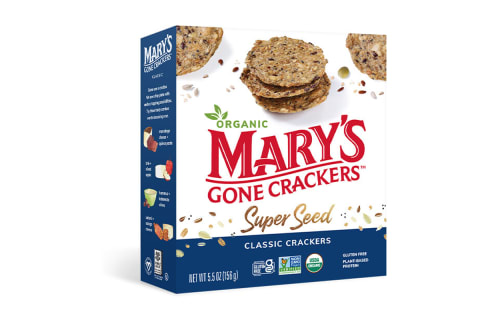 Image by Mary's Gone Crackers
These simple seed crackers have been one of my go-to's for years. The classic flavor is a staple in my pantry—but I also love the newer rosemary, basil & garlic, and everything cracker varieties. These are certainly one of the more earthy-tasting crackers on this list, which isn't for everyone—but I'm a fan of the taste, along with their standout ingredients like whole grain brown rice, whole grain quinoa, brown flaxseeds, and even seaweed.
4.
Bob's Red Mill Oat Crackers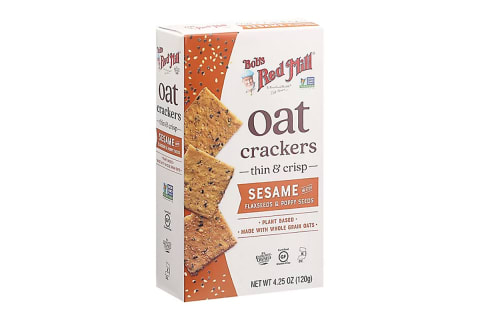 I'm a big proponent of so many Bob's Red Mill products, so I was thrilled to learn about these brand-new oat crackers. Largeman-Roth agrees: "I think the new Bob's oat crackers are really tasty, and I love that the first ingredient is whole grain oat flour," she says, adding they have a lovely crunchy texture, similar to her favorite childhood crackers. "Plus, a serving has 3 grams of plant protein, which is a bonus." Again, we could do without the sunflower oil, but otherwise, we're excited about these healthy crackers.
5.
Hu Kitchen Grain-Free Crackers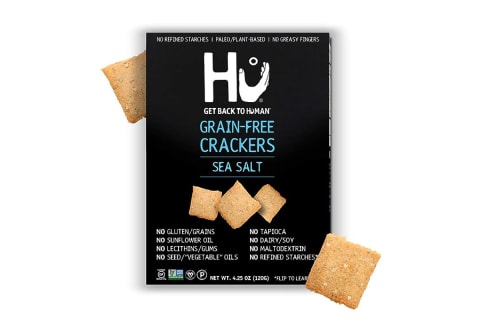 I'm a big fan of the tastiness and simplicity of so many Hu Kitchen foods—and these everything crackers are no exception. They feature a blend of almond, cassava, and coconut flour as the base, along with coconut aminos for a bit of umami. These sturdy crackers are great with a number of dips, but for a fun "everything bagel" experience, I love pairing them with Monty's plant-based cream cheese.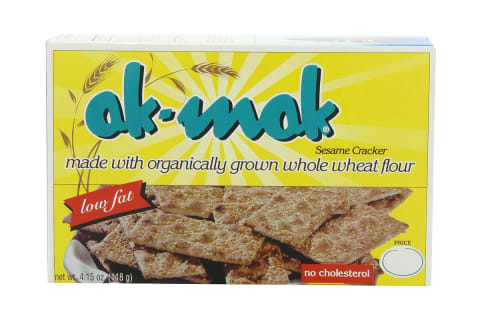 When it comes to a simple, reliable healthy cracker, Moon says her favorite is from Ak-Mak. These are a traditional Armenian-style flatbread cracker, made with organic whole wheat flour, sesame seeds, and oil, along with a touch of clover honey for sweetness. It's worth noting that in addition to honey, these do include a bit of dairy butter, so they're not vegan-friendly.
7.
Annie's Homegrown White Cheddar Squares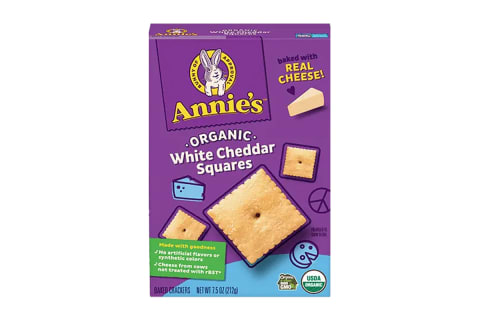 A healthier alternative to the cheesy crackers I used to love as a kid, these white cheddar baked squares are delicious on their own or as part of a snack tray. Again these little crackers do include sunflower oil, but we appreciate that it's expeller-pressed and organic like every other ingredient on the list.
8.
Top Seedz Cumin Crackers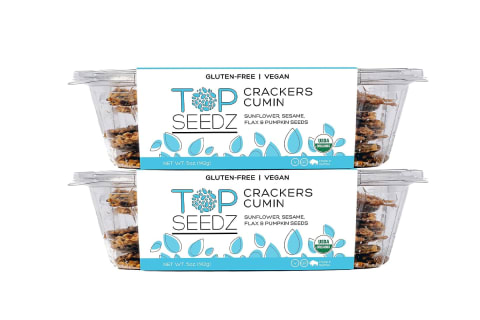 Top Seedz Cumin Crackers
Image by Top Seedz
These crispy crackers are perfect as a savory addition to any charcuterie board, alongside guacamole, or in harmony with hummus. They feature cumin seeds for an extra flavorful punch—along with a nutrient-dense seed blend.
9.
Wasa Multi-Grain Crispbread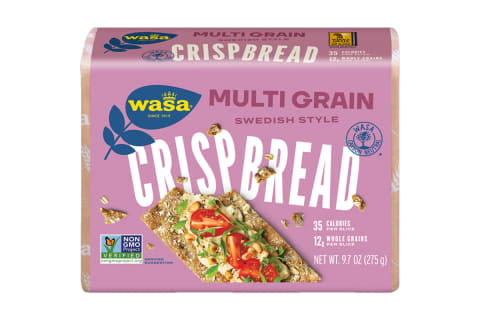 These are perhaps one of the most classic "healthy crackers" around, and I'm all for these simple crispbreads. They feature an array of whole grain flours and a pretty neutral flavor—making them the perfect vehicle for any tasty topping.
The takeaway
Though there are a variety of healthy cracker options on the market, the crackers listed above stand out from the crowd. If you're looking for more healthy snack options, check out these high-protein options to snack on, from yogurt to chia pudding and more.
Want to turn your passion for wellbeing into a fulfilling career? Become a Certified Health Coach! Learn more here.
Kristine Thomason
Health Writer & Editor
Kristine is a writer, editor, and editorial consultant who lives in Long Beach, CA. Kristine is a New York University graduate with a degree in journalism and psychology, and also a NASM-certified personal trainer. She has spent her editorial career focused on health and well-being, and formerly worked for Women's Health and Health. Her byline has also appeared in Men's Health, Greatist, Refinery29, HGTV, and more. In her current role she oversees, edits, and writes for the health, food, and movement sections of mindbodygreen.