This New Twist On The Mediterranean Diet Makes It Way Better For Your Gut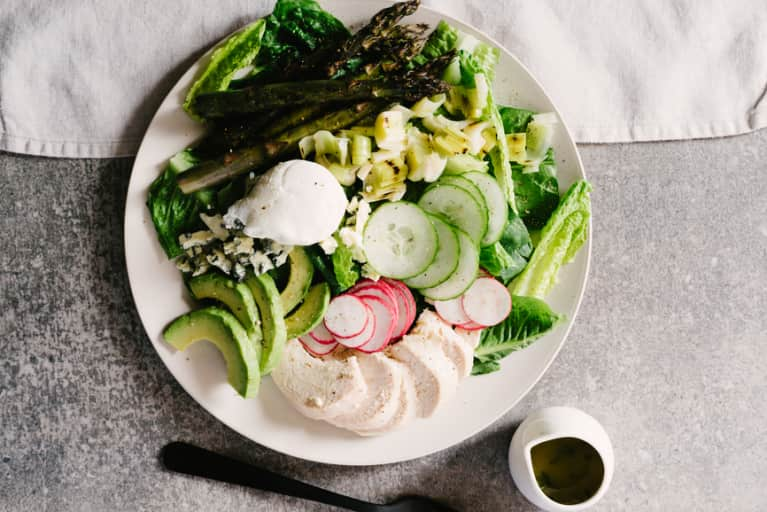 Our editors have independently chosen the products listed on this page. If you purchase something mentioned in this article, we may
earn a small commission
.
I was sitting in my office one day, looking at multiple files of clients, realizing they all shared a commonality regardless of age or gender: Their gut health was off. Some had more severe issues than others, but they all struggled with a form of digestive complaint. I was also no stranger to microbiome woes. In fact, it was my own health struggles as a competitive athlete that prepped me for a career in food science and nutrition. By combining the age-old ways of the Mediterranean diet, informed by my time spent in the villages of Greece every summer as a child with the new science data now available to help bolster the principles of the diet, I was able to develop the health philosophy behind Wild Mediterranean.
The truth is, when you're weighing your dietary options, there's a lot you can learn by getting back to the basics. We know the Mediterranean way has kept people healthy for centuries. We also know that Greek philosophers like Hippocrates suggested "all disease begins in the gut" before one could even test for microbial imbalances.
What is the Wild Mediterranean diet?
A Mediterranean diet is made up of simple, nutrient-dense whole foods that come from the land and sea. Seasonal fruits and vegetables make up a majority of the plate, olive oil, protein-rich legumes, fish, unprocessed meats, and ancient grains are also big staples.
The Wild Mediterranean diet draws on the tried-and-true features of a Mediterranean diet but offers a plan to more fully restore microbiome harmony with a program for "rewilding" the gut. A Mediterranean diet is made up of simple, nutrient-dense whole foods that come from the land and sea. Seasonal fruits and vegetables make up a majority of the plate, olive oil, protein-rich legumes, fish, unprocessed meats, and ancient grains are also big staples. Drawing on pre- and probiotic-rich food traditions, the Wild Mediterranean program provides much-needed deep cleaning for your gut. You give your body a rest from immunogenic foods—those foods that could be giving your immune system a hard time (think anything processed)—while simultaneously flooding your system with tons of Mediterranean-diet-specific plants, plus some lean proteins and healthy fats. A Wild Mediterranean blends plant fibers, phytonutrients, unprocessed fats and meats, minerals from the sea, with a strong emphasis on lifestyle factors that embrace movement and social interaction.
All of the foods on this diet help fight off inflammation in your gut not only by themselves but in tandem with other foods as well. For example, dietary fats like olive oil and omega-3s (found in nuts, fish, eggs) help protect the gut when combined with plant fibers, absorbing nutrients more efficiently and in turn promote a robust immune system. Intuitively, when we think about "healthy food" the majority of us think about isolated food items. New research has shown that instead of singling out food, if we consider our diet pattern as a whole we notice some remarkable results.
Returning to the rituals of simpler times armed with the knowledge of now is a potent combination for our wellness of body, mind, and spirit. Your gut is home to more bacteria than any other part of your body, but did you know that it isn't the only part of your body that is affected by bacteria? Your entire life you have been surrounded by differing bacterial environments and we are just beginning to identify the profound ways in which not only our food but also our surrounding environment can affect us both physically and even mentally.
It's important to keep your focus not just on what you're eating but also on your lifestyle.
Growing up in the footsteps of my Greek relatives always made me feel more vibrant and strong. I grew up knowing supple, sun-kissed skin; shiny, lustrous hair; and a lean, bloat-less physique. Foods were harvested at the peak of their seasonality. Hours of vegging on the sofa in front of a television or glued to the internet were nonexistent. I played outside and connected with my heritage by participating in family traditions. I was truly happy, inside and out, so it came as no surprise that science has validated results that I have been living my whole life. Everything down to the air we breathe plays a role in our bacterial makeup. Get outside, get your hands dirty. Learn where your food comes from and how it's made and share it with the people around you. These behaviors will all contribute to your bacterial gut health.
And try not to be intimidated at the start of your Wild Mediterranean journey. Here's an easy salad that highlights the Wild Mediterranean way.
Not-Your-Typical Greek Salad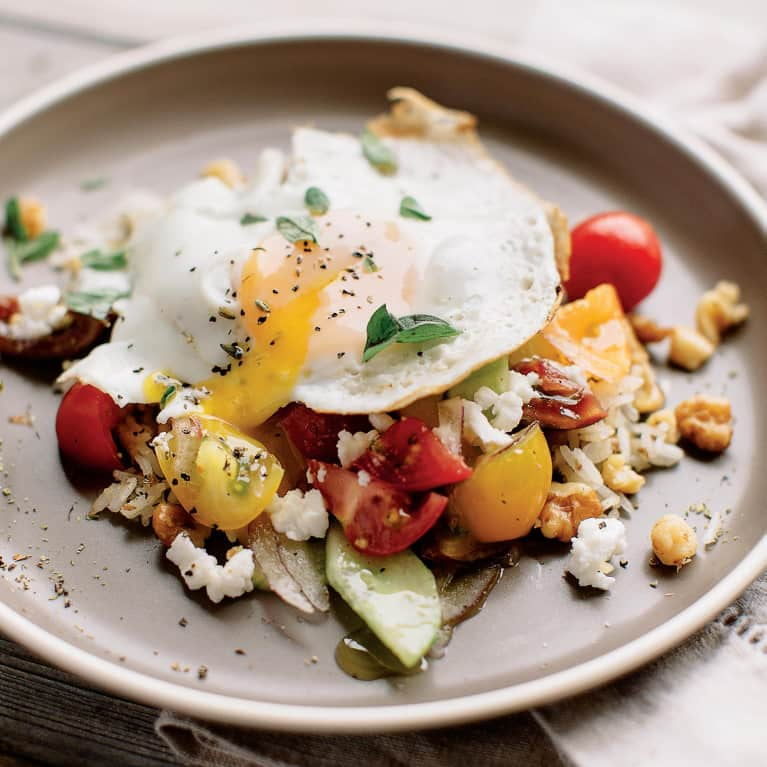 Serves 2
I thought long and hard about how to put my own spin on this one. The classic version is absolutely perfect—especially when tomatoes are in season. But I wanted to do something with a little bit of a twist, creating a sort of salad parfait by layering rice with traditional Greek salad ingredients and topping them with a savory egg. This is hearty enough to be a main dish.
Wild Bonus: Increasing your fruit and vegetable intake is the best way to load up on antioxidants, which help your body detoxify.
Ingredients
2 cups cooked Arborio or long-grain rice
½ cup walnuts, crushed
Celtic sea salt and freshly ground black pepper
10 cherry or grape tomatoes, halved
1 medium cucumber, peeled and cut into bite-size pieces
1 small red onion, thinly sliced
2 tablespoons extra-virgin olive oil, plus more for drizzling
3 tablespoons crumbled feta cheese
2 eggs, fried in olive oil
Cracked black pepper
1 teaspoon dried oregano
In a medium bowl, combine the rice and walnuts. Season with salt and pepper to taste. Set aside.
In a large bowl, combine the tomatoes, cucumber, red onion, 2 tablespoons of the olive oil, and the feta, and lightly toss the mixture together.
To serve, layer the bottom of each of two dinner plates with half of the rice mixture, using a spatula to pat it down. Scoop half of the salad ingredients onto each mound of rice and top each with one the eggs. Season with the oregano and salt, cracked pepper, and a final drizzle of olive oil to taste.
Based on excerpts from Wild Mediterranean by Stella Metsovas, with the permission of Pam Krauss Books/Avery, a division of Penguin Random House. Copyright © 2017.