This Homemade Hummus Has A (Fermented) Secret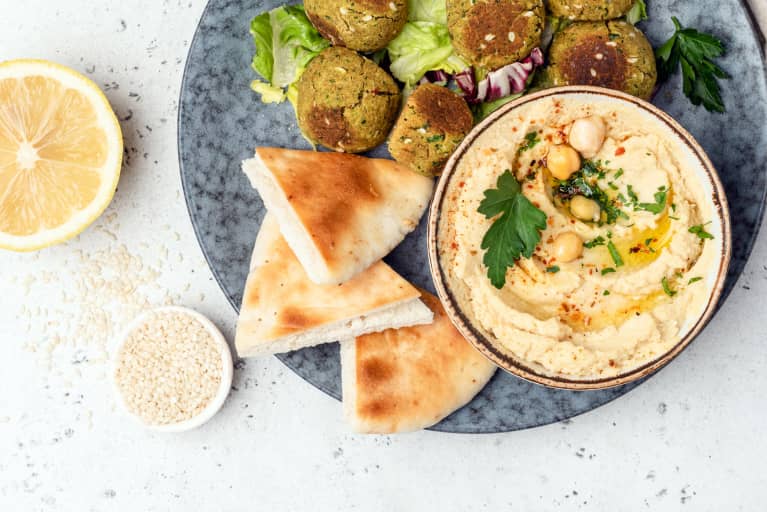 Our editors have independently chosen the products listed on this page. If you purchase something mentioned in this article, we may
earn a small commission
.
Making homemade hummus is truly so simple. If you haven't tried before, you may find yourself wondering why you didn't sooner and swearing you'll never buy it from a store again. Author of the newly released cookbook Fermenting Everything Andy Hamilton shares that, "This twist on [hummus] creates a tangy dip that will intrigue your guests."
Even at its most simple, a creamy hummus the perfect addition to a snack spread or a salad bowl, but this recipe takes your classic homemade hummus and kicks things up a notch with the addition of home-fermented bell peppers. While it may sound daunting, fermenting the peppers is as simple as can be and just requires a little bit of planning.
Fermented peppers may not be a common fixture on lists of popular fermented foods, but this simple method imparts some of the best benefits of those foods onto bell peppers in the same way homemade pickles get their kick. The addition of garlic and (optional) cayenne pepper ensures that this particular homemade hummus earns a spot in your regular recipe rotation.
Fermented Pepper Hummus Recipe
For the fermented peppers
2 cups filtered water
1 tbsp. sea salt
2 red bell peppers
6 garlic cloves
Fermented red pepper and garlic, drained and patted dry
2 cups chickpeas, either canned or soaked overnight and drained
2 tbsp. tahini paste
1 tbsp. lemon juice
1 tbsp. olive oil
1 tsp. paprika
Pinch of cayenne pepper (optional)
For the fermented peppers: Heat the water and stir in the salt until dissolved. Put to one side to cool.
Meanwhile, cut out the white bits from the peppers and knock out the seeds. Then cut into rings and pack lightly into a quart-size jar.
Pop in a clove of peeled garlic and every now and then pour over the brine, ensuring the peppers are fully submerged.
Leave to ferment for three days.
For the hummus: Drain the peppers and garlic and pat until very dry. You can also place them in a square of muslin cloth and apply pressure to squeeze out more moisture.
Put the chickpeas and tahini in a food processor and mix until it makes a paste. Add the lemon, olive oil, and spices.
Next, add the peppers slowly and continue mixing the food processor; you may not need to use them all. As the peppers retain a fair amount of moisture, they can water down the hummus.
Keep adding until you are happy with the consistency. Don't worry if it's a little too watery still; you can always strain it again through some muslin cloth until it reaches the desired consistency.
Keep refrigerated and use within three weeks.