Beauty Breakdown: Our Full Guide To Big Event Skin Prep, Expert Tips + Products Included
mbg Assistant Beauty Editor
By Hannah Frye
mbg Assistant Beauty Editor
Hannah Frye is the Assistant Beauty Editor at mindbodygreen. She has a B.S. in journalism and a minor in women's, gender, and queer studies from California Polytechnic State University, San Luis Obispo. Hannah has written across lifestyle sections including health, wellness, sustainability, personal development, and more.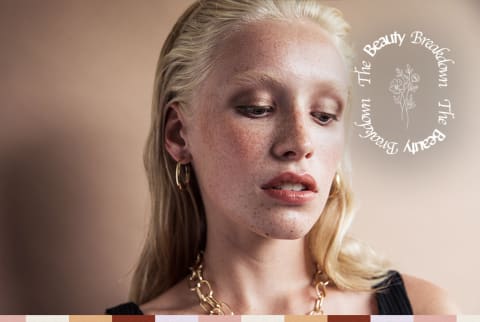 Image by mbg creative x Anna Tabakova / Stocksy
December 19, 2022
Our editors have independently chosen the products listed on this page. If you purchase something mentioned in this article, we may
earn a small commission
.
Welcome to the
Beauty Breakdown
, our series that dives into today's buzziest beauty topics. In each, we focus on a different theme and highlight all the need-to-know basics, common mistakes, and the best products to get your hands on.
As the holidays creep up on us, so will the occasions when we want our complexions to be a bit glowier than normal. Whether it's a celebration with family, a night out for New Year's Eve, or even a work party, sometimes you just want some extra oomph to make you look as radiant as the event at hand.
Just as models do for runway shows and celebrities for red carpets, you should be prepping your skin before an ounce of makeup touches your face. With the proper prep, your makeup will look better and stay on longer—so why not? While holiday parties may be the most timely, big event prep is a must any time of year, so save this one to look back on next time you're going all out. Plus, these prep steps can be done on your everyday look should you feel inclined.
It's all about getting your skin to look its best so you can feel your best. With expertise from celebrity makeup artists and cosmetic chemistry experts—here's how to prep your skin for a full-glam look that really hits.

Image by mbg Creative / mbg creative
The 101 on big event skin prep.
We believe that skin care is the baseline for everything. If your skin is prepped and primed, it only makes sense that your makeup will look better. Even if you have the most expensive foundation on the market, incorrectly prepping your skin (or not prepping it at all) can make that pricey product look subpar at best.
On the flip side, if you're working with a foundation that's less than spectacular, then your skin prep is the key to taking your base from rags to riches—yes, it's possible. With modern, clean, skin-loving formulas, makeup can even enhance your skin.
All in all, when you have correctly prepped the skin for your big event, the following will happen:
Your makeup will actually stay put: When you layer on the wrong products under your makeup, you risk the foundation slipping and sliding on your face. Especially if you're expecting a humid climate, a few drops of nervous sweat, or rainy weather, this is even more important.
Your skin won't hate you afterward: Makeup isn't nourishing to your skin (most of the time). So if you skip skin prep, your complexion may feel neglected after a few hours of wear. With dehydration and irritation comes redness, breakouts, and texture—read: not worth it.
You'll have an easier time getting a glow: Unless you're going for an ethereal aesthetic, you probably don't plan to put highlighter all over your face. With the right hydrating products, a dewy finish will come with ease—or even all on its own.

Image by mbg Creative / mbg creative
6 things we're getting wrong right now.
The first part of nailing a skin prep routine is knowing what habits and products to ditch—or set aside, rather:
Assuming skin prep is reserved for the day of: While the products you put under your makeup are crucial to nailing a look that lasts, you should prioritize skin care long before the big day. Keeping up with regular exfoliation and even getting specialized facial treatments a few weeks or even months before (especially for major events like weddings) will take your look to the next level.
Mixing incompatible products: If you mix silicone-based products with oil-based products, your skin care and makeup won't sit right. Pilling and clumping of foundation are often caused by mixing the two—more on that to come.
Using too strong of actives: While it may seem like using retinol the night before a big event is your best bet for a rapid skin overhaul, that's not what experts recommend. Instead, it's all about hydrating and soothing the skin.
Not letting your skin care set: If you go from skin care to base products within a minute, the rest of your look will be punished. It's essential to let the many layers of skin care set in before applying makeup.
Using fragranced products: Even though fragrance isn't a risk for many people in regard to skin allergy, it's not the best for layering under makeup. More irritating ingredients means more chance for a poor reaction.
Wearing loads of sunscreen: While loading up on SPF is best practice almost all of the time, this is one instance where you might want to take it easy. If you don't, you might experience flashback when taking photos.

Image by mbg Creative / mbg creative
The 7 steps you need to know.
So here it is: Exactly what you should do to prep your skin for a big event, in order:
1.
The day before: Load up on hydration & prioritize rest.
"I tell all my clients leading up to a big event to make sure they are drinking their water," NYC-based makeup artist Alexandra Gilleo tells mbg. Plus, eating antioxidant-rich foods will help you glow from within the day after.
If you can, get a good night of sleep before your big event. "Looking well rested is the best skin prep you can do," cosmetic chemistry expert and product developer Charlene Valledor tells mbg.
While you're sleeping, load up on topical hydration as well via a sleep mask. Look for ingredients like hyaluronic acid, glycerin, aloe vera, shea butter, and botanical oils like squalene and marula to lock in hydration. If you're ready to buy, this Youth to the People Dream Mask is an easy winner.
Try your best to avoid using potentially irritating products like retinol and potent exfoliants the night before. Even if you've used them in the past, it's not worth risking a random bout of redness or even retinol-induced dermatitis.
Before putting on your skin care products, you'll want to ice your face. How you choose to do so is up to you—you can roll ice globes over the skin or dunk your face in a bowl of ice water. This age-old hack has been around forever but has recently blown up on TikTok noted as a "supermodel hack."
Doing so will help to depuff the face and tighten the skin, creating a pristine canvas for your makeup. Be sure to use clean ice globes if you choose that route, and only keep your face dunked for 30 seconds if you're opting for the latter.
If ice just isn't your thing, you can also use a gua sha to encourage lymphatic drainage and depuff the skin. Just be sure not to pull too hard on the skin and always use a face oil, as tugging on dry skin may cause irritation and redness.
3.
Dab on a hyaluronic acid serum.
Now for the products. The first thing that should touch your skin post-cleanse is a hyaluronic acid serum. Apply it to damp skin, either with the residual dew from cleansing, or go in with a face mist before this step.
Hyaluronic acid is a humectant, which means it will pull that residual water into the skin. The result? A plump and juicy complexion. This will also help to keep the skin hydrated throughout the day and avoid peeling and dryness under your makeup.
4.
Use a rich moisturizer or low SPF.
After your HA serum, apply a thin layer of rich moisturizer. Look for a blend of humectants like HA, glycerin, and aloe vera with emollients like shea butter to deeply nourish and soften the skin.
You can find our top pick moisturizers here if you need to re-up.
If you're going to a daytime event, then SPF is essential—but opt for a lighter one. "When wearing makeup products that contain a high SPF, you're more likely to experience flashbacks in a photo," celebrity makeup artist Jamie Greenberg explains.
If at all possible, avoid direct sunlight when you're out and about. This will help prevent sun damage while your skin is more vulnerable without a full SPF. Or, if you're prone to burn, bring a powder SPF to dab over the top of your makeup just in case.
5.
Finish with a botanical oil—maybe.
"Adding oil to the skin before a full glam look can create a smooth and hydrating look," Greenberg says.
"The Rituel de Fill Thorn Oil Facial Elixir is the perfect makeup priming oil as it creates an unparalleled base for your makeup application," she notes—more info on this oil to follow.
Gilleo recommends using thinner oils like squalene and opting out of thick oils like coconut: "Coconut oil can clog your pores and break down your foundation," she adds.
However, if you have oily skin or find that your makeup naturally slips and slides throughout the day, then a face oil may not be the best choice.
Now that your skin care products are all set, let them soak into the skin before applying foundation. "Letting your skin care sink in for five to 10 minutes is extremely important," Greenberg notes.
"This prevents your makeup from looking streaky or splotchy and allows your skin care to work its magic," she adds. In the meantime, get your makeup set up, prep your hairstyle, etc.
7.
Primer—but double-check the formula.
When looking for the perfect primer, take into account whether your foundation is oil or silicone-based. As cosmetic chemist Javon Ford explains in this TikTok, "While you can layer oil and silicone on top of water, you can't do the reverse."
Now, determining which products have which base isn't an easy task. For a quick tip, check out this story or Ford's TikTok breakdown.
Going the extra mile and making sure your products are compatible will help prevent pilling, Ford notes.

Image by mbg Creative / mbg creative
3 ways to go above and beyond. 
Looking for more ways to maximize your skin prep? Here are three ways experts go the extra mile:
"​​Microcurrent is a device that I find extremely effective as it helps to lift and tighten the skin, really giving an elevated, sculpted face," Gilleo says. These tools can be pricey, but you can use them every day for lasting results.
"It's a great noninvasive way to contour the face especially around the cheekbones and jawline," she says. Be sure to complete this step before the rest of your skin care—here are our top picks for microcurrent devices if you're ready to invest.
However, there are microcurrent facials out there, too. If you want to learn the ins and outs of these treatments, check out this breakdown of the benefits.
2.
IV drips & electrolyte boosters
For an internal boost of hydration, you may even consider getting an IV drip in the days leading up to your big event. Gilleo opts for drips containing vitamin C and glutathione for the antioxidant surge.
For a more budget-friendly option, pick up a pack of electrolyte powders like these from Liquid IV. Mix these powders into your water for a few days leading up to the event and the day of.
While these are more short-term solutions, you'll want to hydrate internally year-round. Look for beauty and skin supplements that prioritize antioxidants and hydrating ingredients, like phytoceramides and hyaluronic acid.
This might seem over the top, but it might also be your new go-to. If you're prone to dry eyes, redness, or itchy eyes, then keeping eyedrops on hand is a must. Valledor notes eye drops can make you look well rested, even if you didn't clock a full eight hours.
Best products for big event skin prep:
Advertisement
This ad is displayed using third party content and we do not control its accessibility features.
Advertisement
This ad is displayed using third party content and we do not control its accessibility features.
Advertisement
This ad is displayed using third party content and we do not control its accessibility features.
The takeaway.
If you've ever wondered how red carpet skin looks so glossy, now you know the behind-the-scenes work that goes into it. Remember to prioritize internal hydration and rest first thing. Stick with gentle and hydrating ingredients, make sure your products are compatible, and always let your skin care set before you apply your makeup. If you're ready to shop for foundations, start here with our curated list of the best clean formulas on the market.

Image by mbg Creative / mbg creative
Meet The Experts
Hannah Frye
is the Assistant Beauty Editor at mindbodygreen. She has a B.S. in journalism and a minor in women's, gender, and queer studies from California Polytechnic State University, San Luis Obispo. Hannah has written across lifestyle sections including health, wellness, sustainability, personal development, and more.