Your Trusty Makeup Primers Are Getting A Major Skin Care Rebrand

Beauty & Health Editor
By Jamie Schneider
Beauty & Health Editor
Jamie Schneider is the Beauty Editor at mindbodygreen. She has a B.A. in Organizational Studies and English from the University of Michigan, and her work has appeared in Coveteur, The Chill Times, and Wyld Skincare.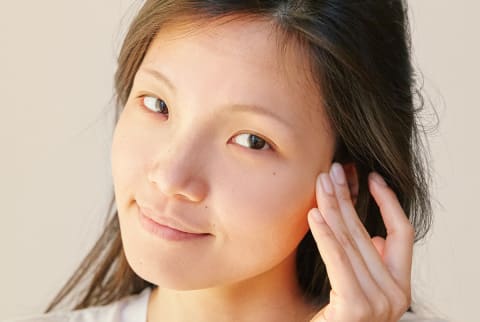 Image by Emotion Matters / Stocksy
May 28, 2022
We carefully vet all products and services featured on mindbodygreen using our
commerce guidelines.
Our selections are never influenced by the commissions earned from our links.
I've always viewed primer as foundation's eager little sister—always a tagalong, never without her cooler cosmetic companion. And as foundations themselves became more elevated, infused with skin care ingredients to meet various concerns (i.e., jojoba oil or aloe for hydration, kaolin clay to mattify excess shine, or colloidal oat to soothe), primers, quite frankly, fell out of fashion. I remember when Brooke DeVard Ozaydinli declared on her Naked Beauty Podcast that she stopped purchasing primers because they felt impractical, like a redundant step in an already crowded routine. And honestly? I agreed—who needed a primer, anyway, when foundation formulas could nail a silky application all on their own merit?
Fast forward several months, and functional primers have officially entered the beauty chat. Primers of yore focused all their efforts on improving the performance of makeup. Now, they''re all about enhancing the health of your skin—even if you eschew makeup altogether.
Enter: A new generation of primers.
Primer's original purpose hasn't necessarily changed; they still create a barrier between your skin and makeup but not just to keep your foundation from dissolving midday. Rather, it's important to have some sort of buffer layer between your skin and whatever makeup you're putting on next, especially for those with sensitive skin who might find some complexion products irritating. And if that buffer layer includes soothing actives to calm the skin and dial down redness? Consider it an extra win.
Take Youthforia's Pregame Primer, for example, which includes a proprietary "Skin Save" complex to temper inflammation. "[It helps] that itchiness and redness you might get if you're sensitive to irritating ingredients in makeup, like I am," Fiona Chan, founder of Youthforia, tells mbg. Similarly, the LAWLESS Set The Stage Hydrating Primer Serum features peptides encapsulated in shea butter to calm and comfort the skin, cradling it in a blanket-like shield before you apply your makeup.
But sensitive skin types aren't the only people who can benefit from this protective layer. Acne-prone individuals, too, might want to sandwich a primer between their skin and foundations, in order to keep any potentially triggering ingredients from upsetting skin or sinking into pores. Yet again, the functional primers of today take this benefit a step further: JORI's Acne and Oil Control Primer—formulated by board-certified dermatologist Joshua Zeichner, M.D., and his wife, Cori—even includes targeted botanicals to help address blemishes themselves, like 2% salicylic acid, saw palmetto, and Chinese skullcap.
"The primer does double duty to reduce shine and minimize the appearance of pores, as well as to prevent and treat breakouts," Zeichner says. MILK Makeup's new Pore Eclipse Mattifying + Blurring Makeup Primer also includes bakuchiol to help smooth skin texture, enhance cell turnover, and improve signs of photoaging—all while residing under a layer of foundation.
But primers are no longer the right-hand man.
Here's the kicker, though: You don't have to use a primer alongside a foundation at all. See, functional primers create a protective layer on your skin, a barrier not just for makeup but for the world around you. For example, Exa's Jump Start Smoothing Primer comes loaded with antioxidants—namely, CoQ10 and fatty acids from raspberry extract—to help fight free radicals and protect your skin from environmental aggressors, such as pollution and blue light.
A stand-alone primer can also help lock in moisture and seal in all of your skin care—a concept Chan refers to as "daytime slugging." She notes, "I learned this technique when I lived in Asia (where some days the pollution can get really bad). A lot of girls would wear primer every day, even on no-makeup days, to prevent breakouts, dehydrated skin, or a weakened skin barrier from pollution."
"Blurring" continues to be a major buzzword, but today's textures are even more swoon-worthy, as they rely on plant-based polymers to achieve a featherlight, satin finish. "Even as a professional makeup artist, I used to be skeptical of primers," says makeup artist Alexandra Compton, product development manager at Credo. "I used to dislike them, especially the [cyclic] silicone-based primers that have that icky, almost suffocating feeling on the skin. Now, there are so many different types of primers to achieve different finishes for any skin type." Use primer under the eyes to hydrate the delicate area and prevent creasing, apply on the T-zone to strategically absorb oil and fill fine lines, or mix it with color corrector to create the ultimate "your skin, but better," even-toned base, she explains.
Some priming formulas are so silky, in fact, that they even function as a skin tint replacement. "Many provide mattifying and blurring benefits to hide imperfections and minimize the appearance of pores," says Zeichner. While they aren't complexion products per se—they don't actually leave a tint, and thus do not have shade ranges—the calming, brightening, and mattifying botanicals help them disguise any blemishes, fine lines, or redness. In other words: They're the ultimate skin care-makeup hybrids, perfect for days when you seek just a whisper of coverage. Chan shares the sentiment: "Our customers have noticed that they don't need to cover up redness anymore with a skin tint to achieve an even, radiant skin tone."
The takeaway. 
If you asked me a year ago to wear a primer without any other complexion product, I would have certainly raised a brow. But primers no longer merely prep the skin for something better or more important down the road. Younger brands, like Youthforia and JORI, have even launched with primers (and no other complexion product), which speaks volumes to the product category's evolution. Given their much subtler coverage, I'll still consider primer the little sister of foundations. She has simply flown the nest—and, oh my, has she soared.

Jamie Schneider
Beauty & Health Editor
Jamie Schneider is the Beauty Editor at mindbodygreen. She has a B.A. in Organizational Studies and English from the University of Michigan, and her work has appeared in Coveteur, The Chill Times, and more. In her role at mbg, she reports on everything from the top beauty industry trends, to the gut-skin connection and the microbiome, to the latest expert makeup hacks. She currently lives in Brooklyn, New York.