From Brightening To Skin Soothing: 13 Face Oils That Pair Perfectly With Gua Sha

Beauty & Health Editor
By Jamie Schneider
Beauty & Health Editor
Jamie Schneider is the Beauty Editor at mindbodygreen. She has a B.A. in Organizational Studies and English from the University of Michigan, and her work has appeared in Coveteur, The Chill Times, and Wyld Skincare.
December 21, 2021
We carefully vet all products and services featured on mindbodygreen using our
commerce guidelines.
Our selections are never influenced by the commissions earned from our links.
It's the golden rule of gua sha: Always apply facial oil before using your stone. You need enough slip so that the tool can easily glide across the contours of your face—without it, you can pull or tug at your delicate skin.
As for which oil to pair with your stone? Well, to be clear, not all face oils are created equal: "It's important that you are choosing a very good-quality, high-vibrational facial oil," says skin care expert Debbie Kung, DAOM, LAc, in an episode of Clean Beauty School. And while a bunch of high-quality blends boast skin-loving antioxidants and fatty acids, selecting your go-to slip ultimately depends on your own skin concerns, budget, and what you want to get out of your practice (Skin soothing? Brightening? Plumping?)
Fabulous news: We've outlined the best of the best below.
Best overall: MARA Algae + Moringa Universal Face Oil
This winner leaves your skin invigorated, hydrated, and oh-so dewy. The base is a nutrient-rich blend of moringa seed oil, sunflower seed oil, and grapeseed oil, delivering a host of fatty acids to help fortify and plump the moisture barrier. Then there's an algae plankton blend, watermelon seed, and bilberry for a dose of antioxidants (for what it's worth, bilberries have about four times more antioxidants compared to blueberries). Oh, and the texture? Gloriously silky, providing an easy slip without leaving behind a greasy residue.
Algae + Moringa Universal Face Oil, MARA ($72)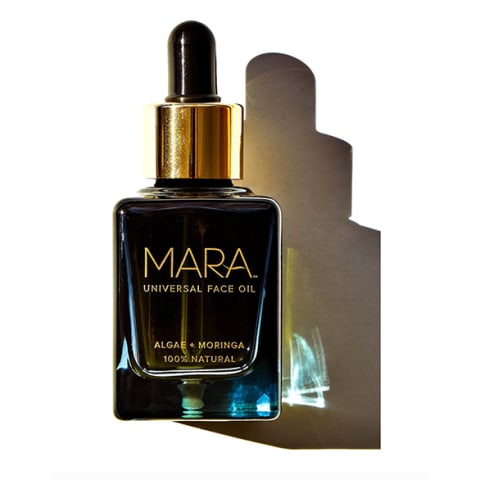 MARA Algae + Moringa Universal Face Oil
Best for acne-prone skin: Wildling Lumin Three-In-One Oil & Lumin Cloud Cloth
For complexions prone to breakouts, it's important to seek out noncomedogenic oils that won't block the pores. Technically, there's no set definition for the term, but jojoba is a consistent beauty fan favorite, as it closely mimics the skin's own sebum. So it's no surprise it makes up the base of this three-in-one wonder. But the blend also features sea buckthorn oil, which has been shown to aid in wound healing1 and is helpful for several inflammatory skin conditions2 (and all acne stems from some level of inflammation). mindbodygreen readers save 10% with code MBG10.
Lumin Three-In-One Oil & Lumin Cloud Cloth, Wildling ($79)
Wildling
Best for sensitive skin: Kinship Kinskin Oat Ceramide Relief Oil
Oats are a beloved remedy for sensitive skin, thanks to their anti-inflammatory and soothing properties. By using oat oil, however, you're getting the most out of its fatty acid content, which can help strengthen your lipid barrier (which tends to be compromised in sensitive skin). Not to mention, this conditioning formula features sea buckthorn oil, again for its ability to calm inflamed skin.
Kinskin Oat Ceramide Relief Oil, Kinship ($35)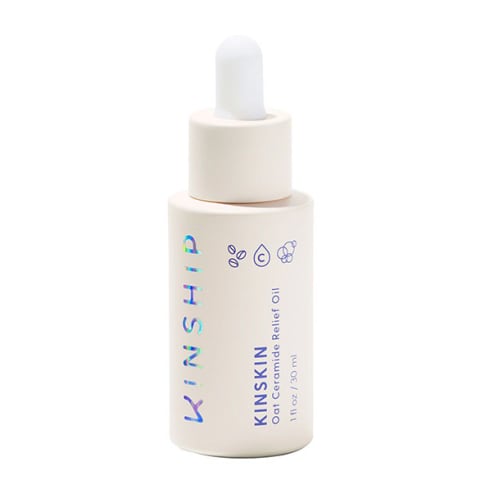 Kinship
Best for dry skin: Drunk Elephant Virgin Marula Luxury Facial Oil
An ingredient list of one: 100% unrefined marula oil, a rich hydrator that's brimming with polyphenols to help you glow. Plus, it's loaded with amino acids that help strengthen the skin's barrier, which makes it a worthy pick for those with dry, thirsty skin. Something to note: Marula oil might be comedogenic, as some find it blocks their pores, so it's not the best option for acne-prone skin.
Virgin Marula Luxury Facial Oil, Drunk Elephant ($72)
Drunk Elephant
Best for oily skin: Versed Sunday Morning Antioxidant Oil-Serum
If the thought of slipping on an oil to already slick skin makes you shudder, this featherlight oil-serum hybrid has you covered. Ready for some chemistry? The oil phase of the formula includes camellia oil and sea buckthorn extract to calm inflammation and lock in moisture, while the water phase features chamomile extract and sodium hyaluronate, a salt form of hyaluronic acid. Shake up the mixture to combine both phases before applying (oil and water do not mix for very long, which is why they separate while sitting on the shelf!).
Sunday Morning Antioxidant Oil-Serum, Versed ($19.99)
Versed
Best for dull skin: nyakio Marula & Neroli Brightening Oil
Feeding the skin with moisture is already a one-way ticket to glowing skin (a hydrated, thriving skin barrier also reflects more light!), but the added brightness from marula oil doesn't hurt. The fatty-acid-rich oil also contains vitamins C and E, which help even skin tone, and marula's amino acids also act as a cofactor in healthy collagen production, which helps keep the skin looking firm, taut, and vibrant.
Marula & Neroli Brightening Oil, nyakio ($40)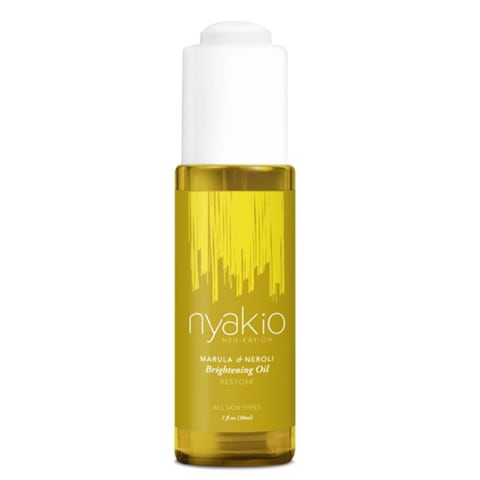 nyakio
Best for skin regeneration: Pai Rosehip BioRegenerate Universal Face Oil
The main bioactive component of rosehip seed oil is all-trans retinoic acid, a natural precursor to vitamin A that can help repair tissue. It also is rich in vitamin C, which is an essential part of the collagen synthesis process, as well as linoleic acid3, which has noteworthy benefits for regeneration and healing. In short: Rosehip is top-notch for rejuvenating your skin cells and tending to any scar, spot, or fold.
Rosehip BioRegenerate Universal Face Oil, Pai ($44)
Pai
Best for puffiness: Le Prunier Plum Beauty Oil
A facial gua sha practice alone is great for deflating puffiness, as it encourages lymph flow, but plum oil's anti-inflammatory properties4 are like a one-two punch for reducing swelling. It's also lightweight and quick-absorbing, which makes it a fabulous option for a morning routine (if you don't necessarily want your skin to feel oil-slick all day long).
Plum Beauty Oil, Le Prunier ($72)
Le Prunier
Best splurge: African Botanics Neroli Infused Marula Oil
Take all of the skin-conditioning benefits of marula oil and pair them with antioxidant-rich neroli: The essential oil even has cell regeneration abilities, as well as antifungal and antimicrobial properties to fight acne, according to a 2012 laboratory study5. We also can't ignore the calming scent (which has actually been shown to help reduce anxiety); this luxurious facial oil makes your gua sha practice even more soothing and transformative.
Neroli Infused Marula Oil, African Botanics ($120)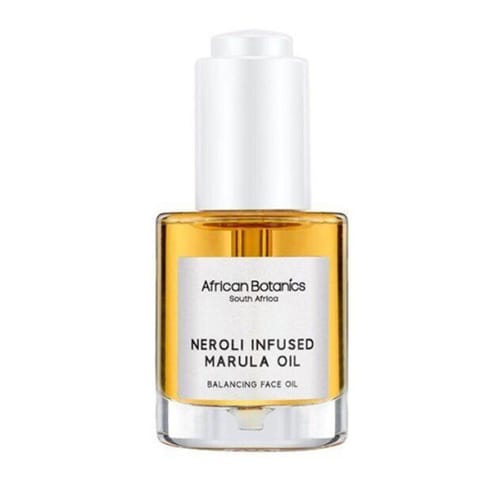 African Botanics
Best for morning gua sha: Biossance Squalane + Vitamin C Rose Oil
Most experts advise having a vitamin C serum on rotation, especially in the morning to neutralize free radicals and provide environmental protection. So why not combine the skin care step with your gua sha practice? Biossance uses vitamin C oil, a unique and stable form of the antioxidant that works with the lipids in your skin, so it can easily penetrate into the skin's layers. Then there's squalane (the brand's stalwart ingredient) for extra hydration and rose extract for a calming, subtle scent.
Squalane + Vitamin C Rose Oil, Biossance ($72)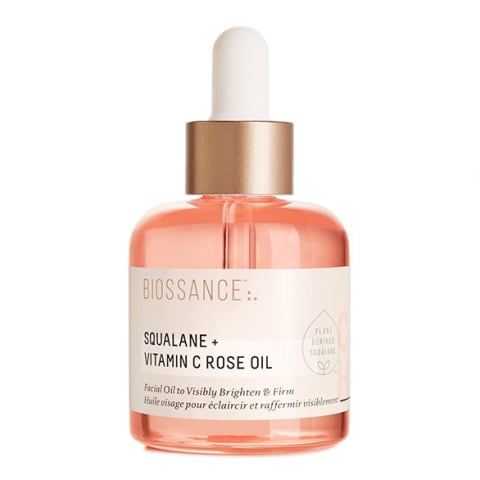 Biossance
Best for evening gua sha: BYBI Bakuchiol Booster
BYBI's booster makes a wonderful evening treatment: The hydrating olive-derived squalane base provides the slip you need to glide tension away, and the 1% bakuchiol (an antioxidant found to be comparable to retinol) helps smooth fine lines and improve skin texture. You can also mix a few drops into your serum or facial oil of choice, just to give it a little something extra.
Bakuchiol Booster, BYBI ($10)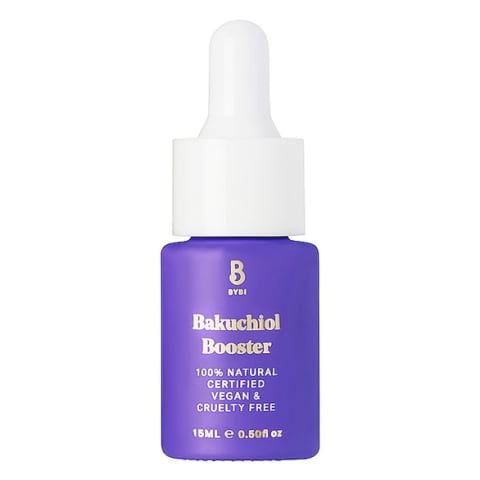 BYBI
Best for dark spots: Kora Organics Noni Glow Face Oil
This light-yet-decadent oil features four main ingredients known to target any sort of dark spot: There's rosehip oil, which contains skin-brightening vitamin C and vitamin A via carotenoids; pomegranate oil, which can improve skin cell regeneration and improve skin elasticity; sea buckthorn oil, which we've already praised for its anti-inflammatory properties; and the brand's superstar ingredient—noni extract—which is rich in antioxidants, vitamins, and minerals to help even skin tone.
Noni Glow Face Oil, Kora Organics ($68)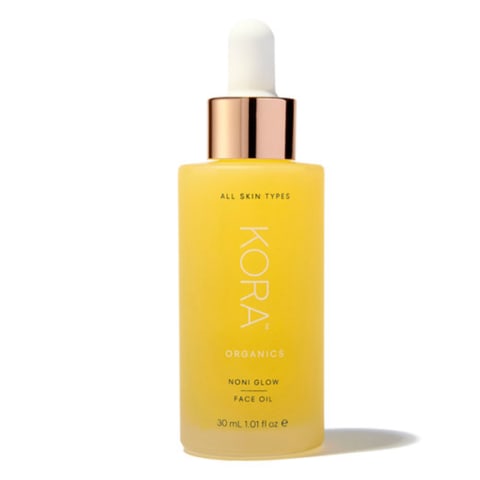 Kora Organics
Best for beginners: Sahajan The Beauty Oil
If you're not sure where to start, a multipurpose oil with a simple (yet rich) blend of hydrators is never a bad idea. This nourishing formula has moringa seed, sweet almond, apricot kernel, sunflower seed, castor, hemp seed, jojoba, and grapeseed oils—all of which have their own winning lineup of fatty acids and antioxidants. There's also vitamin E and a touch of frankincense oil for scent. That's it!
The Beauty Oil, Sahajan ($65)
Sahajan
What to consider in a face oil. 
We repeat: Not all face oils are created equal.
Any skin type can benefit from using face oils, acne- and oil-prone skin included. However, different blends are known for catering to different skin types and concerns: Rosehip oil, for example, is great for acne-prone skin, as it's noncomedogenic and even has brightening properties to help fade scarring. Oat oil, on the other hand, has soothing properties fit for sensitive, easily inflamed skin. And marula oil is A+ for dry skin types but may lead to clogged pores for some.
Get to know your facial oils and don't be afraid to test a few blends before finding the one you love. While we can use some research and anecdotal evidence to help weed out some players, ultimately, only you can decide what will work best for your own complexion.
To get the most bang for your buck, you might choose a facial oil laced with other botanical extracts or bioactives—like hyaluronic acid, vitamin C, chamomile, bakuchiol, and so on. Oils on their own have plenty of fatty acids and antioxidants (so if you prefer a no-fuss facial oil just for slip, that's just fine, too), but some do love the extra skin nourishment from other targeted actives.
While ingredients are important, slipping on a face oil is also a sensorial experience, especially when pairing it with a gua sha practice—after all, gua sha is an ancient healing modality that can help invigorate chi and awaken the skin and spirit, and the oil you choose can help you set that intention. For example: Does the formula feature fragrant essential oils? How's the texture—does it settle in quite quickly or is it dense and rich?
There's also a practical reason to think about texture: You might not enjoy slipping on a thicker oil in the mornings, especially if you're going to layer on makeup that day. While you can find fairly lightweight options (like a bunch we recommended above!), you might not feel as comfortable patting on a heavier occlusive in the a.m.
How to use facial oil during gua sha. 
We won't dive into a full gua sha routine (we already have one here, if you're interested!), but here's how to get started with your face oil of choice:
Apply a few drops of face oil by pushing and pressing into the skin. You want your skin to still feel slick, so you don't want to completely rub it in. Make sure to cover the entire surface area, or at least the regions you plan to scrape with your gua sha.
Grab your gua sha board in your dominant hand and keep it at a 15-degree angle to the skin as you glide (so almost flat but not quite). Gently hold your skin taut with your other hand as you swipe the board across your skin. For specific gua sha tutorials, see here for our full guide or here for a video demonstration from holistic esthetician and mindbodygreen collective member Britta Plug.
Feel free to apply more oil as needed during the practice, as you should have enough slip for your gua sha to glide across the skin. If you ever feel your tool pulling or tugging at the skin, that's a surefire sign to oil up.
mbg's review process.
At mbg, high standards are earned—and there are no shortcuts. Our beauty editors stay up to date on the latest ingredient research and innovation. It's a dynamic, continuously evolving space, and it's important we look into the science so we can make informed choices about which formulas earn our stamp of approval (figuratively speaking).
Our high standards also come from testing products—many, many products. Our editors and writers rigorously test and research the products featured in our roundups to offer you the best, most informed recommendations. When we write reviews, you can trust we spend quality time with the formulas: We don't simply rave about products we've slathered on the back of our hand. We endorse products we've tried and loved.
Learn more about our testing process and clean beauty standards here.
The takeaway. 
Like choosing your gua sha stone, selecting your go-to facial oil is up to your own needs and skin concerns. Each of the options above is of the highest quality, so you really can't go wrong—it's just about finding the blend that works best in your routine.

Jamie Schneider
Beauty & Health Editor
Jamie Schneider is the Beauty Editor at mindbodygreen. She has a B.A. in Organizational Studies and English from the University of Michigan, and her work has appeared in Coveteur, The Chill Times, and more. In her role at mbg, she reports on everything from the top beauty industry trends, to the gut-skin connection and the microbiome, to the latest expert makeup hacks. She currently lives in Brooklyn, New York.