8 Healthy Dinner Ideas + A Perfectly Timed Workout You Can Do While It's In The Oven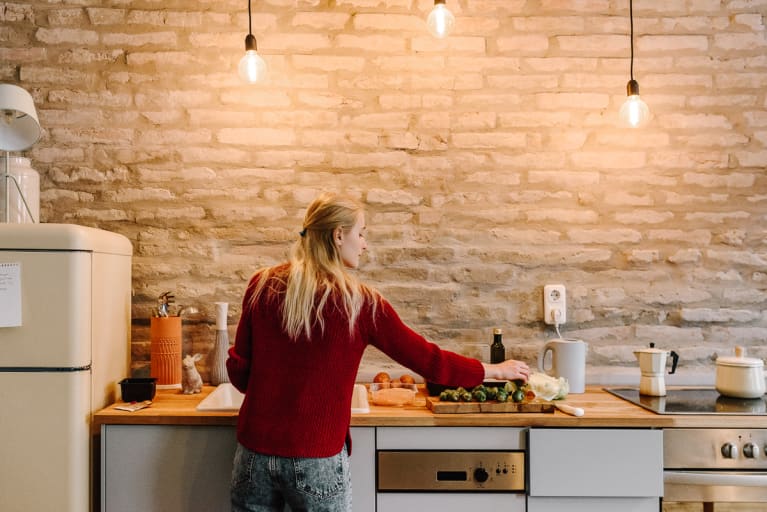 Finding time to move every day isn't always easy. The to-do's pile up, and before you know it, it's dinnertime and you need to eat. Typically, we're not fans of multitasking, but in this case, we've got a two-for-one that we couldn't resist sharing. That's right, dinner is in the oven and your movement box is checked. All these recipes are ones that allow you to pop it in the oven, set a timer, and then walk away—or yoga away, or HIIT away (you get the picture):
1. Sheet Pan Provençale Vegetables
A ratatouille-inspired sheet pan meal, this vegan dinner adds beans to the mix so there's some plant-based protein, and once you chop the veggies it's as simple as popping it all in the oven together. Since it's all small pieces, this dish only takes about 10 minutes in the oven—but that's still long enough for this deep-core Pilates workout.
Get the recipe here.
Cozy salad may sound like an oxymoron, but in this case, roasted root veggies and crunchy homemade croutons ensure this salad is more warming than your average greens—though there's still plenty of kale. You'll roast the root vegetables for 20 minutes—which is plenty long enough for this complete body-weight workout.
Get the recipe here.
The best thing about these nuggets (other than the fact that they're vegan) is that you assemble them on the baking sheet. There's two benefits to that: fewer dishes, and there's extra little crunchy bits to enjoy when you pull them out of the oven. While they bake for about a quarter of an hour, release that all-day desk back with this twisty yoga flow.
Get the recipe here.
4. Baked Feta With Greens
Baked feta might have had a viral moment, but this is a different take. Wedges of feta are nestled in with crispy kale and chickpeas—it's a vegetarian complete meal on one pan, and you basically just toss it all together to bake. The dish needs about 15 to 20 minutes in the oven, which is just enough time to take advantage of this workout, with moves picked to help you let out all those feelings.
Get the recipe here.
5. Sheet Pan Paprika Chicken
A simple weeknight recipe from Ayesha Curry pairs chicken thighs with zucchini in a sweet spiced rub. Simple chop the vegetables and then lay all the ingredients on a tray and bake them all together for half an hour. With the 30 minutes it takes in the oven, you've got time for a nice, slow, restorative yoga flow.
Get the recipe here.
6. Roasted Salmon & Brussels Sprouts
This keto-friendly dish is another pairing of protein and veggies that's baked all together. In this case, the salmon and Brussels sprout are paired with an herby rub of garlic, parsley, dill, lemon juice, and olive oil. While they bake for 15 minutes, you can tone your upper body with this abs and arms routine—which you can do near the oven, if you're worried about overcooking the fish.
Get the recipe here.
7. Crispy Lemon & Tomato Thyme Chicken Thighs
These super-simple chicken thighs have all the appeal of a whole roast chicken, but they're a bit easier to put together. Simply oven cooked, they're flavored with olive oil, cherry tomatoes, lemon, and thyme. You'll roast the chicken for about 18 minutes, which gives you time to do (and recover some from) one of these 12-minute do-anywhere HIIT routines.
Get the recipe here.
A spin on the more traditional eggplant Parmesan, this will be the perfect meal for a cozy night in. Taking a few minutes to coat the zucchini slices and assemble it is worth it because after that, this dish is hands-off all the way. The zucchini bake for 10 to 15 minutes, giving you time to fit in this relaxing guided meditation.
Get the recipe here.
The truth is you can turn anything into a sheet pan meal—but if you're feeling at a loss for inspiration after a long day, let these recipes guide you. And if you're feeling it, use those found minutes while dinner's cooking to take care of yourself with some mindful movement.