Move Over Eggplant Parmesan — Zucchini Parm Is On The Rise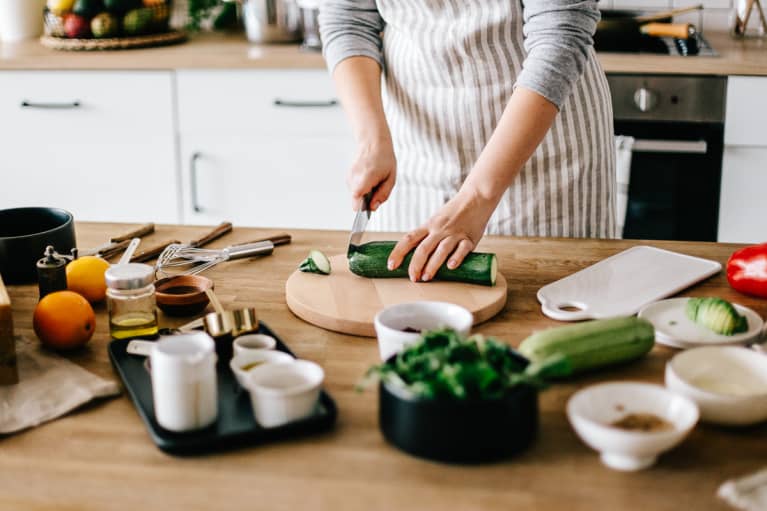 We've all come to know and love eggplant parmesan for a plant-based take on the Italian dish. Now, I introduce you to the vegetarian classic's trendy, hip cousin: zucchini parmesan. This recipe from The Everything Healthy Mediterranean Cookbook is so yummy, it'll be a hit at any table, whether plant-based or not. Plus, this dish falls under the beloved Mediterranean diet, which we know boasts a variety of health benefits and vibrant, fresh ingredients.
Feel free to add fresh basil or chopped oregano to this recipe for a kick of flavor. From zucchini pizza crust, to zoodles, to now zucchini parmesan, is there anything you can't do with this fibrous vegetable?
1 tablespoon olive oil
2 large egg whites
1 cup skim milk
1⁄2 cup dried bread crumbs
3 medium zucchini, trimmed and cut into 1⁄2 slices
2 cups jarred marinara sauce
6 ounces part-skim mozzarella cheese, shredded
Preheat oven to 375°F. Brush a baking sheet with oil.
Beat egg whites and milk in a shallow dish. Place bread crumbs in another shallow dish. Dip zucchini into egg mixture, then into the bread crumbs. Place on baking sheet and bake 10–15 minutes, until zucchini are just fork tender.
Ladle enough sauce into a large casserole or baking dish to cover the bottom. Cover the sauce with a single layer of zucchini. Top with half of the cheese, then the remaining sauce. Layer the remaining zucchini over the sauce, followed by the remaining cheese. Bake 5–10 minutes until the cheese melts and begins to brown.
Excerpted from The Everything Healthy Mediterranean Cookbook by Peter Minaki. Copyright © 2019 by Simon & Schuster, Inc. Photography by James Stefiuk. Used with permission of the publisher, Adams Media, an imprint of Simon & Schuster. All rights reserved.
And do you want to turn your passion for wellbeing into a fulfilling career? Become a Certified Health Coach! Learn more here.