This Vegan Tofu Recipe With Hot & Sour Zoodles Is Quick, Low-Carb & Tasty
Food writer & TV chef
By Ching-He Huang
Food writer & TV chef
Ching-He Huang is an International Emmy-nominated TV chef and author who has become an ambassador of Chinese cooking around the world. Ching's dynamic approach to modern Chinese food is evident in her immensely popular TV work.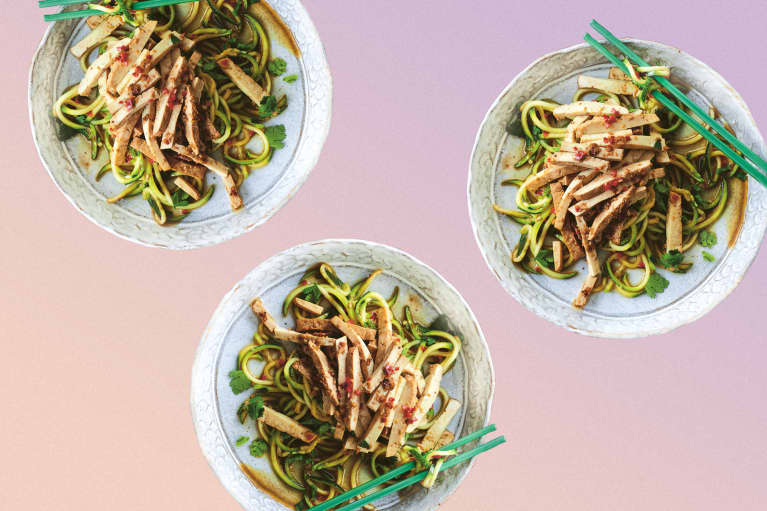 Our editors have independently chosen the products listed on this page. If you purchase something mentioned in this article, we may
earn a small commission
.
This is a great low-carb dinner with a spicy kick! The zucchini noodles are full of fiber, the hot oil dressing is super tasty, and the black rice vinegar provides a nice tangy-sour flavor. This recipe is simple to make yet looks (and tastes) like star chef-level quality. You'll want to make this dish a weekly staple.
Even if you're a committed carnivore, the protein you'll get from this dish will rival even your favorite traditional dinners. No need to be vegan to enjoy this tasty recipe! While the spices are fragrant and great for healing (ginger is a miracle cold-kicker, while the heat from the red chile pepper can speed up your metabolism), feel free to adjust the spices to your liking. Make this dish yours!
Vegan Smoked Tofu & Hot & Sour Zucchini Noodles
2 large zucchini, cut thinly lengthwise to make zucchini noodles
3½ oz. smoked tofu, cut into julienne strips
For the fragrant hot oil dressing:
1 tablespoon canola oil
1 garlic clove, minced
1-inch piece of ginger, peeled and grated
1 red chile, seeded and finely chopped
1 tablespoon tamari or low-sodium light soy sauce
1 tablespoon Chinkiang black rice vinegar or balsamic vinegar
1½ tablespoons toasted sesame oil
1 tablespoon Sichuan chili oil
pinch of ground toasted Sichuan peppercorns
pinch of cracked sea salt
small handful of chopped cilantro
Pour 2 cups water into a medium pan, and bring to a boil. Keep on a gentle simmer.
To make the dressing, heat a wok over high heat until smoking, add the canola oil, and give it a swirl. Add the garlic, ginger, and red chile, and toss for a few seconds, then add the rest of the ingredients. Set aside to keep hot.
Toss the zucchini strips into the simmering water, lift out, drain, and add to the wok together with the smoked tofu.
Toss it all together well to heat through, then eat immediately.