Can You Use Lemon For Your Skin? Experts Agree: Not So Fast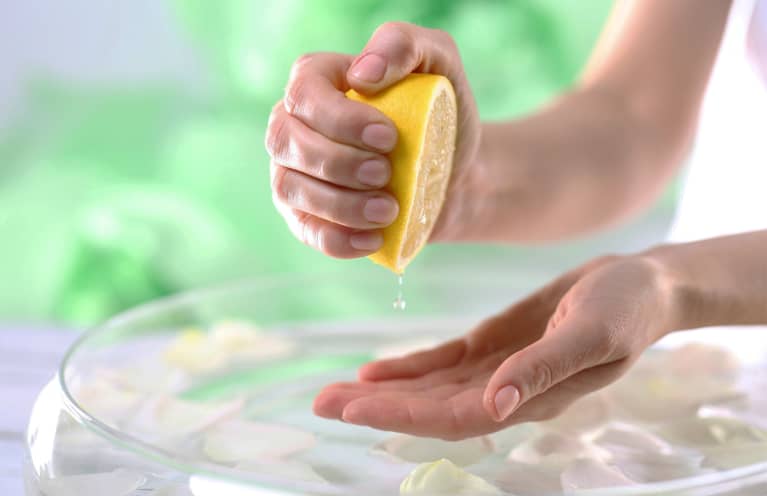 Our editors have independently chosen the products listed on this page. If you purchase something mentioned in this article, we may
earn a small commission
.
There's nothing like a DIY beauty recipe to elevate your skin care routine. We're talking honey face masks, sugar scrubs, and everything in between. The only catch? Not all natural ingredients are safe for the skin.
Take lemon juice, for example. The ingredient, which is known for its citrusy scent and astringent properties, used to be a popular component of DIY hacks. However, in recent years, using lemon juice for the skin has become controversial due to its side effects and risks.
Reported skin benefits of lemon.
According to some, lemon juice offers several theoretical benefits when used topically. However, don't just go slather on a lemon cocktail and hope for the best. As you'll read later in this article, the bad may outnumber the good—especially when used incorrectly. But, in case you're curious, here are some of those supposed benefits:
Cautions about using lemon on the skin.
Despite the potential skin benefits of lemon, you'll want to avoid drenching your face with it.
Why? Well, applying straight lemon juice can do more than good, especially before going out in the sun. The practice can cause the following issues, according to the pros:
1.
Increased photosensitivity
Lemon juice makes your skin more photosensitive, or sensitive to sunlight. This can cause a sunburn-like rash that's inflamed, irritating, and painful. "Lemons and other citrus fruits contain [compounds called] furocoumarins," explains Adam Mamelak, M.D., board-certified dermatologist. Furocoumarins have the ability to interact with DNA, including those in your skin. UV rays can "excite" these furocoumarins, causing skin cell damage and inflammation. Ouch.
One of the many goals of skin care is to strengthen the skin barrier. However, applying straight lemon juice will have the opposite effect. According to celebrity esthetician Taylor Worden, "The human skin has a pH of 4.5 to 5.5," which means it's slightly acidic. On the flipside, lemon juice is highly acidic, as it has a pH between 2 and 3. According to Mamelak, this high acidity can change the natural pH of your skin, causing a weakened skin barrier marked by irritation, dryness, and dehydration.
Photosensitivity that's brought on by lemon juice can result in a severe sunburn. Not only will this speed up skin aging, but it increases the risk of skin cancer, too. The sheer acidity of lemon juice also doesn't help, as acidic ingredients, in general, can easily damage the skin.
Even if your stint with lemon juice doesn't result in burns, the ingredient can still cause irritation. This is a side effect of acids, like those in lemon juice, weakening and damaging the skin barrier. According to Worden, possible symptoms include peeling, dryness, stinging, and redness, depending on your skin tone.
5.
Increased hyperpigmentation
Although lemon juice is often used to reduce hyperpigmentation, it can actually worsen the issue. That's because the sunburns caused by lemon juice "can cause blistering, [leading] to months of hyperpigmentation and potentially permanent scarring," says Mehr.
How to safely use lemon in skin care.
If you still want to use lemon on your skin, you'll be glad to know that it's possible to do it safely.
But first, make sure you're practicing safe sun habits like wearing hats and SPF. This is important for everyone, of course, but it's especially crucial if you're using lemon on the skin.
Here's how to safely reap the skin benefits of lemon:
Use a DIY honey mask with lemon.
Lemon juice is safer to use when it's diluted in another ingredient. Honey is an excellent choice, as it's wonderfully gentle and smoothing. If honey face masks aren't your thing, try making one with yogurt, mashed banana, or aloe vera gel.
Apply pre-formulated products.
Another option is to use pre-formulated products that contain lemon peel or juice. The key is to choose formulas by reputable brands, as they're more likely to use lemon (and every ingredient, really) at safe concentrations. You can also try using products that contain actives found in lemon juice, like vitamin C serums or glycolic acid cleansers—which tend to be much more tolerable on the skin.
As Mehr notes, "What we consume has a direct effect on our skin." Thus, drinking lemon juice will boost your intake of vitamin C, ultimately helping your skin from the inside out. But remember, lemon juice is acidic, so you'll want to dilute it in water or tea. Alternatively, you can use it on pasta and salad for a delicious dose of vitamin C.
Lemon juice can help exfoliate dead skin cells and reduce excess sebum. However, straight lemon should never be applied to the skin, as it can cause irritation, sunburns, and skin damage. The safest option is to dilute in another ingredient, like honey, or drink it in beverages.