The 10 Best & Healthiest Green Teas To Sip On In 2022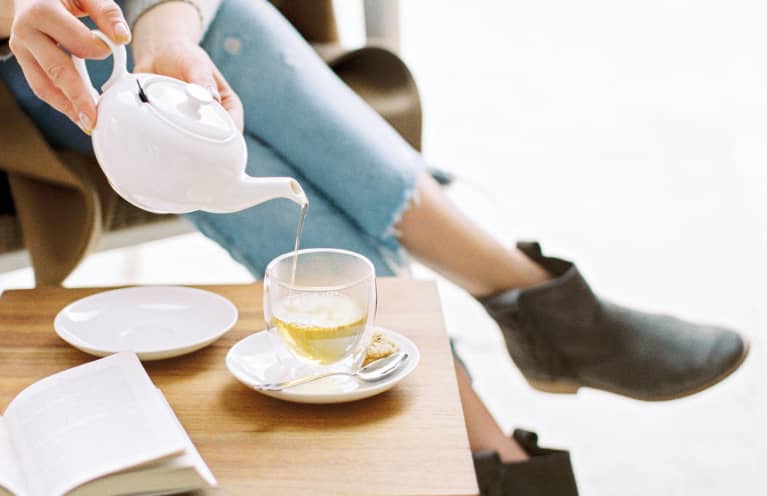 Our editors have independently chosen the products listed on this page. If you purchase something mentioned in this article, we may
earn a small commission
.
Last updated on January 13, 2022
We all have our daily rituals—and one of my personal afternoon essentials is a lovely cup of earthy green tea.
While I'm still a staunch morning coffee drinker, years ago, I started swapping my afternoon java for tea. Why? It's teeming with benefits (hello, antioxidants) and is much more mild in the caffeine department. Tack on its rich, complex flavor—and what's not to love about green tea?
Don't take my word for it, green tea is a go-to for so many health experts—from gastroenterologists to nutritionists.
"Look at all the cultures that live the longest. They're drinking a variety of tea throughout the day," functional nutritionist Deanna Minich, Ph.D., IFMCP, shared on the mindbodygreen podcast. And green tea is certainly part of that longevity-supporting lineup.
"Green tea is harvested later than white tea and does not go through the same oxidation process that oolong and black tea go through," says Will Cole, IFMCP, DNM, D.C., a functional medicine practitioner and mbg functional nutrition training instructor. "Like white tea, this allows for some of the highest levels of catechins, specifically the ultra-beneficial compound epigallocatechin-3- gallate (EGCG)."
Studies suggest EGCG can help provide anti-inflammatory benefits, support brain function, promote healthy blood sugar levels, and reduce heart disease risks.
The anti-inflammatory properties translate to gut health, as well. As a study published in the European Journal of Pharmacology writes, catechins have been shown to effectively absorb into the gastrointestinal (GI) tract and may help mitigate GI challenges. What's more, the phytochemicals in green tea help feed microbes that line the intestinal walls.
Integrative gastroenterologist and mbg Collective member Marvin Singh, M.D., previously shared that organic jasmine green tea, in particular, is one of his favorite gut-friendly beverages.
"It's a great anti-inflammatory, gut-microbiome-friendly thing to include in your regular routine," he says.
While there are a number of green tea sachets and loose-leaf options to choose from, these are the 10 we love the most at mbg. For each pick, we were mindful of ingredient quality, sourcing, sustainability, and, of course, flavor.
Best overall green tea: Pukka Supreme Matcha Green Tea
For the green tea devotee, this matcha and green tea combo is a dream. It's made with 100% organic ingredients and three fairly traded green teas: Chinese Sencha, Indian Oothu, and Vietnamese Suoi Gang.
Supreme Matcha Green Tea, Pukka Herbs ($15)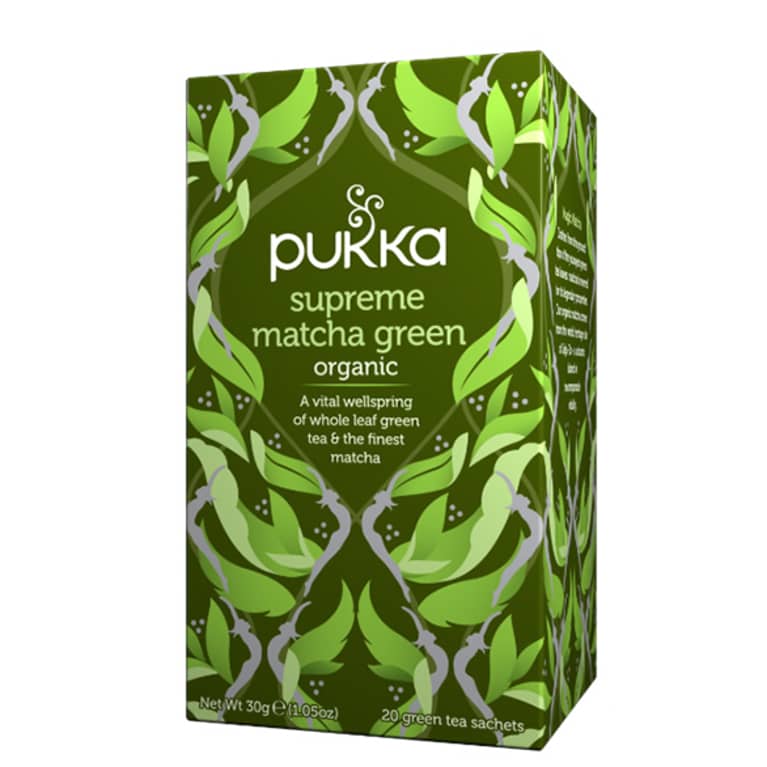 Pukka
Best loose leaf: Vahdam Green Tea
If you prefer loose-leaf, try this green tea, hand-picked in the Himalayan region of India. We love that the packaging is certified carbon- and plastic-neutral (meaning every time the company emits carbon or uses plastic, they remove the same amount from the environment).
Himalayan Green Tea, Vahdam Teas ($15)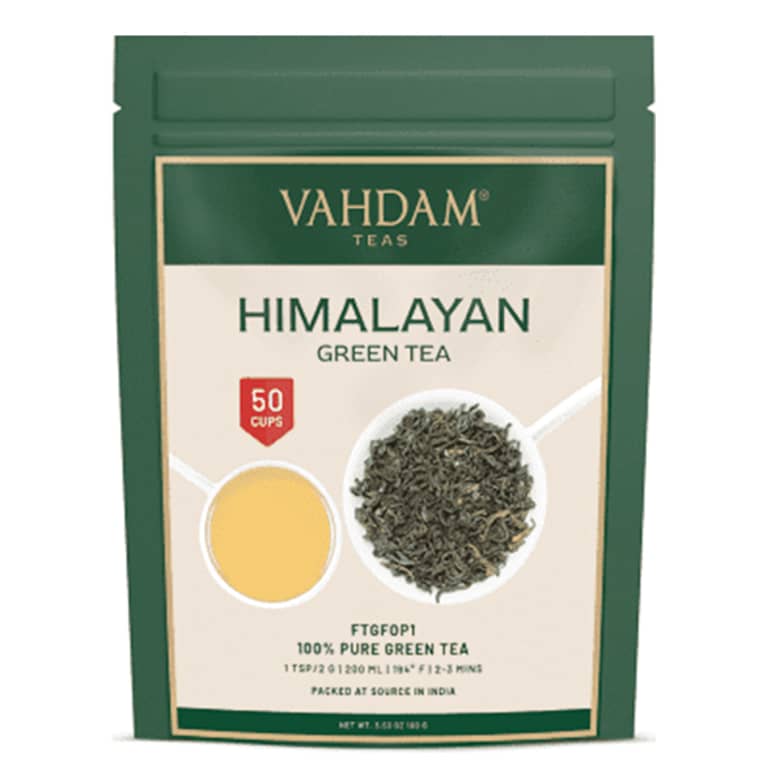 Vahdam
Best matcha: Golde Pure Matcha
How is matcha different from green tea, you ask? Well, matcha is essentially a green tea powder—but it's harvested differently than its counterpart, resulting in more concentrated flavor, antioxidant volume, and caffeine levels. As for an A+ matcha pick, you can't go wrong with this option from Golde, made with 100% pure, shade-grown green tea leaves from Uji, Japan.
Pure Matcha, Golde ($28)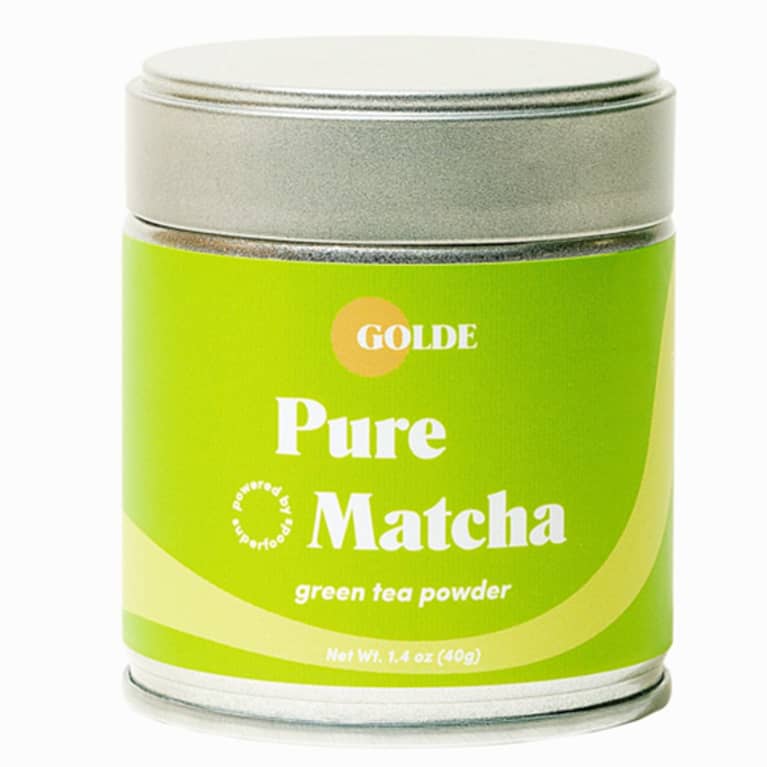 Best organic: Traditional Medicinals Organic Ginger Green Tea
For a straightforward green tea with the addition of anti-inflammatory and stomach-calming ginger, reach for these soothing sachets.
Organic Ginger Green Tea, Traditional Medicinals ($32)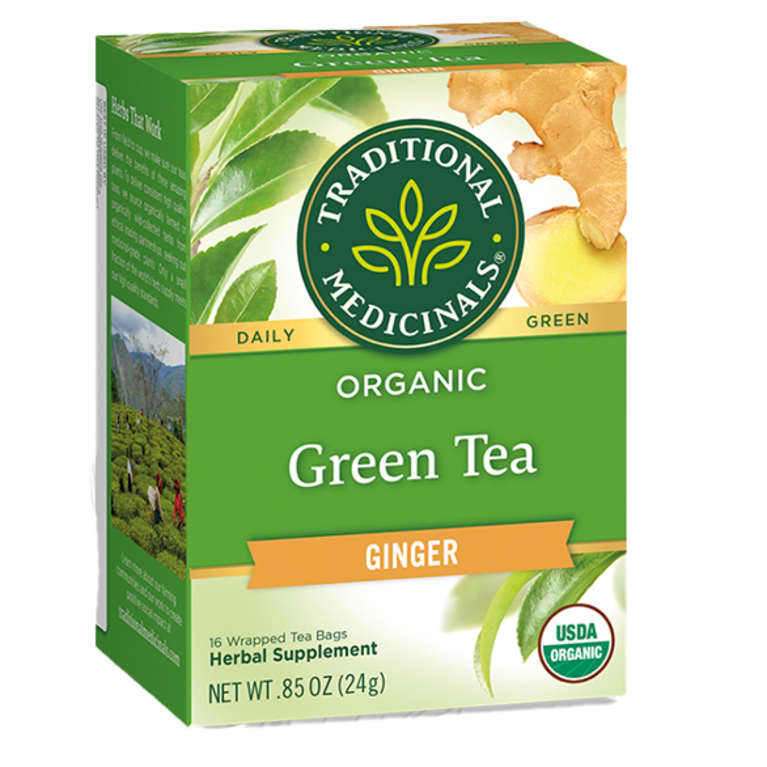 Best decaf: Twinings Nightly Calm Decaffeinated Green Tea
Want all the antioxidant perks but not all the caffeine? This green tea from Twinings will do the trick. A cozy combo of chamomile, cooling spearmint, and lemongrass—this decaf green tea blend is perfect for sipping right before slumber.
Nightly Calm Decaffeinated Green Tea, Twinings ($24)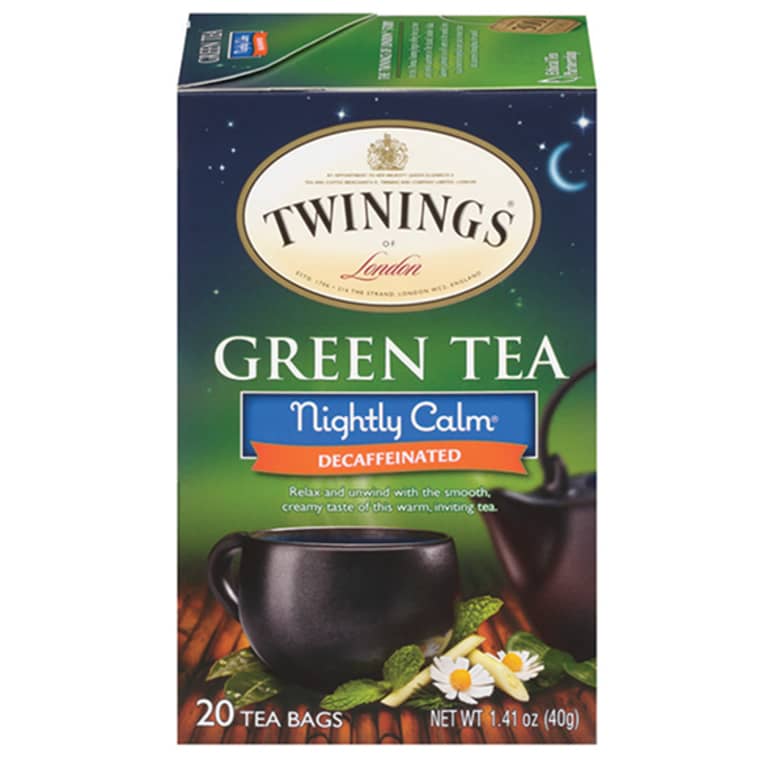 Best for antioxidants: Yogi Super Antioxidant Green Tea
Of course, all green tea is rife with antioxidants, but this blend takes it up one more notch with the addition of grapeseed extract (which contributes the antioxidants procyanidins and resveratrol).
Super Antioxidant Green Tea, Yogi Tea ($12)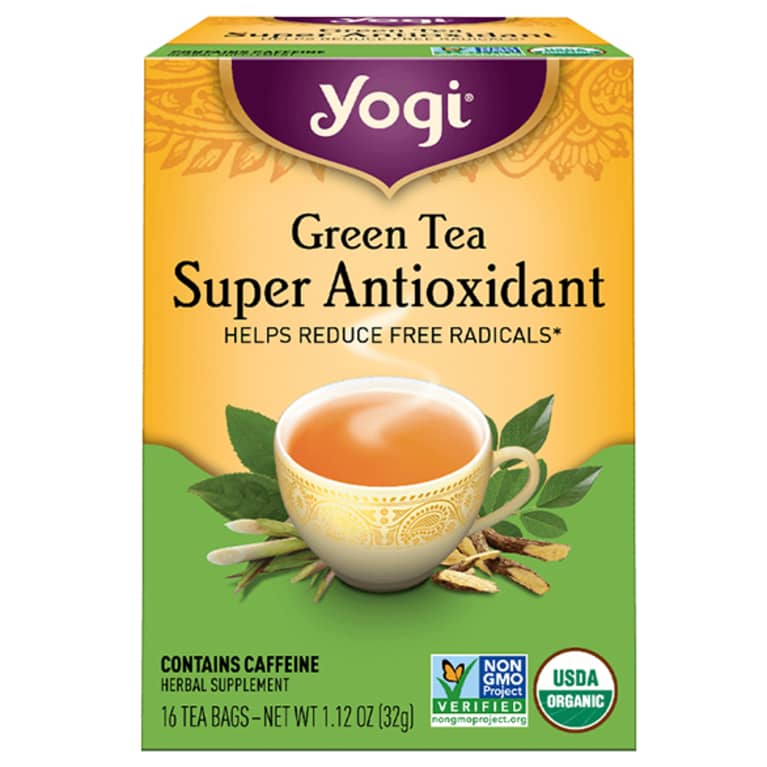 Best Jasmine green tea: David's Tea Butterfly Jasmine
David's Tea crafts a wide array of fun and flavorful loose-leaf teas, but this butterfly jasmine is particularly dreamy. The handpicked green tea leaves from the Fujian region in China are paired with fresh jasmine petals for a lovely floral flavor—oh, and when you steep the leaves, they unfurl into sweet butterfly shapes.
Butterfly Jasmine Green Tea, David's Tea ($50)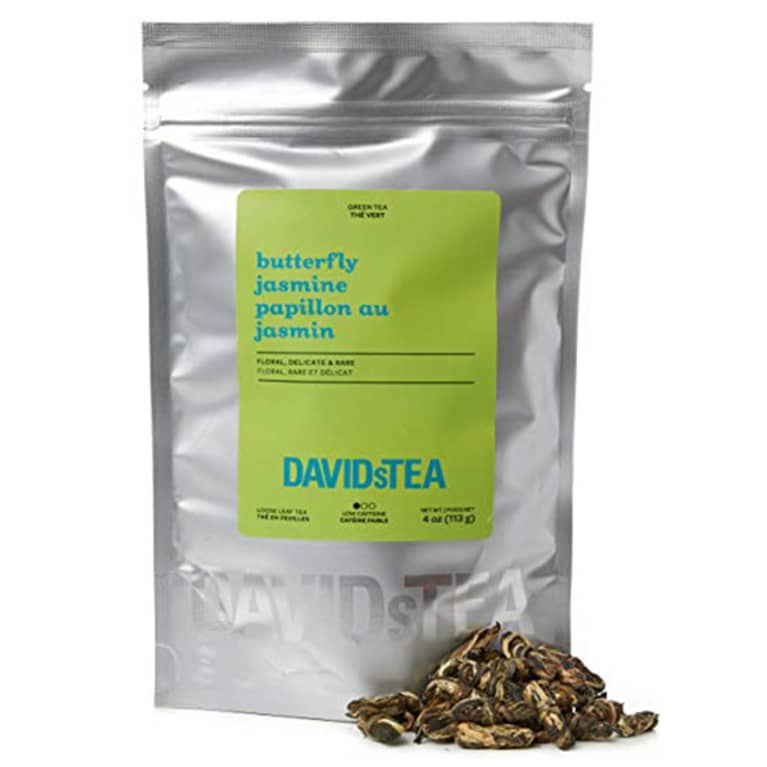 Best flavored green tea: Tea Forte Cherry Blossom Green Tea
Inspired by the traditional cherry blossom festival in Japan, this artful, organic blend features tart cherries and rose petals. It's available in loose-leaf or Tea Forte's signature pyramid infusers.
Cherry Blossom Green Tea, Tea Forte ($18)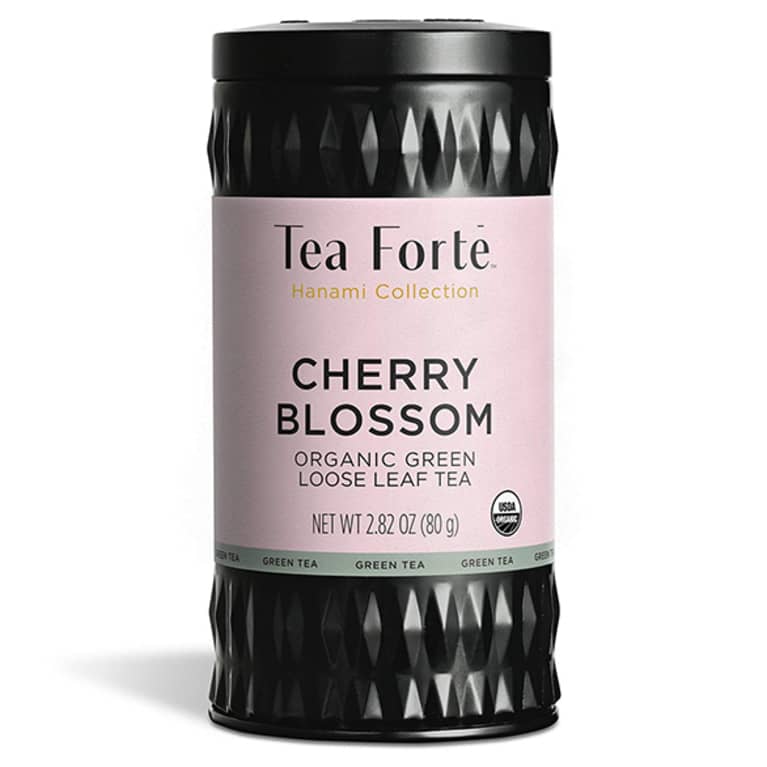 Best powdered green tea: Pique Organic Jasmine Tea Crystals
A favorite of Cole, Pique tea crystals blend seamlessly into cold or hot water, for a simple yet potent cup of green tea. We also appreciate that the brand completes a triple screening for pesticides, heavy metals, and mold.
Organic Jasmine Tea Crystals, Pique ($19)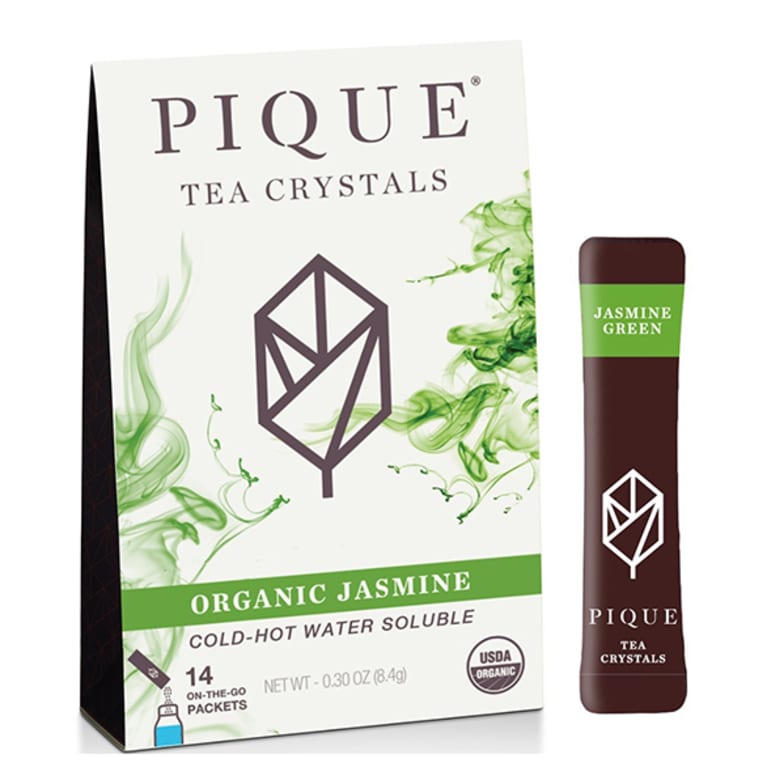 Pique
Best bottled green tea: Tevaja Origins Hojicha Green Tea
Another one Cole swears by, this iced green tea is great for on-the-go sipping. Unlike other ready-to-drink green teas on the market, this one features roasted leaves (Hojicha means "roasted" in Japanese), creating a pleasant, nutty flavor.
Origins Hojicha Green Tea (12-count), Tevaja ($50)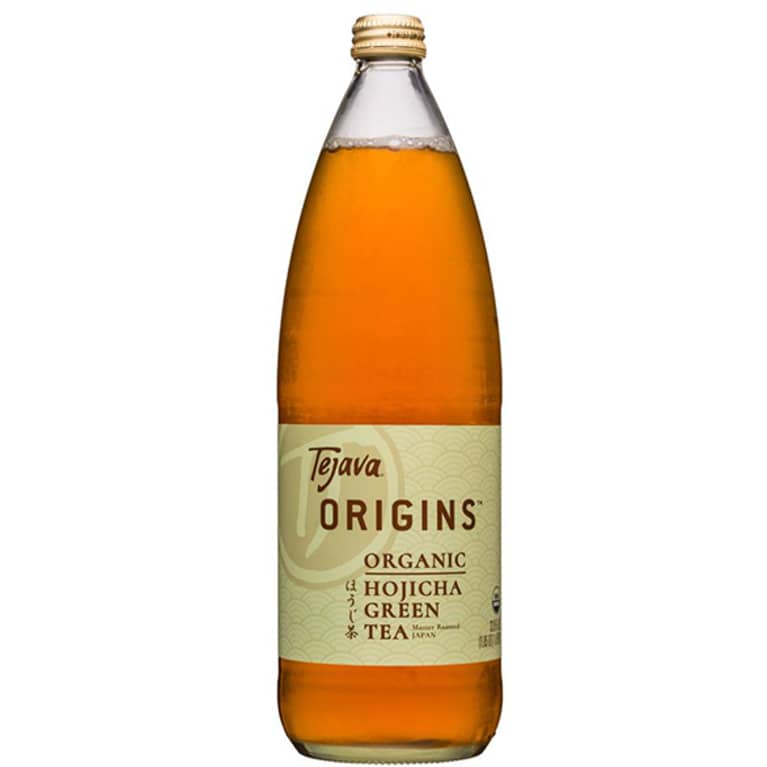 Tevaja
Making green tea a regular part of your well-being routine may bring a wide range of benefits—from gut health to brain support. The curated selection of high-quality green teas above is a great place to start—and they're sure to satisfy any particular need or palate.