The 6 Best Vitamins & Supplements For Vaginal Health

mbg Sustainability + Health Director
By Emma Loewe
mbg Sustainability + Health Director
Emma Loewe is the Senior Sustainability Editor at mindbodygreen and the author of "Return to Nature: The New Science of How Natural Landscapes Restore Us."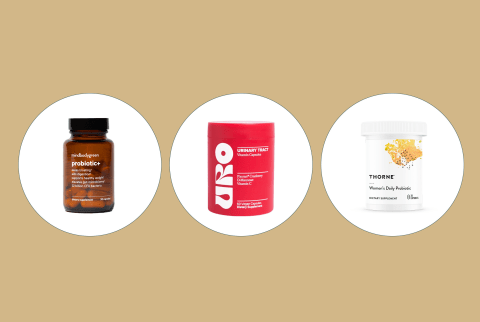 September 7, 2023
We carefully vet all products and services featured on mindbodygreen using our
commerce guidelines.
Our selections are never influenced by the commissions earned from our links.
Vaginal health is something most of us don't give a second thought until we really need to. However, given its important role in sexual pleasure, day-to-day comfort, and even gut function, it's worth taking a more proactive approach to the health of your vagina.
Taking a high-quality vitamin or supplement is one way to keep everything running smoothly down there. Here, we share what ingredients are best for promoting vaginal balance and reveal the year's best vitamins for vaginal health.*
The best vitamins for vaginal health
How vitamins can promote vaginal health
It's when our microscopic good guys are outnumbered by bad guys that problems can occur. Periods of high stress, certain medications, and hormonal changes can all throw off your vaginal microbiome and leave it more susceptible to intruders.
Once you have an overgrowth of bad bacteria, you'll start to notice issues like unusual discharge, odors, and irritation.
There are a few stages of life when people are more susceptible to suboptimal vaginal balance. For instance, estrogen shifts during one's cycle can negatively affect the vaginal microbiome, as can hormonal changes during menopause.
Postmenopausal women may also find it harder to maintain vaginal health due to weakening muscles in the bladder and pelvic floor.
Vitamins and supplements can be helpful in restoring balance in this sensitive region.* Some of the ones with the most research behind them include:
Of course, vitamins alone cannot guarantee vaginal health. Drinking plenty of water, eating an anti-inflammatory diet, practicing safe sex, and tending to vaginal hygiene are essential, too.
How to choose 
When shopping for a vitamin for vaginal health, you'll want to go with a product that contains clinically tested ingredients.
We've got you covered there: In the next section, you'll find six science-backed supplements that were hand-picked by mindbodygreen's vice president of scientific affairs, Ashley Jordan Ferira, Ph.D., RDN, for their positive impact on vaginal health.
To narrow down this list to one, think about your specific needs and lifestyle. Vaginal health supplements come in a wide array of delivery formats—from powders you drink after sex to capsules you take in the morning.
You'll want to choose a form that is easy to incorporate into your routine, since these products aren't a one-and-done deal. Most of them need to be taken daily for a few months before taking full effect.
As with any supplement, you'll also want to be choosy about who you buy from. Go with a company that is transparent about what is in their product (down to specific bacterial strains if it's a probiotic), doesn't use sketchy additives, and practices sustainable sourcing and packaging.
Summary
The best vitamins for vaginal health contain science-backed ingredients in targeted forms, are free of additives, and come in a delivery format that's easy to take daily.
Our picks for the best vitamins for vaginal health
Advertisement
This ad is displayed using third party content and we do not control its accessibility features.
Advertisement
This ad is displayed using third party content and we do not control its accessibility features.
Advertisement
This ad is displayed using third party content and we do not control its accessibility features.
Comparing the best vitamins for vaginal health
How we picked the best vitamins for vaginal health
Here's a peek at the main criteria we used when compiling our list of the best vitamins for vaginal health:
1.
Designed for vaginal health
These formulas boast probiotics, vitamins, botanicals, and bioactives targeted for various facets of urogenital tract and vaginal health, from pH and yeast balance, to immunity and more.*
2.
Contain effective ingredients
From clinically researched probiotic strains to cranberry, D-mannose, vitamin D, and more–we curated formulas that include high-quality ingredients and efficacious doses of those actives.
We feature dietary supplement products from reputable brands that prioritize quality testing to ensure the purity and potency of the raw materials and final product you choose to invest in.
From ingredient sourcing to packaging decisions, we prefer products created with sustainability in mind. We highlight eco-friendly containers that protect the ingredients, like amber glass.
Why this matters for your longevity
On the other side of the coin, practices that keep your vagina healthy—like eating a variety of plants, managing stress, practicing healthy vaginal hygiene, etc.—can pay dividends for overall health and longevity.
You'll know your vaginal health is in a good place when you start to forget about it, Trubow says. Think of it like an elbow: "Most people don't think about their elbows. That's how your vagina should be," she notes. "You don't notice it; it just does its job."
Factors that can disrupt the vaginal microbiome
The vaginal microbiome is a complex ecosystem of microorganisms (bacteria, viruses, and fungi) that naturally inhabit the vagina.
It can be vulnerable to disruption via menstruation, as well as any external intrusions, like penises, fingers, tampons or menstrual cups, IUDs, or sex toys, and can lead to potentially negative impacts on vaginal health.
Here are some factors that can negatively impact your vaginal microbiome:
Frequently Asked Questions
How can I make my pH balance better?
Do cranberry pills help with pH balance?

The research on using cranberry juice to help balance vaginal pH is mixed. While it may reduce bad bacteria's ability to stick around in the urinary tract, that doesn't always translate to changes in vaginal pH. Taking a probiotic, avoiding pro-inflammatory foods, avoiding douching, and practicing safe sex are more surefire ways to promote a healthy vaginal microbiome and pH.*
What are the best vitamins for yeast balance?

Our top pick for keeping yeast in balance is AZO® Urinary & Vaginal Wellness Bundle, which contains D-mannose to help cleanse the urinary tract and probiotics to support vaginal flora balance.*
The takeaway
Maintaining vaginal health is all about keeping good bacteria in and bad bacteria out. Taking the right supplement can help you do so—and the vitamins and probiotics on this list will go a long way in keeping you comfortable and confident.
If you are pregnant, breastfeeding, or taking medications, consult with your doctor before starting a supplement routine. It is always optimal to consult with a health care provider when considering what supplements are right for you.
Meet The Experts
Emma Loewe
is the Senior Sustainability Editor at mindbodygreen and the author of "Return to Nature: The New Science of How Natural Landscapes Restore Us."