9 Natural Sleep Aids That Can Help You Snooze*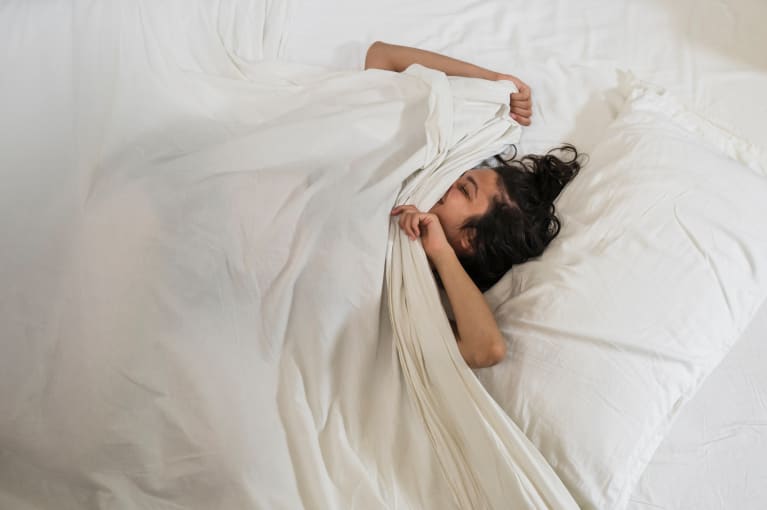 Our editors have independently chosen the products listed on this page. If you purchase something mentioned in this article, we may
earn a small commission
.
Last updated on April 20, 2022
We all know someone who can fall asleep anytime, anywhere and never has any trouble dozing through the night.
If that's you, congratulations! But if you're one of the many folks who struggle to snooze from time to time, you may be considering a sleep aid.
Here's an introduction to the types of ingredients you'll find in more natural or plant-derived sleep supplements and a list of options that actually work.*
9 ingredients that work as natural sleep aids
For a gentle way to support deeper sleep, look no further than these nine ingredients that have been clinically shown to relax the mind, body, or both:*
This essential macromineral plays a role in many processes in the body–including sleep.
"[Magnesium] helps the whole body calm down... It does basically all the things that you want to do to get the body ready for sleep and to help maintain sleep," functional medicine doctor Robert Rountree, M.D., previously told mbg.
It also appears to help keep our circadian rhythm—an internal clock that regulates the sleep-wake cycle—running smoothly.
While there are many types of magnesium supplements available, magnesium bisglycinate is typically considered the best for sleep (and the gentlest on the tummy).*
2.
Jujube seed extract (Ziziphus jujuba var. spinosa)
Long prized in traditional Chinese medicine, jujube is a tart fruit that grows in cooler regions of Asia.
Research shows that the fruit's extracts have a relaxing effect on the nervous system, making them great for bedtime.
Chinese medicine scholar Scott Ling, LAc, M.A., Ph.D., previously described supplementing with jujube as "a natural way to calm the mind by anchoring erratic energy down with nourishing ingredients."*
Another fruit extract that shows promise as a sleep aid, tart cherry was found to enhance sleep efficiency (the amount of time spent asleep while in bed) in one double-blind, placebo-controlled study of 40 people.
While you can drink a big glass of cherry juice before bed, consuming the fruit in supplement form might be more palatable and lead to fewer nighttime bathroom breaks.*
This amino acid is naturally occurring in the Griffonia simplicifolia plant, and it's been shown to promote healthy levels of serotonin (the precursor to melatonin) in the brain and might benefit sleep in low doses.
Plus, "5-HTP can be effective in supporting mood and easing symptoms of stress and anxiousness, which can, in turn, interfere with sleep," board-certified sleep specialist Michael J. Breus, Ph.D., previously wrote on mbg.*
7.
Ashwagandha leaf and/or root extract (Withania somnifera)
A favorite among herbalists, chamomile is another plant that helps support the nervous system and may by extension make it easier to sleep.
In one randomized clinical trial of 60 people, those who consumed a chamomile extract capsule for one month reported better sleep quality than those who took a placebo.*
9.
Gamma-aminobutyric acid (GABA)
GABA is an inhibitory neurotransmitter that can also be naturally created through a fermentation process.
By activating GABA receptors in the brain, it can have a relaxing, balancing effect on the body.*
What to look for in a supplement
First and foremost, you'll want your sleep aid to contain science-backed ingredients like those above.*
Ideally, there will be research to show that they help promote faster, deeper, or all-around better sleep in actual humans, not just animals.
These active ingredients should be present at clinically relevant levels that are high enough to actually have an effect.
Avoid unnecessary fillers and flavorings and opt for more straightforward delivery formats when possible. (If sleep is what you're after, popping a sleep aid that contains lots of added sugar just doesn't make much sense.)
It's best practice to ease into any new supplement routine. Take the lowest dose possible to start unless otherwise instructed by your doctor.
Generally, the plant-derived ingredients listed above come with fewer side effects than synthetic supplements like melatonin, which is a hormone and can cause grogginess.
Finally, it's important to remember that these are sleep aids; they cannot undo an unhealthy sleep routine, nor can they address preexisting sleep issues.
Summary
Look for a research-backed supplement that contains science-backed ingredients and is free of unnecessary fillers and flavorings.
Our product recommendations
The following sleep aids contain the research-backed ingredients listed above and are gentle enough to take nightly but powerful enough to make a real difference in snooze quality, according to reviews.*